Steam dead? Trade gear, play games, earn cash on Cryptohit ICO coming soon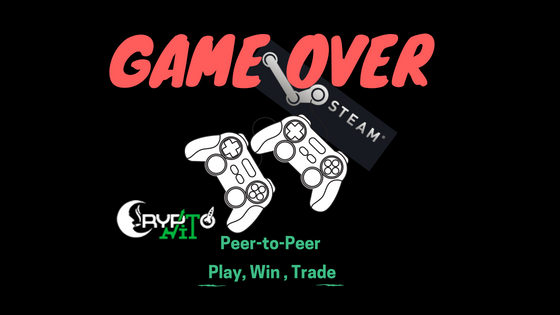 In 2016, the top 20 countries generated $89.4 billion of total global game revenues. The massive gaming industry grows approximately 89% a year and will keep scaling at these insane rates as long as technology continues to advance. While we're painstakingly monitoring this industry, we can't help but notice, that as the industry grows, game quality and originality is becoming static and stale.
Unfortunately, major game developers concentrate entirely on minimizing their risks. They prefer to stick with making the same products that have been tested with time by competitors and then practically create clones of those games. Even big-time developers of hard copy games like EA continue to repeat the same pattern of game mechanics year after year.
To achieve success by gaining the players' attention, developers spend up to 56% of the revenues on PR, marketing, and advertising. However, indie developers, and even midsize game developers, that are involved in creating unique and innovative products are not able to effectively function in this environment. Unequivocally, they're filled with the enthusiasm needed to develop the products that will win the hearts of the consumers, but they cannot raise enough funds to attain the same results.
Cryptohit aims to evolve its purpose by coming up with a solution for the gaming industry using the power of blockchain technology and smart contracts on ethereum. With the primary goal is to create an ecosystem for all gamers, they intend to create a transparent and entirely decentralized platform for various gaming projects. Both players and game developers would receive more benefits by utilizing the platform capabilities, as opposed to sticking with the status quo.
To streamline our business processes, Cryptohit has developed an Ethereum Token, called Galactic Credits or GAC coin, that will be used on all major exchanges. When we successfully complete our ICO, GAC will be used by our players to purchase in-game packages and characters, as well as a trading instrument on a p2p asset exchange system. Additionally, players can win rewards and additional benefits from earning in-game badges.
"With this, we have developed a revolutionary idea for player adoption and retention as well as means to attract them to new gaming projects." -CryptoHit
It is no secret that players often wonder for one game to another. Most modern games are based on simplistic, boring and repetitive actions that enable the game character to evolve, taking many months or even years. When you switch to a different game, you lose all of your achievements and gear, and you are forced to start off from scratch.
On the CryptoHit platform, you will receive your own personal account that is filled with a variety of different useful functions. With this account, you will be able to chat with other players, group up and plan a raid, and even grow your own clan or community. Functionality will include live video streaming, player and game reviews, easy to navigate interface, and an open market to exchange GAC coins, cash, and game assets.
When switching to a different game on the platform, the player can use tokens that they accumulated in one game and buy assets and game packs in another game with those same coins.
Players will be presented with an opportunity to earn real money by selling their characters and gear on the asset exchange market, as well as place bets and wager tokens with other players.
All of these elements in tandem will be used to incentivize the customer to stay in the game and try out new games within our system instead of straining way like a lost puppy. This will allow all of the incorporated developers to obtain millions of gamers with less marketing costs.
Whoever will be developing their games on our platform will have unlimited access to our comprehensive analytics platform that will provide detailed information about the game status, player involvement, and marketing profit/expenses. All of these instruments will allow the developer to understand the needs and capabilities of the gamer. They can then adjust prices through a discount system, as well as control on how many rewards are allocated from the very beginning.
Revolutionary blockchain technology makes this entire system to be completely transparent with p2p transactions and the help of easy-to-use monitoring system using artificial intelligence elements. It will add security and aid in the battle against fraud and cheating, which will lead to retention of gains and keep out toxic players that negatively affect the entire community.
Developers will be able to substantially save anywhere from thirty to sixty percent of their expenses, which will provide them with a phenomenal opportunity to invest more into quality content for users and expand their business more rapidly.
Even though we are elaborating and many obvious benefits, we realize the fact that it is not enough just to develop this platform. Cryptohit plans to build, grow, and cultivate a complete ecosystem with a stable gaming community. The roadmap consists of three projects, scheduled for the production phase. Their success in popularity had been calculated based on overall market trends. You can review the whitepaper and our website with the maximum level of scrutiny.
"We are confident that we're not bringing just benefits to decrypt the world in the gaming community, but it will give incredible profits to those investors who believed in our project from the very beginning."
To review analyze and invest into the future with Cryptohit visit