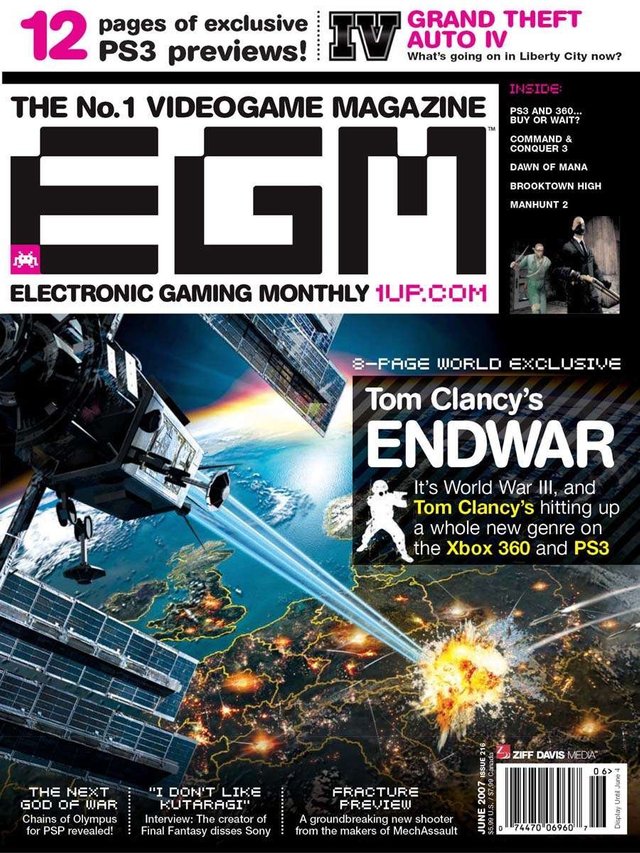 http://megalextoria.blogspot.com/2018/09/electronic-gaming-monthly-june-2007.html
EGM ran for many years. By the time 2007 came along, I didn't really pay that much attention to it anymore. Neither did many others apparently since it didn't last as a print publication all that much longer. It wasn't that it became a terrible magazine or anything, I just didn't keep up with newer games like I used to and most of those who did, did so online. The June 2007 issue of EGM includes:
Letters
In Soviet Russia, letter writes you
Press Start
Exclusive: God of War: Chains of Olympus - The portable world just got a whole lot bloodier...
Works in Progress - Keep an eye on the Xbox 360 and PlayStation 3 - they're changing
Foreign Object
Preview: Fracture - The shooter from the MechAssault guys breaks new ground
Online Scene - Check out what developers are praising - or whining about
Preview: Manhunt 2 - The Wii steps into Mature-rated territory - take that, politician!
Reviews
Reviews Intro
F.E.A.R.
Command & Conquer 3: Tiberium Wars
Monster Madness: Battle for Suburbia
Dawn of Mana
Atelier Iris 3: Grand Phantasm
.hack//G.U. Vol. 2: Reminisce
Etrian Odyssey
Game Over
Seanbaby's Rest of the Crap - Why is Seanbaby interested in playing with dolls? Isn't that sort of, uh, creepy?
Retro: Grappling With Greatness - Games that feature the infamous "grapple" are destined to be remembered
Crossword/Grudge Match - EGM's final crossword puzzle? Say it ain't so!
Read more: http://www.megalextoria.com/wordpress/index.php/2018/09/05/electronic-gaming-monthly-june-2007/