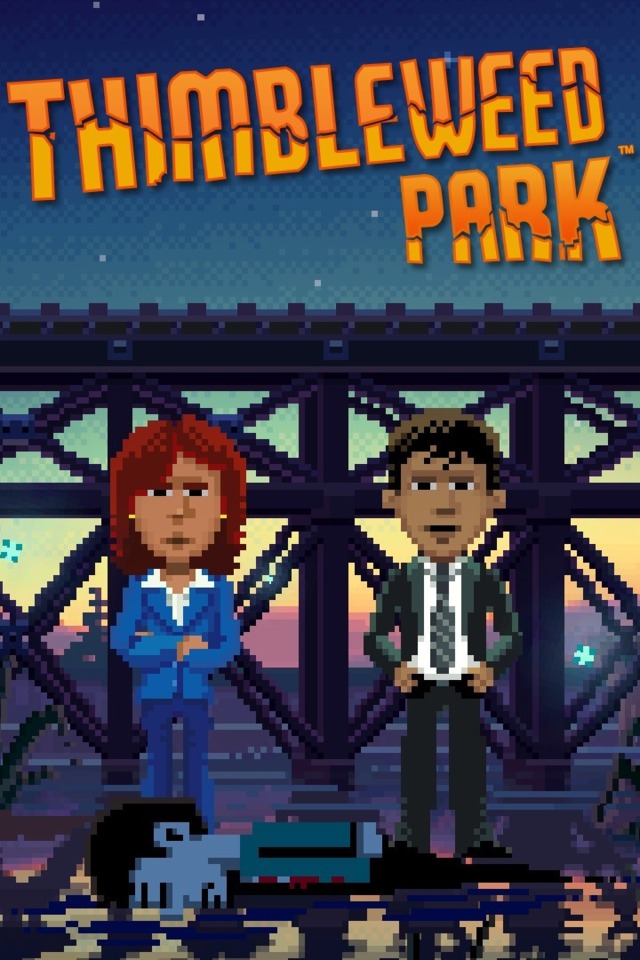 Hello wonderful steemians, it's another beautiful day again, hope we are having a beautiful week ahead. Today, I'm bringing to the community another awesome game review. It is a game the community will love and appreciate. Everyone will love this one, both the young and the old, and also any gender. I will be making a review on another awesome game. This game is an adventure game and it is a game played by gamers and non- hardcore gamers, most especially the non- hardcore gamers. Like I usually say, I will like everyone to sit back and relax as I review the amazing adventure game.
If you missed out my previous review on Zuma's Revenge, you can find the post here
BRIEF OVERVIEW
Thimbleweed Park is a point-and-click adventure game developed by Terrible Toybox and also published by Terrible Toybox for Microsoft Windows, macOS, iOS, Xbox One, PlayStation 4, Linux, and Nintendo Switch. They are planning on creating an android version in the near future.
Thimbleweed Park is one of those games that appeal to those people who enjoy the genre, and it's certainly good enough to attract persons who will also like to play the game as well. It is a classic point & click adventure game that takes you on a mixed feeling journey to a strange town lost at the end of a dusty stretch of highway.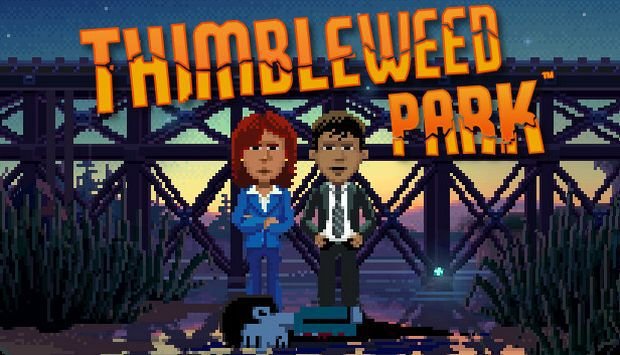 source
Player mode............single player game
Genre................. Point-and-click adventure game
Released Date.............. March, 2017
Developer................... Terrible Toybox Publisher.................... Terrible Toybox
Overall Rating ........................7/10
Graphic........................7/10
Sound....................8/10
Controls....................7.5/10
Platform…………….Windows PC
OS ………………….Windows
SUPPORTED OPERATING SYSTEM
Window PC
SYSTEM REQUIREMENTS
Thimbleweed Park requires a pretty decent computer inorder to run the game smoothly. The Minimum Requirements for Thimbleweed Park requires you to have at least a 2GHz processor and a 4gig ram to enjoy the awesomeness of the game.
Minimum system requirements:
Processor: 2GHz
RAM: 4 GB RAM and above
DX: Version 11
OS: Windows 7/8.1/10 – 64bit
LANGUAGE
The game comes with many languages, but my language of choice is English.
RATED
The game is basically for everyone.
GENERAL RATING
Gameplay 7/10
Graphics 7/10
Sound 8/10
Controls 7.5/10
Overall 7/10
PRICE
Thimbleweed Park is retailed at $20.
BRIEF STORY
Thimbleweed Park is a story of two FBI agents called upon to investigate a murder case of a dead body found in the river just outside of town.
Two FBI agents Antonio Reyes and Angela Ray arrive at the city of Thimbleweed Park to investigate a murder case. Their investigation leads them down a path of intrigue that has them discover dark secrets concerning the people living in the town.
Five persons who have nothing in common have been drawn to this forgotten town. They don't know it yet, but they are all deeply connected.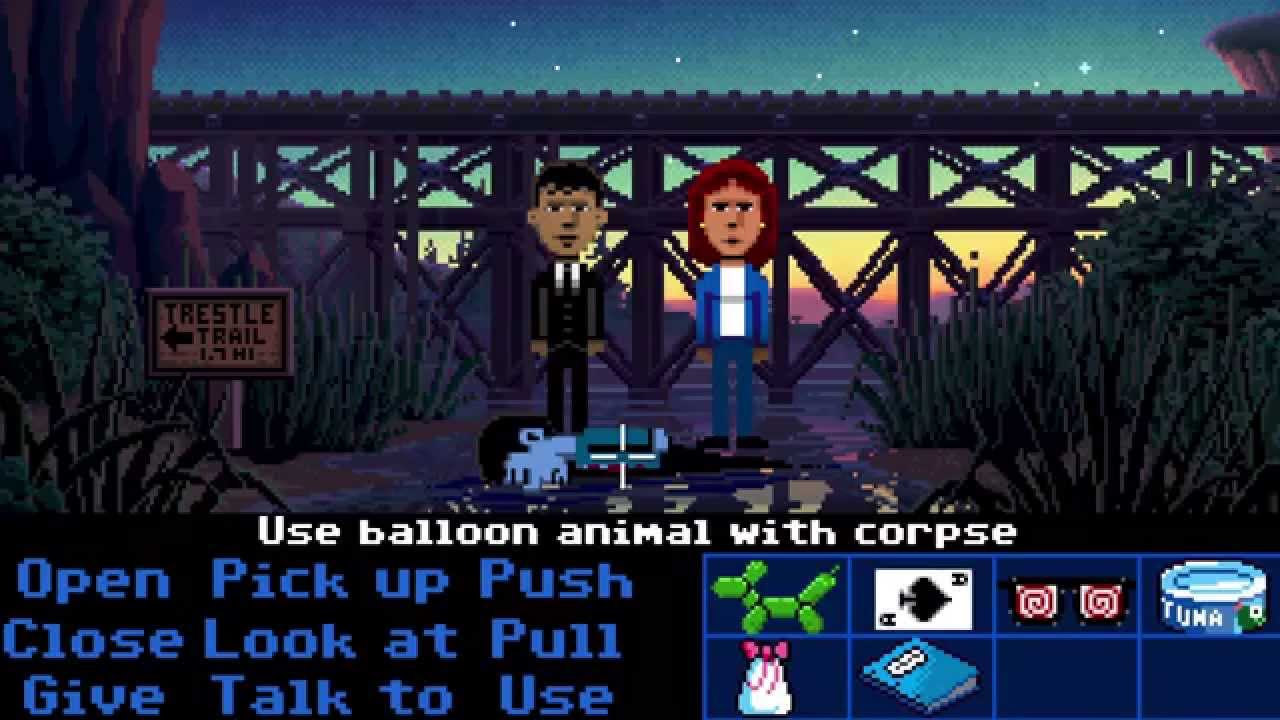 source
GAMEPLAY
The gameplay is classic point and click adventure game. Before doing anything you need to select the appropriate verb (give, open, talk etc) and then the object and character.
In this game, the dead body is the least of your problems. You have to switch between five playable characters to uncover the strange secrets of this strange town. The deeper you go, it becomes very strange.
Just like other classic adventure games, the game features a list of verb. The player controls the characters by building sentences by clicking on verbs, objects and characters.
The game is seen from a third person point-of-view, with a view of the area taking up the majority of the screen, while the bottom part is occupied by the player's inventory and a list of verbs. By clicking on a verb followed by one or two items or characters, the player character will attempt to perform the action described.
The game has five different player characters which the player can switch between in the middle of gameplay. There are other playable characters. Ransome who is a clown living a lonely life in an abandoned circus after being cursed to never remove his makeup. Delores is a game designer who returns home to Thimbleweed Park due to the death of her uncle. And meek pillow salesman Franklin.
Each character in the game has a long to-do list in their inventory systems, which gives you direction without stating it very clearly. There's no hint of any kind, but speaking to people and inspecting items in your inventory is often enough to steer you towards finding a solution.
The switching between characters and their various tasks means that when you get stuck (which you will definitely get stuck), you can take a break and follow someone else for a little while. When you are back to whatever stumped you, the answer is usually clear.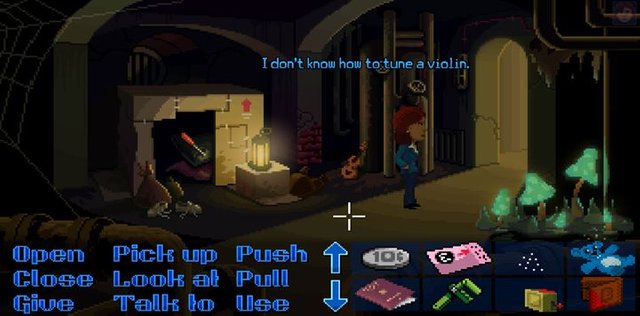 source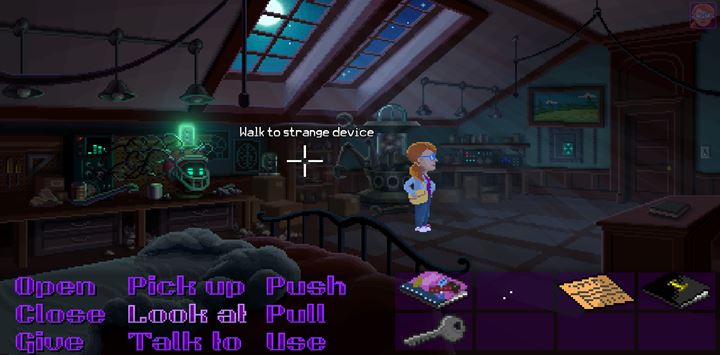 source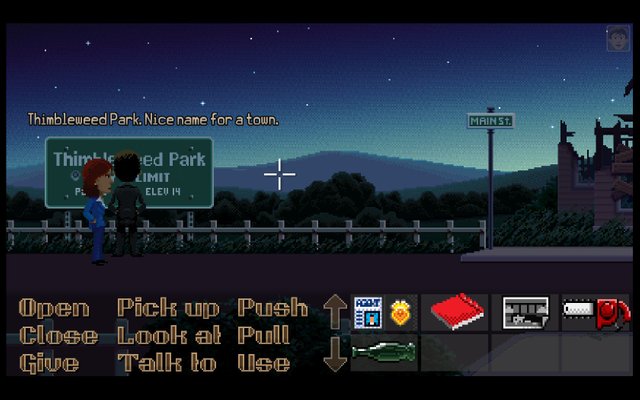 source
PROS
There are 3 main pros of the game
Wacky cast of characters makes you look forward to every encounter
Open design allows you to solve puzzles at your own pace
Clever and challenging puzzles
CONS
The cons of this game is few.
Open structure harms your ability to solve puzzles effectively
Logical inconsistencies sometimes muddle the world's logic
CONTROLS
The controls is a point and click adventure game.
GRAPHICS
The visuals in this game is good.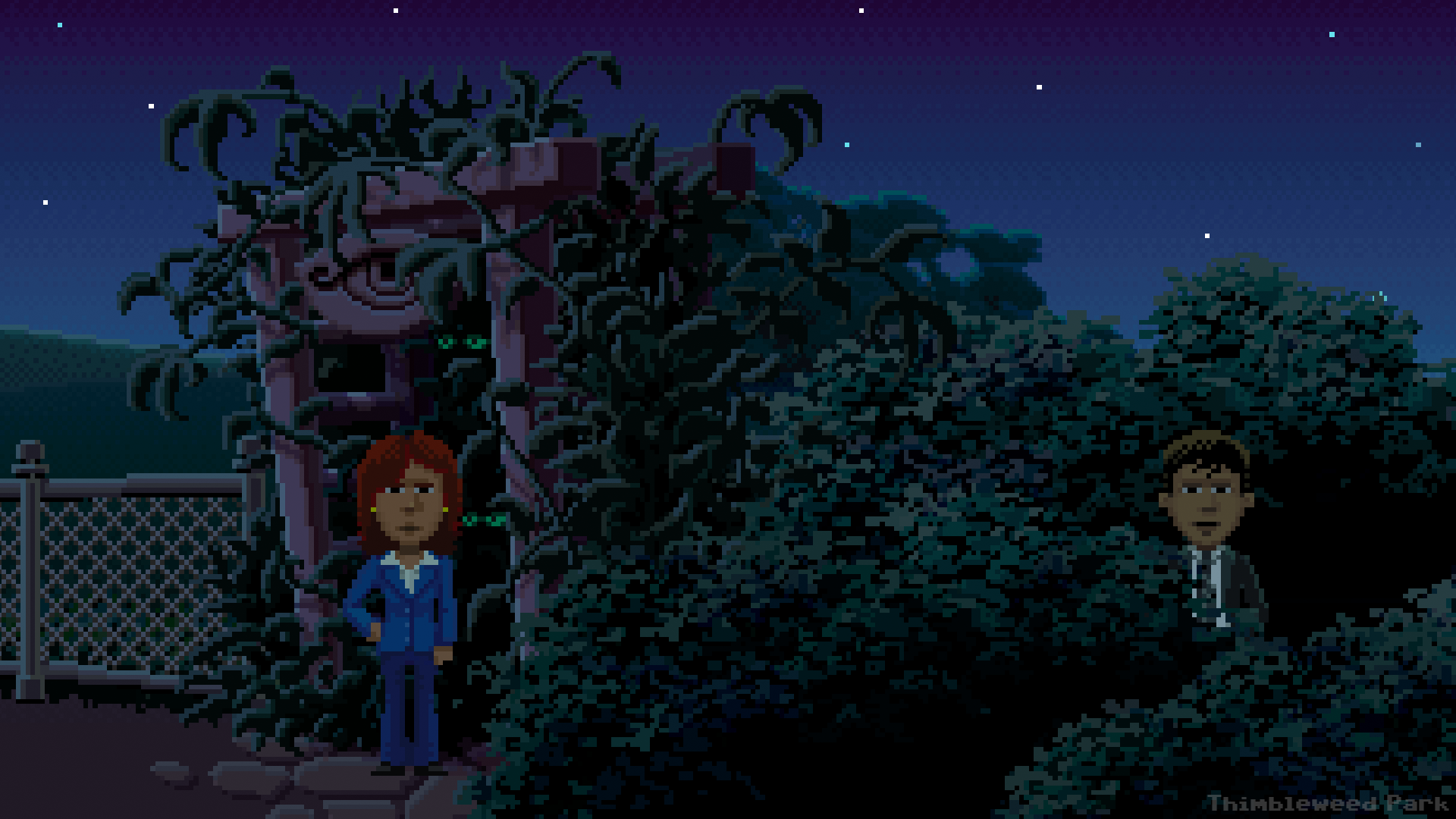 source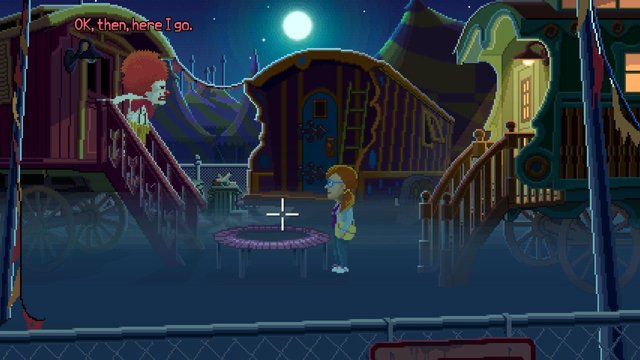 source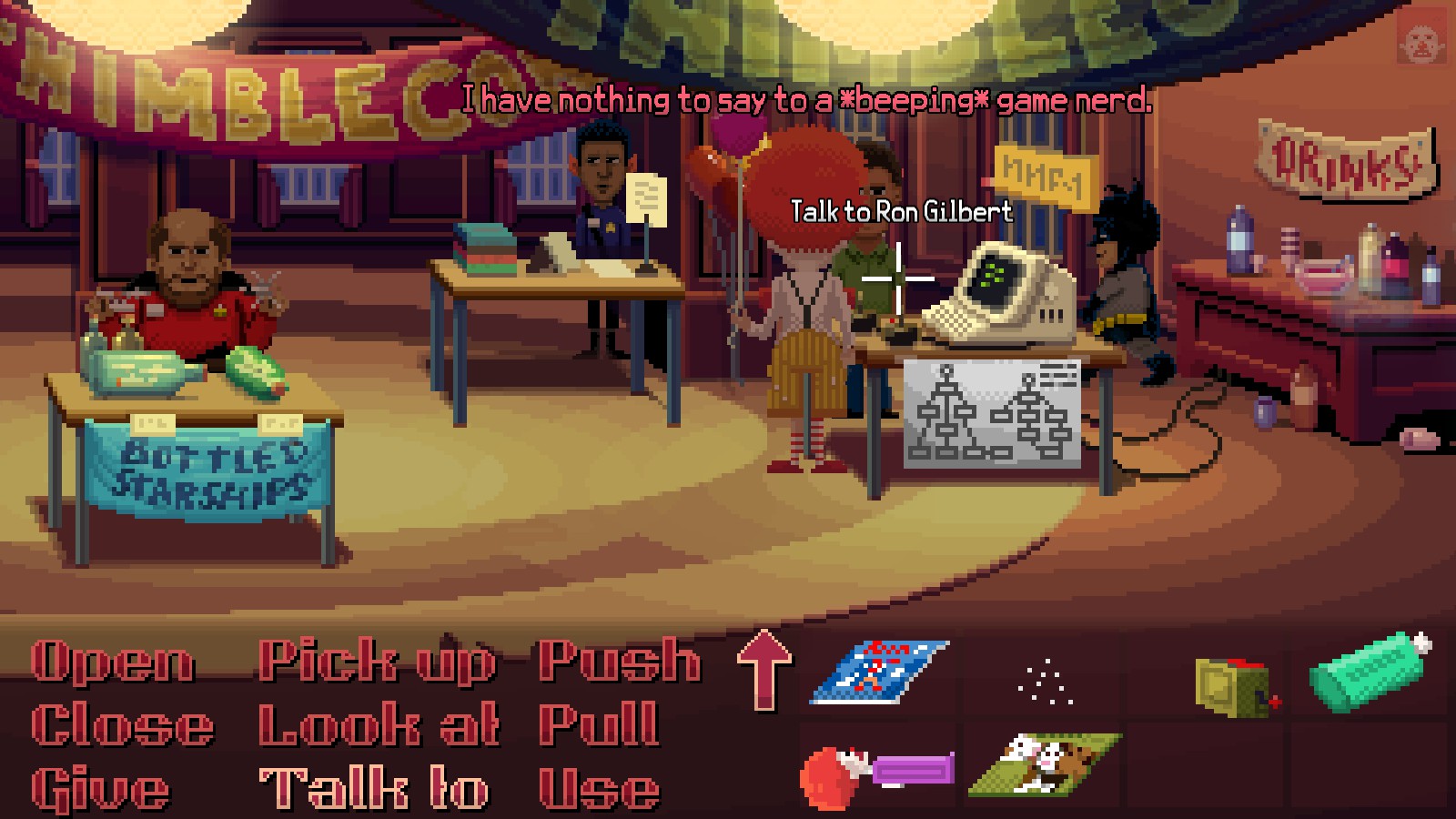 source
SOUND AND MUSIC
The sound and music quality of this game is good.
VERDICT
Thimbleweed Park is a quality adventure game with challenging puzzles, strange characters, and an exciting mysterious plot
For anyone with an interest in point and click adventure games, you will find Thimbleweed Park very interesting. For newer comers who have not played similar games, it's will be a much difficult game at first.
Finally, the game isn't made with new comers in mind, the game at its core is a traditional game that won't appeal to everyone.
MY GAMER FRIENDS COMMENTS
Once again, I asked my gamer friends about what they feel about the game and they gave their responses like they normally do on all my game reviews. So below are most of my gamer friends that play games like me. I tried to get their own take on the game and here are their comments and what they feel about the game. These are the only gamer friends I can easily get in touch with, and I will be asking them for their own opinion on my game reviews.
Mike: I love the style of the game
Chinedu: very good game
Jay: not my kind of game
Kate: This game can be frustrating.
Mercy: very nice game
Floxy: I have not played the game
Kill: the game is good
Philip: good game
Loveth: not played the game
Timi: point and click games are not my thing
Jenny: I liked it
Ben: the graphics is good
Chidi: I love it
John: the gameplay is what I love about the game
Opeyemi: the puzzles is brain cracking
KC: very cool game
Joe: I play the game always
Billy: really awesome
Danny: great game
Leo: I don't like the game
Jonny: I will play it soon
Ray: very good
Nancy: I don't like the game
Tayo: Thimbleweed Park is nice
Sunny: I don't like the game
James: the game is too difficult for me
Terry: the game is too frustrating
Prince: it is an OK game.
MY EXPERIENCE
Thimbleweed Park for me is a nice game, the game fun and frustrating at the same time and I really enjoyed playing the game and I know not many new comers will enjoy the game at first but it is a very nice game. The graphics is good and the sound and music is good also. Overall, my experience with this game has been a great with a lot of mixed feelings and emotions but I really enjoyed every time spent on the game. So much excitement and frustration about the game, and above all, it is a great game.
Thanks for taking out time to read this and I hope you liked it.
If you like this post, please UPVOTE, COMMENT and RESTEEM. Thanks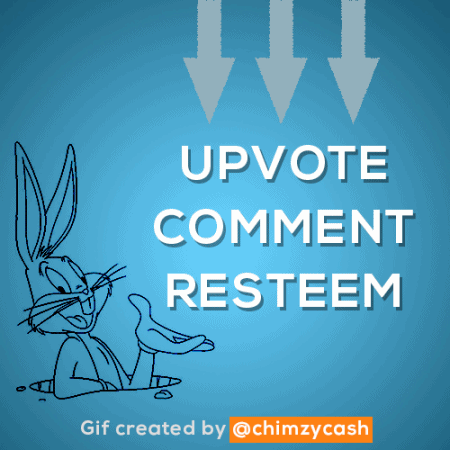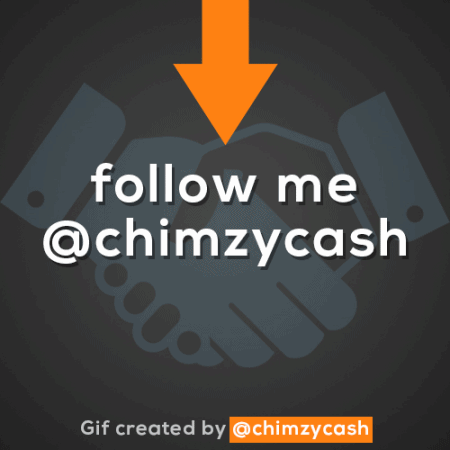 Follow me @chimzycash