Retro Gaming - Turrican (C64) ¡The biogenetic warrior!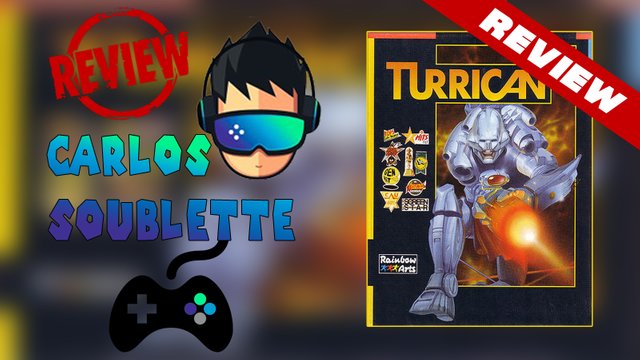 Hi to all Steemiant colleagues, today we present this video game called "Turrican" was developed in 1990 by the major companies Manfred Trenz and Rainbow Arts, mainly was launched for the Commodore 64 video game console but years later had launch for different video consoles which They had a great receptivity and acceptance by their fans, their design and creations of the characters were programmed by the hand of Manfred Trenz which had a great impact in the world of video games.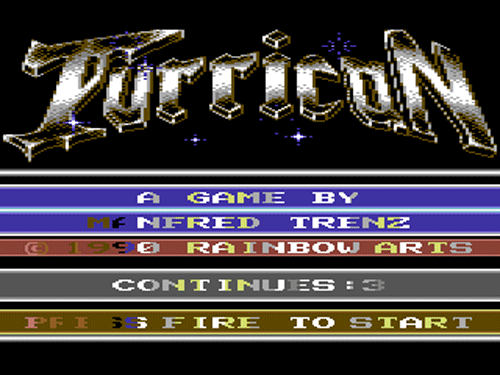 The history of Turrican is incredible since everything starts in a lost colony that is located in a world abandoned by humanity, the colony is called Alterra which is composed of 5 different zones, each one with a different ambience with a way of different life, but after a certain time human life wanted to return to the incredible colony Alterra, but for that to take place the genetic science created a savior that was baptized with the name of Turrican which has the objective of rescuing the life of the planet Alterra, eliminating hostile organisms from the 5 zones of the Alterra colony so that it can be inhabited by human beings.
| | | | | | |
| --- | --- | --- | --- | --- | --- |
| | | | | | |
| C64 | Amiga (etc.) | ZX Spectrum | Amstrad CPC | Game Boy | NES |

Turrican has incredible graphics, since all its characters have a good size, with different abilities and physical characteristics, the scenarios are very well set, offering us an illusion of a surreal world where we will face an endless number of enemies that will be of different sizes and with terrifying shapes, the stages have a high range of colors and flashes that are amazing to watch while playing. I will leave you a demonstration so that you can appreciate all its splendor.


The soundtrack also played a very important role in this videogame called Turrican, the famous composer Chris Huelsbeck was in charge of creating all his tracks and all his sound FX, each level of the game has a different track that matches the ambience and the characters, this cartridge has different melodies that can be classic and rhythmic depending on the situation in which we find ourselves. The sound FX are great and range from digitized voices, kicks, blows, jumps, shots, explosions and many more accessories that give life to this video game.

Turrican has a fairly adequate and simple gameplay for this type of video game, since the protagonist has a totally simple and easy to understand, that is, any newbie could manipulate the protagonist and apply all their movements and abilities very easily, just taking a little practice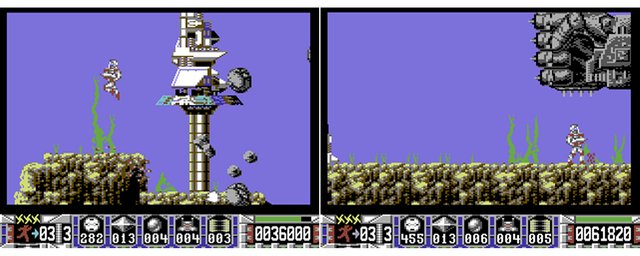 Each level of this video game has different areas that are led by bosses that are very strong and difficult to overcome, that is: after finishing with all the enemies that face us along each level, we will have to face the fines with a final boss that will be more powerful and rougher to eliminate it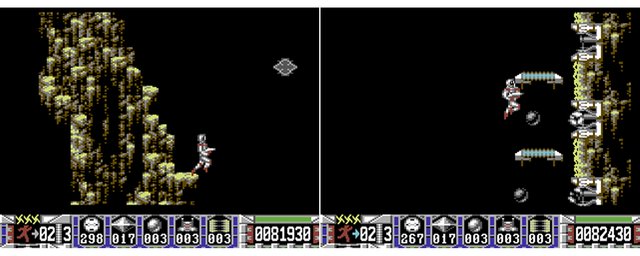 The game has an endless number of robotic and organic enemies which we will have to overcome one by one, we will also have to collect items and extra lives that will help us along this great adventure, we will also have to fill our energy bar to have more vitality and be more agile when facing enemies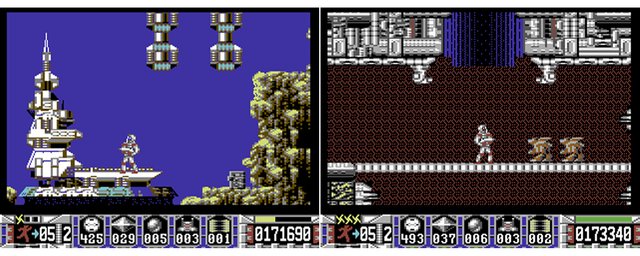 The game is full of passages and secret areas where we can take refuge and get a lot of items necessary for our character, we can also get a lot of branches that we can change depending on the opponent that we face or depending on the taste of Every player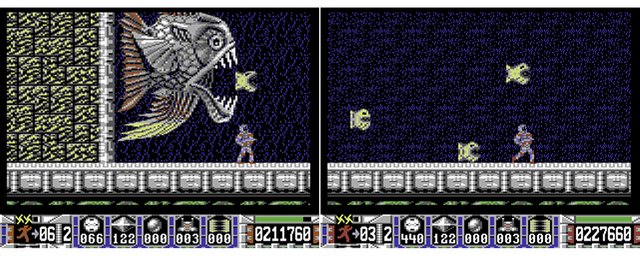 Turrican also has a very special ability to become a sphere and shoot throughout the adventure and thus defeat or overcome some obstacles that will be imposed on the road, if any Turrican is a magnificent video game that I recommend play, do not miss it.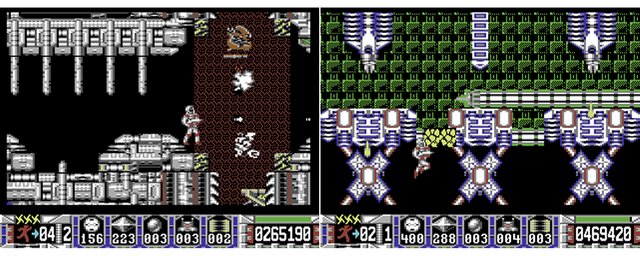 Without more to say, I think that Turrican is one of the best videogames of the Commodore 64 video game console because it has a great and simple gameplay, it also has characters of good size, with surprising abilities that will leave us open-mouthed, the setting The game is very well adapted as each level has a different setting but never losing the line of the game's history, all accompanied by a magnificent soundtrack that perfectly matches the plot offering classic and rhythmic sounds at the same time. . I recommend them below I will leave a link so you can download it and enjoy it in the comfort of your home.
Enter here to see the review of the previous game


And if you want to support the Spanish-speaking community !!!
Collaborate with your vote as we are many people who have to thank the great support of Cervantes, Enter and vote for @cervantes as a witness Witnesses is grateful for your support, below I will leave a link for more information.
https://steemit.com/witness-category/@cervantes/cervantes-witness-supporting-the-spanish-speaking-community


And do not miss the audioconferences between the Cervantes members and the promotion channels by categories
https://discord.gg/SnDH9Ku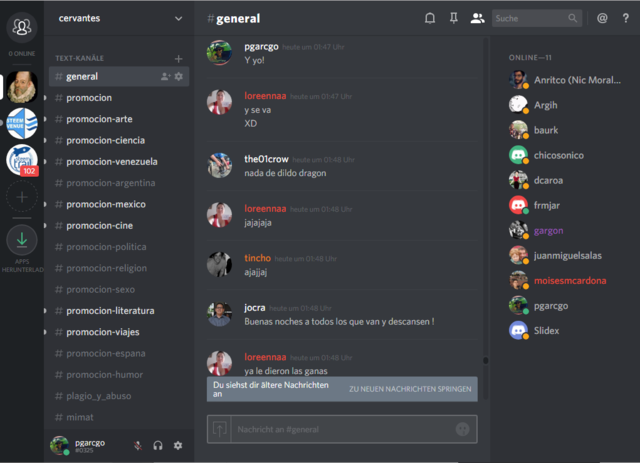 It also supports and follows the work of this great team !!!
In this great platform there are great bloggers who present great works that feed us with information and learning, then I will name only some of them that I recommend to visit and follow, they are @acidyo @glitterfart @hendrikdegrote @handmade @liberosist @curie @pharesim @hr1 @anwenbaumeister @kushed @meerkat @jodipamungkas @archdruid @blakemiles84 @dan-bn @jasimg @funnyman @munawar1235 @songsina @jlufer @slider2990 @free999enigma @pal @modernzorker @minnowpond @cmtzco @steem-marketing @daydayup @free999enigma @todderic @bitgeek @steem-id @coolguy123 @jasimg @liberosist @meerkat @boombastic @barrie @playfulfoodie @thegamechasers @howtostartablog @erangvee @beatemups @gamesack @rgt-85 @donkeypong @analisa @kevinwong @meerkat @rerez @playfulfoodie @opaulo @theb0red1 @arconite @erangvee @moon32walker @mammasitta @pcsg-dev @bue @steempunknet @ausbitbank @pharesim @playfulfoodie @crimsonclad @howtostartablog @discordiant @thinknzombie @team. Just name some but I recommend that you follow the work of each of them, and thank you very much for the support.