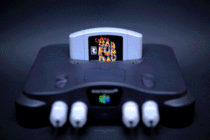 version francaise ici
Since the launch of the mini nes and mini snes rumors are going well to tell when the mini Nintendo 64. Lately, we learned that they will reproduce in June mini and mini snes. Also, the Nintendo company has registered commercial licenses last month about the Nintendo 64 before racing there are two possible reasons the first a launch of a Nintendo 64 mini or all just to protect their commercial right on the N64 .
We can imagine that the console could have between 15 to 20 games. In addition, the games produced by the RARE company are: goldeneye, donkey kong, diddy kong, conker bad this studio was bought by Microsoft so, I do not know if Nintendo have the rights of reproduction of the old games produced so that for affected the purchase or not of most people if the products of the developer of Rare do not find on this console.
Here is my list
Wave Race 64
It's a sea doo racing game.


Resident evil 2
I do not think that happens because the game is produced by Capcom.


F-Zero X
This is the sequel to F-zero on snes again a racing game

Pokemon Stadium

Mario Kart 64


WWE No Mercy
The wrestling games on the 64 were really fun and No Mercy was the best.


Paper Mario

Both Zelda


Goldeneye

Mario Bros 64

In conclusion, the 64 is one of my favorite consoles hope the new 64 classic come with 4 ports to put joysticks.
Maybe an announcement at E3 ???