Reached Level 46 and Level 47 in Pokémon GO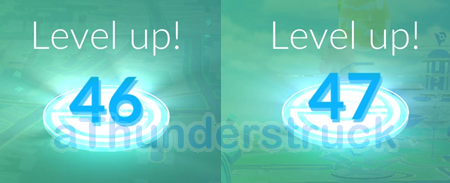 Ahoy everyone, I am finally posting about these level ups! I have reached level 46 soooo long ago already, as anyone on here who has me in their Pokémon GO friend list can have noticed. I just kept postponing to post about it, cause anytime I was going to make a post I had something else to write about. That's why I am combining my level 46 and level 47 achievements into this one post. I'm also posting these now because I have actually just reached level 48 already!!! I will make a different post about that another time, and I'll try not to wait too long with that one xD
According to my screenshot that I looked for to make the first part of the post, I reached level 46 already back in February!! On February 10th according to my screenshot. So here you can see the screenshots of hitting level 46 and my activity from level 45 to 46. I think it's accurate because there was about a month between hitting level 45 and 46.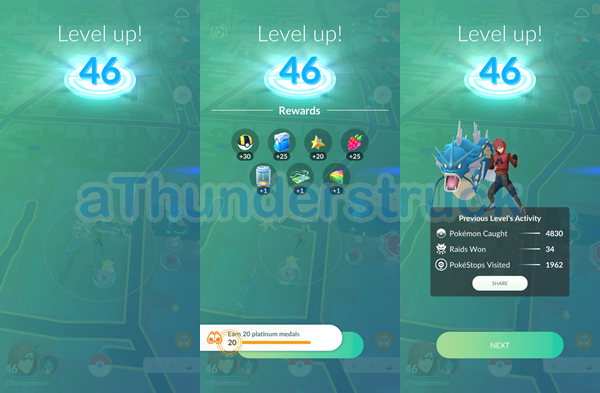 Now let's see what the requirements are for level 47.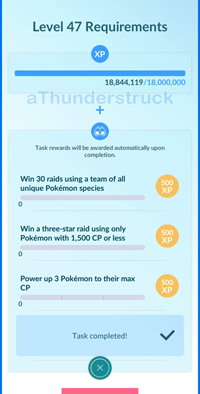 I have to win 30 Raids with teams that consist of all unique Pokémon species. Alright, that's not too difficult. Just gotta make sure that we have enough people in the Legendary Raids so that I can perhaps take a few weaker Pokémon with me. Making a Raid Party beforehand is always good so I don't accidentally forget to bring one.
Then I have to Win a 3-star Raid using only Pokémon with 1500 CP or less. For this one I actually tried it in a 5-star Raid, because at that time when I was going to attempt it, the Legendary Raids weren't too difficult and we had a bunch of people in. Bringing a party of Pokémon with 1500 CP or less to a 5-star Raid worked for this! It's only recommended to do this step in a 5-star Raid if you have plenty of people to defeat the Legendary Raid Boss without a problem.
The last objective was to earn 20 Platinum Medals. In the photo where I reached level 46 you can see that it already completed the "Earn 20 platinum medals" objective since I already owned them.
Another objective is to Power up 3 Pokémon to their max CP. It's written a bit strangely, but this means to power them up to level 50. Which requires quite some XL Candy. You can power them up to level 49 or 49.5 already if you aren't level 46 yet and just keep them there so you need to only give those Pokémon 1-2 more power ups when you've reached level 46.
For that objective I decided to power up my 100% IV Garchomp I had caught during Gible Community Day in 2021. Then as next Pokémon I chose to power up my Lucky 100% IV Machamp to level 50 as it's a great Fighting-type Pokémon with some extra power at level 50. As 3rd Pokémon to bring to level 50 for the level up requirements I chose my first ever Shundo (Shiny 100% IV) Pokémon! Which is an Eevee that I caught during the Eevee Community Day Weekend in 2021 and had since evolved into Sylveon.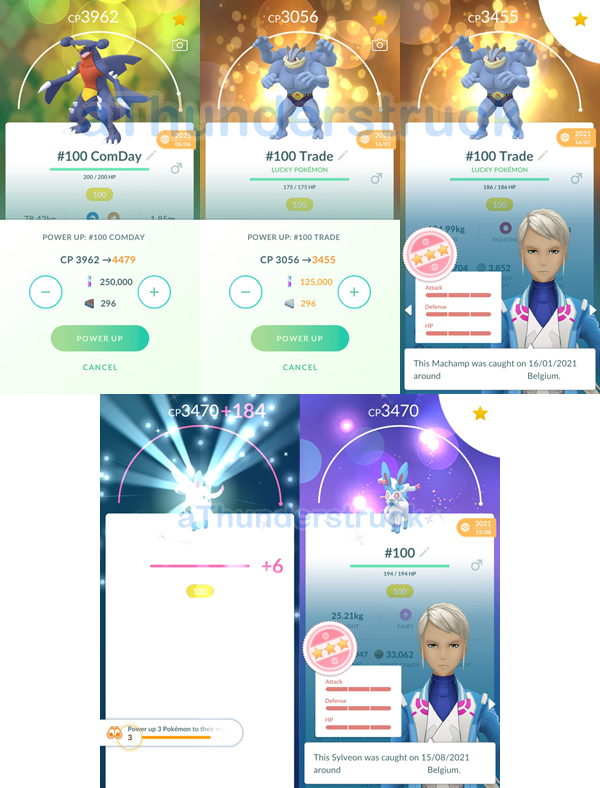 Powering up those Pokémon to level 50 was my last requirement to reach level 47. Which I achieved on the 9th of May earlier this year according to my screenshots timestamp. Here you can see my screenshots of reaching level 47 and the rewards.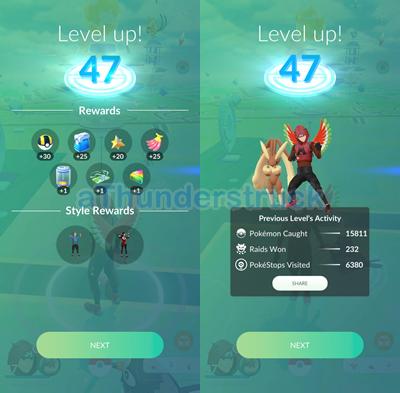 There were about 3 months between reaching level 46 and between reaching level 47. I think those numbers might be accurate. Back in March, April and May we could receive 2 Free Raid Passes per day from the seasonal bonus. Sometimes there was a day I couldn't use any, sometimes I used one and brought to use the next day. But those did add up a lot, so I think the stats are accurate.
Now let's take a look at those level 48 requirements.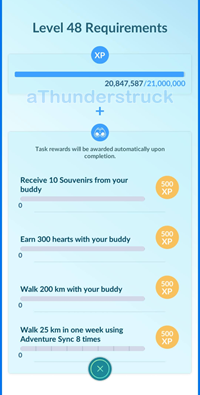 As you can see back then I even almost had the experience already to reach level 48! A lot of that exp is from becoming Ultra and Best Friends with people I know but also strangers that I've added or kept after we did Raids together (either I joined them remotely or they joined my Raid through an invite).
The first objective is to receive 10 Souvenirs from your buddy. This one takes a little while because I think any of your Buddy Pokémon at 3 or 4 hearts of friendship can only give you a Souvenir every 2 days.
Next up some more requirements with the Buddy Pokémon as you have to earn 300 hearts with your Buddy Pokémon. Of course it doesn't have to be with just 1 Buddy Pokémon, you can switch them around and just have to get 300 hearts in total with any Buddy Pokémon.
Then for the next objective you have to adventure with Buddy Pokémon as you have to walk a total of 200 km with your Buddy Pokémon. That's not too bad and will be completed before you complete the last objective.
The last objective requires to walk 25 km in one week using Adventure Sync 8 times. Every Monday morning you get rewards for the walking you've done in the past week. For those rewards you have to hit 25 km for 8 weeks in total. So that means it takes at least about 8 weeks (2 months) to go from level 47 to level 48.
As I mentioned earlier I reached level 47 in May, so yeah I already completed those objectives a long time ago.
How is your level progressing going in Pokémon GO?