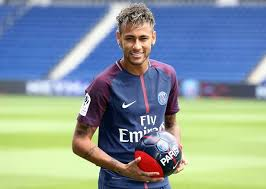 The Brazil striker has scotched suggestions that he could be set for a short stay in France, with Real Madrid reportedly interested in his services
Neymar says that he is excited for what is to come for him at Paris Saint-Germain.
The Brazil international striker moved to Parc des Princes in the summer for a world record fee of €222 million as the Ligue 1 leaders met his Barcelona buyout clause and, though he has been linked with a move to Real Madrid, he says he is in France for the long haul.
"It's just the beginning," he told PSG TV. "I wasn't expecting this at the beginning, these statistics with Paris Saint-Germain. But I'm here to help the team and my team-mates, and to try and do better each day, in each match, and that's the most important thing."

RELATED
VIDEO: 'IT WAS JUST A JOKE!' - NEYMAR CAUSES UPROAR WITH SCHOOLBOY HANDSHAKE 'FAKEOUT'
'IT'S VERY UNFAIR' – NEYMAR UPSET BY LUCAS BEING PUSHED OUT OF PSG
AUBAMEYANG, NEYMAR & THE MOST EXPENSIVE TRANSFERS IN HISTORY
'HE NEEDS TO ENJOY HIMSELF!' - EMERY DEFENDS NEYMAR AFTER HANDSHAKE 'FAKEOUT'
With 26 goals in 25 games, he is well on target to recording his best ever season, with the 2014-15 campaign at Barca his previous high mark, when he netted on 39 occasions. Yet he is hungry to touch greater heights.
"Yes, this is the best scoring form of my career, but I want to do more, score more goals and play better," he added. "I hope it all keeps going well."
Neymar has faced accusations that he has been too egotistical at times this season, particularly towards centre-forward Edinson Cavani, though he insists that this is not a problem in reality.
"It's not my objective to be the team's main player, the lad who gets the most assists or scores the most goals," he said.
"I just want to play my own football, that's how it is, I want to make things happen, score goals and provide assists. That's why I came here: play good football and score goals, and so much the better that we have players like Edi Cavani, Kylian Mbappe, Angel Di Maria... they're players who like to play this same way, creating chances, scoring goals and winning matches.
"We speak the language of football. It's a unique language but all intelligent players speak the same language out on the pitch.
"It's true that things developed quite quickly, but we still need time to get to know each other and find our feet together. But we're on the right track."
PSG face a big month during February, with the first leg of their Champions League last-16 tie against Real Madrid to come in little under a fortnight, plus a grudge match versus Marseille on the final weekend.