A1 Fighters business model
Should I invest?
First of all: You are not investing in a company, shares, nor is this financial advice. Don't ever spend more then you are willing to lose. Our servers can fail, we can go belly up, a comet might hit earth.
Live server goes up October 1 2019 - Couple days left to play around on our test server, come in and enjoy the rain.

Back to the business model.
There will be various airdrop modes. Currently there are ad banner drops and sale drops.
Here is how it works:
Owning tiles
You buy a tile, you are in the pot, either 10% (common), 20% (rare), 30% (mythic) or 40% (legendary), summing up to 100%. Whenever profit share is incoming, that's how the pots will be filled. So it really depends which tile you want to buy. If many people buy a legendary it might be better to buy a mythic or even rare if the amount of sold tiles is low.

Tile sale
Someone buys a tile: 10% after taxes (10% minimum, can be higher, but never lower) of that sale will be put into the pots. This will trigger an automatic drop and all tile owners receive real $ USD. Of course if someone buys 10 common tiles it will be one drop with 10x the amount.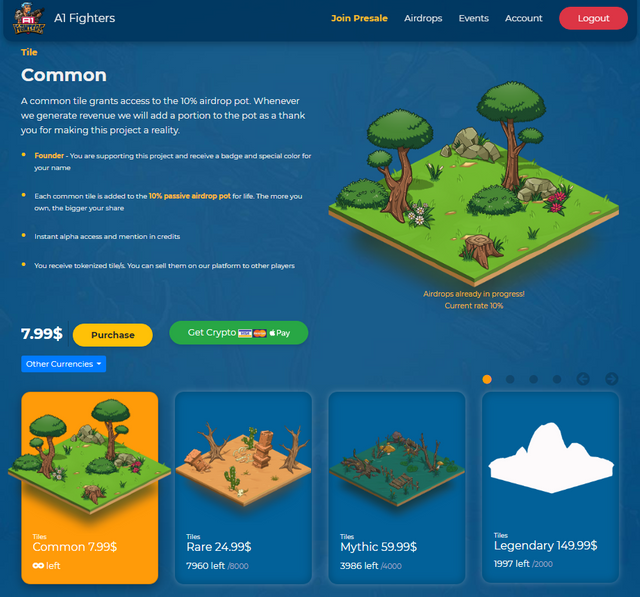 Airdrop ticket sale
Someone buys airdrop tickets. These tickets are required to start airdrops, or in case of presale, to place an ad banner on the website. There are 5 spots on index and 10 on airdrops list. At time of sale 10% (same rules as tiles) will be put into the pots and trigger a passive drop.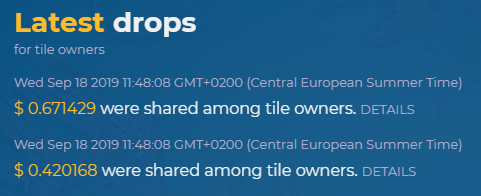 And last but not least the actual airdrop.
Airdrop trigger, or in this case banner placement
Someone wants to put their text, link or banner on the website. It will cost X amount of tickets. This is via bidding. Let's say someone pays 10 tickets, then he is number 1 and #1 is valued at 10 tickets. If someone else wants to be #1 he will need to spend 11 tickets and so on. Might make for some nice battles over ad spots. We are expecting a lot of users in the beginning and with $5 a ticket probably the cheapest ad spot on this planet.

Let's assume he did spend 10 tickets which would equal 50 bucks, another 10% (same rules as above) will trigger an airdrop, however, this time a sponsored one.
You will find a special entry in your personal events stating that it's a sponsored drop and the amount you received.
If it's a nice amount you might want to click the entry and it will unfold to show you the entire advertising banner.
We think it's fair, you are not forced to see the ad but if you see a nice number I am sure player will click it knowing that they got paid for it after all.
That way, even when the top 10 is too expensive, you can still get visibility by just spending one ticket.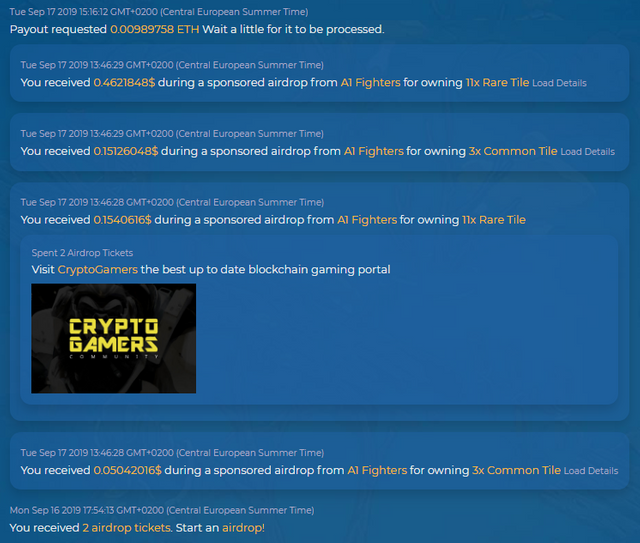 FAQ
Can only companies get spots?
Absolutely not. You can place ads for anyone really. If you feel generous you can just start a drop with some text to say Hi to your fellow cryptonians.
Of course you can also use the system to your own advantage and enter referral code links. E.g. place an ad for HXRO and include your referral link. Maybe it pays off.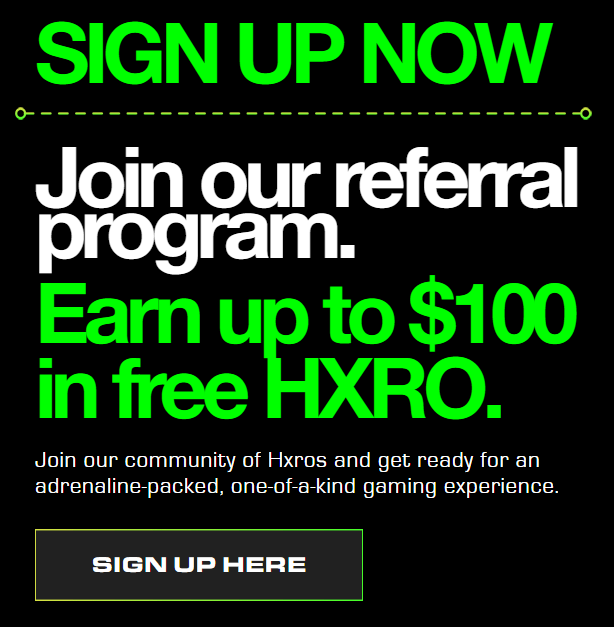 All ads are manually approved. Common sense applies for their content. If you are trying to share dodgy content neither your ticket nor $ will be refunded.
Currencies
Mined some token? We accept 30 crypto currencies.
Namely: BCD, BCH, BNB, BTC, BTG, BTT, DASH, DCR, DOGE, EOS, ETC, ETH, KMD, LSK, LTC, NEO, QTUM, RVN, STRAT, TRX, TUSD, USDT, WAVES, XEM, XMR, XRP, XVG, XZC, ZEC, ZEN

Payouts
We are using similar payout mechanics as we do in Chibis. Payouts are available in ETH and TRX and are converted via realtime prices. E.g.: Your account will show $10 available for payout. You enter $5, select ETH and will receive the equivalent amount of ETH to your payout wallet minus the blockchain fee.
How will the game airdrops work?
As for the future of airdrops, it is also planned to have in game airdrops. Let's say MANA (an ERC20 token). Then someone can spend X amount of tickets to start an airdrop of MANA.

She sends 100 MANA to the gaming pot and wants 20 player to get a random share.
During the next rounds of the game, the players can find these token in chests, or as rewards after the game ends.
Basically an interactive airdrop.
Due to the nature of this mechanic we will start with ETH and TRX since these are well established blockchains.
ERC20 and ERC721 token standards are widely adapt, so we can easily add a variety of token to the game, potentially even with a self service form to add your token.
In addition you will get some form of description or link with the token you received so you can easily see what project it is from. That way the token sharer gets some advertising in return. Win win for both parties.
Chibi Fighters
Last but not least the tech we are using is a complete rework of Chibi Fighters core architecture. We simply can not do such a huge code change on live servers. We decided to separate this project from Chibis and see how it does in a live environment.
However, if this tech proves to be as good as we hope it is, there is the possibility to port it over to Chibis.
A1 Fighters
More in a separate post, but in a nutshell:
We are not aiming for AAA gaming. This is a fully HTML5 based game introducing the latest tech and 2d graphics engine capabilities. It runs on nearly any device out there, does not require an app nor dapp browser to run, not even plugins like unity or unreal do.
This is not a game for flagship owners. Our audience are normal players.
Since we manage all things crypto there is hardly any crypto knowledge required. If you know your wallet address, you are all set.