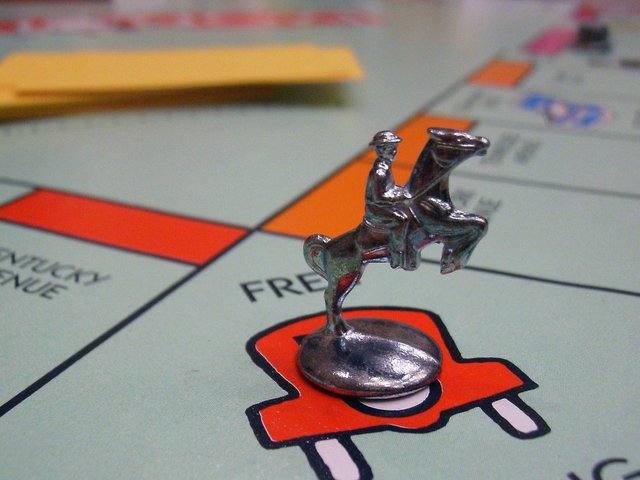 Our family's game of Monopoly had been under way for an hour already. With all of the major properties off the board (except for the dark blues, which had been too expensive for those landing on them so far), I found myself holding only one monopoly: the light blues. That one I acquired early on and built up with hotels before others could do much on their own properties. I also had two railroads, both utilities, and some cash.
It was a good position in the short term, but in the longer term, I didn't have enough high value properties to win this game. A younger me would have traded my way into another monopoly somehow and pushed for a chance to win. But I was playing with my wife and two kids. A parent thinks more about how the kids are doing, how they are feeling, what they are learning.
And I noticed that while my wife and one kid each had multiple property monopolies that would generate future cash, the second child was like me. She only had one. Short of merging (which wasn't required yet), there wasn't much I could do to steer the game her way in terms of helping her get more properties. I knew my wife would try to help equalize things eventually, but she was still cash poor and trying to build on her own properties.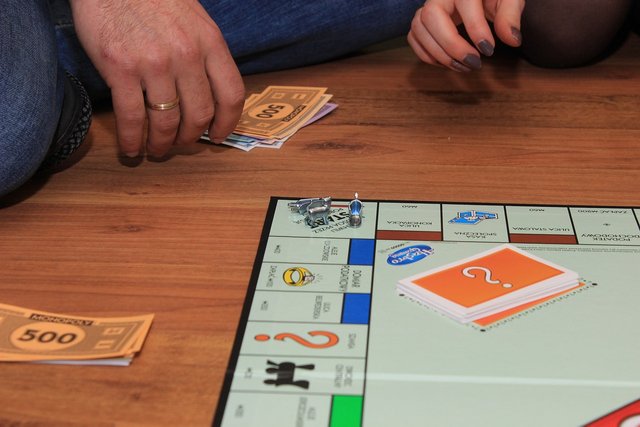 Generally, we try to let the kids play (and sink or swim) because that's how you learn about life. But it was too early for this game to be so lopsided. Some minor intervention might keep a more equal balance so that everyone could play longer (and perhaps even enjoy the game).
And that was how I became a financier.
My poorer kid's one monopoly was the greens. This is the second most expensive set of properties on the board. And with three properties for tokens to land on rather than just two, the green monopoly's monetary return is actually higher than the dark blue set (Boardwalk and Park Place, to use the American game's names).
The greens are a GREAT set to own. The only problems with the greens are: (1) People don't land on them as often as some others, and (2) They are expensive to develop, since houses cost $200 to build. Over time, if you can stay in the game long enough and have another source of revenue, the greens have a significant return on investment.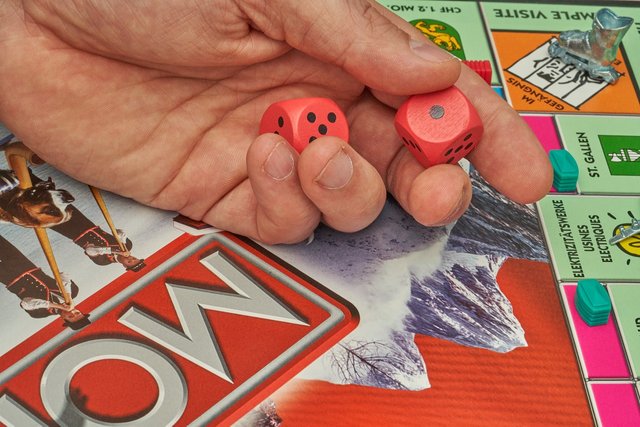 But if that is your only monopoly and you can't afford to build it up, that's an issue. The only way to make money on the greens is to develop them and hold them for long enough until people start landing on them and giving you a major cash infusion each time they do. If you can do that, preferably with another source of cash to help you stay in the game that long, your ROI is huge. In the long run, this may be the best set to own on the whole board. But if you cannot be patient or cannot afford to build them up, then the greens are not a good monopoly to own.
For my kid, the latter was more likely. She didn't have the money to build much and she didn't have other properties to provide revenue, aside from a railroad. The greens were not going to help her.
I decided to experiment by financing my daughter to build some houses on the green monopoly. Sure, it's technically a violation of the game rules against player-to-player loans, but the best board games allow for alternate scenarios to keep things fun and interesting. My cash wasn't doing me any good, since my meager holdings were fully developed. And I had nowhere else to spend it on unless I could buy properties outright.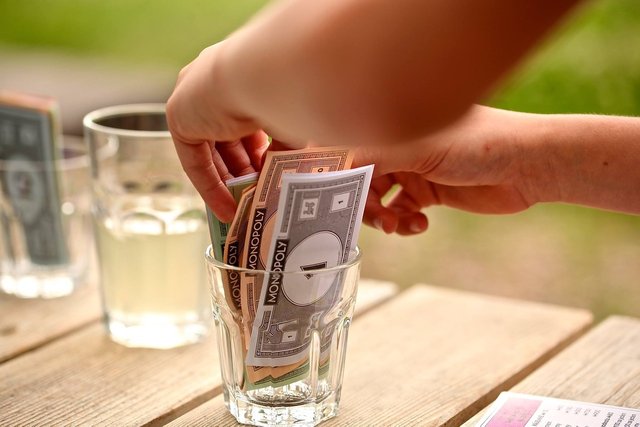 So I loaned my daughter the money to build some houses on the greens, taking an equity interest in each of those houses that was built with my money. When others landed on those properties, I would get a share of the revenue and she would keep the rest (which was more than she would be getting otherwise). It also didn't feel like a bad loan that way; she didn't owe me anything until someone landed on that particular property, at which time we'd both get paid.
This move brought her into profitability earlier.
But in this particular game, not enough people landed on the greens to make a major impact. That is a danger because the greens are located after 'Go to Jail' and after several of the card draw spaces, which often send players to different squares on the other side of the board: green properties do not get much traffic. Not long after, she and I ended up having to merge our positions anyway. It was the only real way to face the others with an equal standing.
While my experiment had not succeeded this time, it made an impression on both kids. They understood the terms of the loan I had made. And suddenly, financing was a potential strategy for them in Monopoly games. They told their friends at school. It sounded like fun.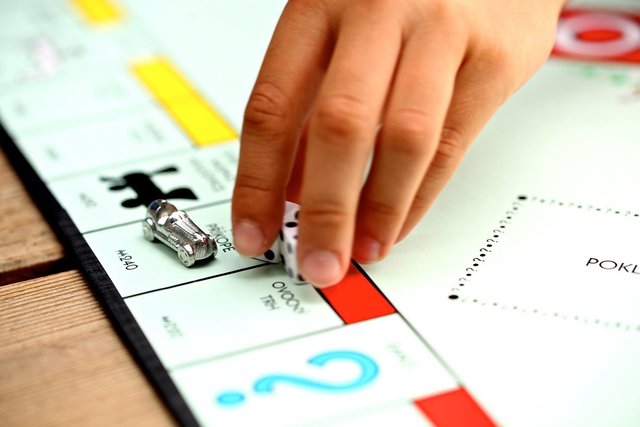 Here's the problem with financing in Monopoly
It rarely makes any financial sense for the lender. If the lender has to split the income from the houses he or she has bought for another player, then the ROI will always be lower than one could achieve by building on one's own property (where that player has a 100% ownership interest) instead. Some properties are more expensive to build on than others, but the difference there is less than you would be getting in additional profit from a partial interest if you financed properties on another player's affordable-to-build ones.
The only scenario where financing can make sense is if your character is cash rich, but property poor, and your own property is not expensive to develop. That was my situation when I owned the light blue monopoly only and built it up early in the game. (Plus, I was trying to help my kid, so the profit motive was only part of it, but don't tell them.)
Develop the pinks, oranges, reds, or yellows if you have them
It's far more likely that a player would have a monopoly set somewhere in the range of the pink, orange, red, or yellow properties. Statistically, because of the 'Jail' and 'Go to Jail' squares as well as the card draws that send players to jail, players land on the orange properties (including when they come out of jail) more than any others. And all of those middle-to-upper tier properties (pink, orange, red, and yellow) are great monopolies to own with significant ROI over the course of the game. It's the two monopolies beyond the card draw squares and 'Go to Jail' corner (the greens and dark blues) which get less frequent traffic and also happen to be more expensive to develop with houses and hotels.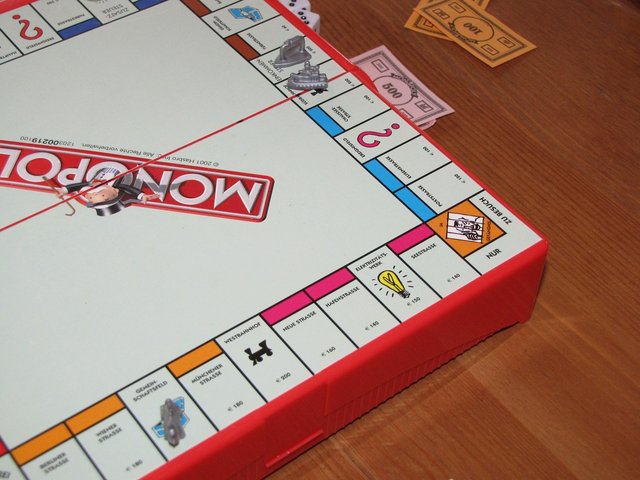 And so, if you hold a monopoly (or monopolies) in that mid-to-upper range, you should develop them as fully as possible with the money you have available. That's much more effective than loaning the money to another player or financing his/her construction of houses or hotels. As for the light blues, they are cheap enough to build up to make it worth doing so. And with the poor purples (which are brown on some Monopoly sets), there are only two of them and they are cheap slums, cutting down on the return. Still, they are affordable to build on if you are not sacrificing building opportunities elsewhere. If I have the purples/browns or the dark blues, I'll often try to trade them because others may overpay for a complete monopoly, even though the chances of anyone landing on them is cut by 33% because there are only two income-generating squares and not three.
Here is what happened with the financing idea. After we started doing it (which I mostly did to help my daughter stay in the game and because I had a rare hand which left me with extra cash early on), they told their friends and the legend grew. We had created a monster. The next time we played, the children were over-eager to lend money to others in exchange for shares in the rent from the houses or hotels that were built. And, as I indicated, doing this usually makes no financial sense. They were doing it more for fun, though it's a learning exercise as well. Developing one's own Monopoly properties is a far better use of one's money, basically unless you have extra money you cannot invest this way.
Hopefully, as with everything else, it becomes a learning experience (for them and for me).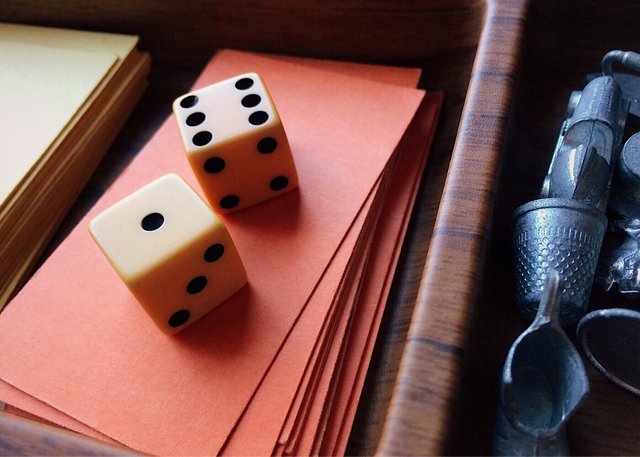 These are public domain, stock images, so they do not show our exact Monopoly game. We have the classic version of the board with the Atlantic City (U.S.) properties on it. Most of these pictures show other editions, but my description of the color-coded properties should match with most editions that others might play.