Grandtheftauto Online's Criminal Enterprise Starter Pack!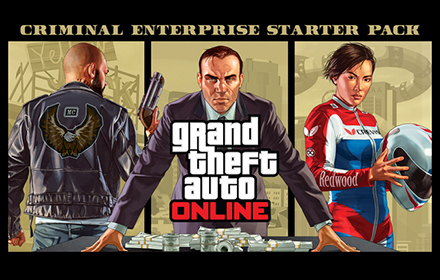 The Criminal Enterprise Starter Pack gives players, appartements, weapons, cars ans more.
But the price tag is a bit heavy around 50$.
So i recommend not buying it and just play the game with your friends, its more rewarding and Doesn't cost 50$
Appartement's:
Maze Bank West Executive Office
Paleto Forest Gunrunning Bunker
Senora Desert Counterfeit Cash Factory
Great Chaparral Biker Clubhouse
1561 San Vitas Street Apartment
1337 Exceptionalists Way 10 Car Garage
Vehicles:
Maibatsu Frogger
Enus Windsor
Obey Omnis
Coquette Classic
Turismo R
Pegassi Vortex
Huntley S
Western Zombie Chopper
Banshee
Weapons & More:
Compact Grenade Launcher
Marksman Rifle
Compact Rife
Stunt Race & Import / Export Outfits, Biker Tattoos and GTA$1.000.000 cash.
Source: Rockstar's GTA Online.
Devastating Dangeroes