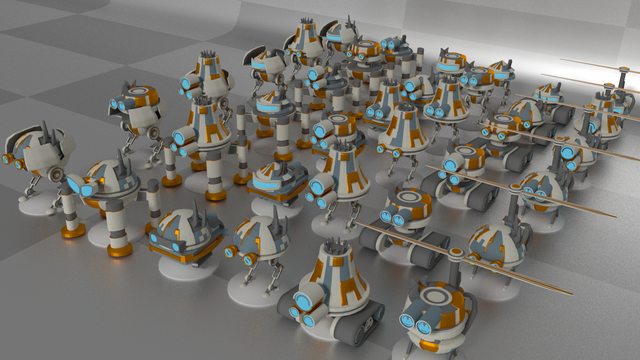 With a few days in forced exile from the internet (we were getting new service) the bot creation went into full production mode. From simple sketches to the final product we now have:
6 Heads
6 locomotion parts (Legs, tank tracks, helicopter blades, etc)
7 Eye types.
This gives us a total of around 252 possible units that can be created! Our goal is to get to 10 of each category which should give you around 1000 possible combinations! Once these parts are all finalized we will begin animating them and then the game development really begins.
That sounds like a lot but its broken into the parts so its a few animations for each head, each eye set, and each locomotion. Its still a lot of work but no where near animating every possible combination.
---
As we were creating the robots we realized that each bot is really meant to be their own complete creation, and not something to be switched out for your favorite pieces once you have been given the bot. However, we still want to have a solid economy of sharing parts between users, so now the SteemBots will receive augmentations to their parts through the post generated loot boxes as well as new parts for future SteemBots. Users can equip and unequip various augments and sell those on the market as well as extra pairs of legs or heads.
This way your robot can grow and become what it was designed to become. @bflanagin will be posting about the process of creating the bots as well as the first 3D printed "toys" based on Phil.
Till next week. Keep liking, sharing, and supporting us and the other amazing projects on Fundition.
Current project members:
@bflanagin: Developer, lead graphics designer, anything else.
@liamflanagin: Junior graphics designer (9 years old)
@seamusflanagin: Junior graphics designer (8 years old)

If you want to find out more about STEEMBots there are some links below, and as always Follow me and @v-entertainment to keep up wit all the in and outs of my projects.
About
STEEMBots is (or will be) a free to play Monster Rancher inspired bot building game built around the STEEM blockchain and ecosystem. If you want to find out more about the project or how you can help check out our fundition page here. We are looking to fund it on a monthly basis and even just a dollar a month will go a long way to making the game a reality.