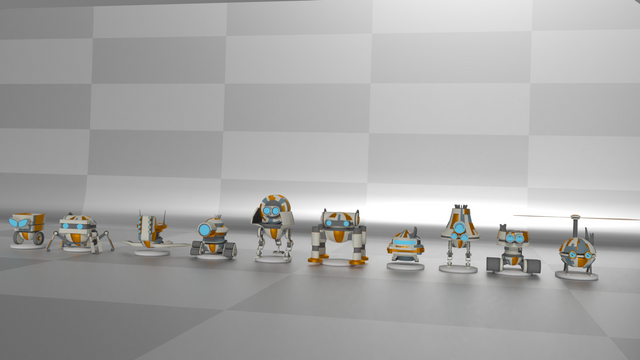 We have finished, the first generation of parts for our game. From these parts there should be one thousand different viable combinations for you to create in game, and that isn't including the various "paint jobs" that the bots may have!
So what comes next? Now its time to create the logic, and the interface around these parts as well as giving them various and somewhat unique animations to the parts. To stay we will be only concerned about the most basic emotions and interactions (Happy,Sad,Curious,Angry). If all goes well we should have something to play with near the end of January. This should give us plenty of time to get a little more polish in the client before the March 15th deadline.
Along with the "play room" we should have some of the training minigames created for you to interact with your bot more directly. These minigames will also increase the traits of your bots as your levels increase. These trait augmentations will be given as parts that will be added to the bots. For those that may have just happened to this project these are the training exercises we have in mind.
Puzzle : Intelligence
Runner / parkour : Agility
Find it / hide and seek : Accuracy / intuition
The parts will be delivered at level and as they are generic items can be a strictly local affair. Seamus, is working on the Runner level design and Liam is currently working on more items for the users to collect and place in bots living area.
Blender 2.8 and work flows
Blender 2.8 beta has just been released as of a few days ago and with it a new possible shift in work flow will be in the works. We wont go much into it but it is our understanding that they will be working with various Open Source game engines to make it easier for things made in blender to be directly imported into their engines. This might be a huge boon for our project given, however we'll have to wait an see what happens in the next few months before we change any of our current processes.
3D printed toys
We've been having a great time printing out our models in various configurations for "testing" . Its SOOO much fun, even though it does slow down development. We look forward to being able to add these files to the game for people to print off their newly formed robots, and if funding is there, create a print on demand service for the bots and other models. Though that may be another project for another day.
Technical stuff
We're looking into the best way to authenticate users into the game as well as on boarding new users. Creating the users isn't much of an issue and it is our opinion that having to install any other application beyond the game to play the game is a horrible idea. Rest assured that any information that is collected by the game will be stored locally and will do a much as we can to protect your data.
Till next week (or sooner)

If you want to find out more about STEEMBots there are some links below, and as always Follow me and @v-entertainment to keep up wit all the in and outs of our projects.
About
STEEMBots is (or will be) a free to play Monster Rancher inspired bot building game built around the STEEM blockchain and ecosystem. If you want to find out more about the project or how you can help check out our fundition page here. We are looking to fund it on a monthly basis and even just a dollar a month will go a long way to making the game a reality.