Wrestling with blender, part umpteendoteks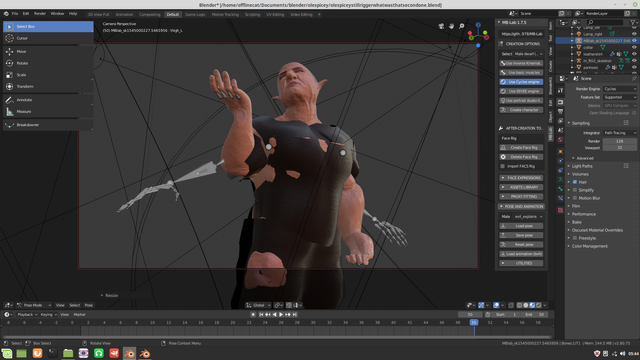 compared to what i had this is TRULY closer but far from a cigar .. the proxy fitting tool seems to very much disagree with me .. i remember this thing called "poser" from 25 years ago that made it like playing with dolls really, but blender is way too pro, i'm sure somewhere in the five million options available i can make it work, but as with all good things it wont come without effort and a lot of time invested
this is really the closest i got to moving the leather jerkin i modelled myself together with the mesh and armature so far, i guess with a little vertex manipulation this could really work out but i'm thinking im just gonna re-model the dwarf from scratch in teh current MBlab and blender 2.80 (its not llike you have to actually 'model' the humanoid, you just have to 'design' it lol, the props, however ...
these are made with physics and "sewing" ... it literally lets you put threads that connect one mesh/plane to another, add tension, then run the simulation.
The physics will do rest ... its amazing how physics is everywhere in the metaverse ...
SO, no music vid for ten cents but ALL MY STUFF AGAIN ...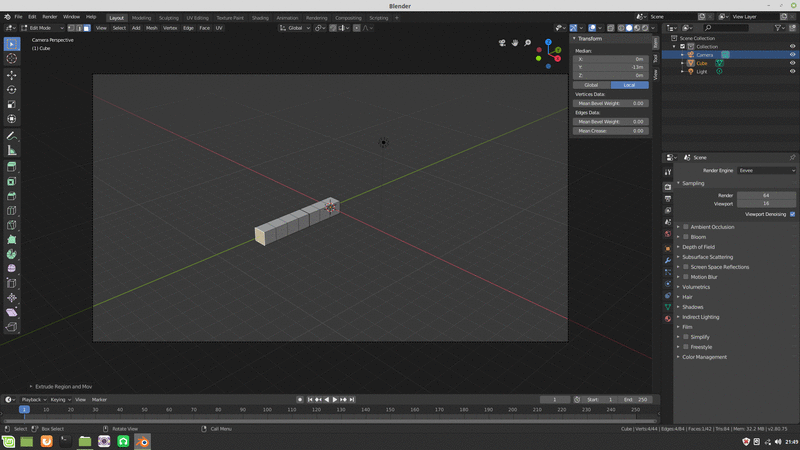 snakey was pretty easy with the bezier curve and modifier actually, ... you just need to know how to and where to find it heh ... i still consider it, after linux itself, the most epic free tool EVER #blender ... AND they just got 1.2 FUCKING MILLION DOLLAR to help further development PLUS partnership, gold memberships and adoption by some major players ...
now THAT's what i call getting paid to do it for free :p
the pixelthings are from #opengameart for my OGA is the new crack series for #steemplayer ... i just unpixelled all the pixels pixel by pixel to give it a proper alpha channel
ah ye i put those vids up for showing this and that, but i can link them here too, YAY
another post by me with stuff by me and me and me and me :)
as you can see, i DO have windows .. for testing "wether stuff runs on windows" and gaming but i havent gamed in .. ages?
but i just got a mail from an old friend who's kinda crazy batshit too, like me, but more adapted and able to pretend ...
eastflanders gravelpits tho, so she and i might be playing some dungeons & dragons online again on some sundays ...
yay yo ! hey ho !
and something not me but just to show off how i have GREAT TASTE IN ALL THINGS (heh heh ... ouchies ...)
women too, but they always end up eating me ... succubi one and all, thats why i steer clear of them until i get my money back