Shima Amidakuji Results
---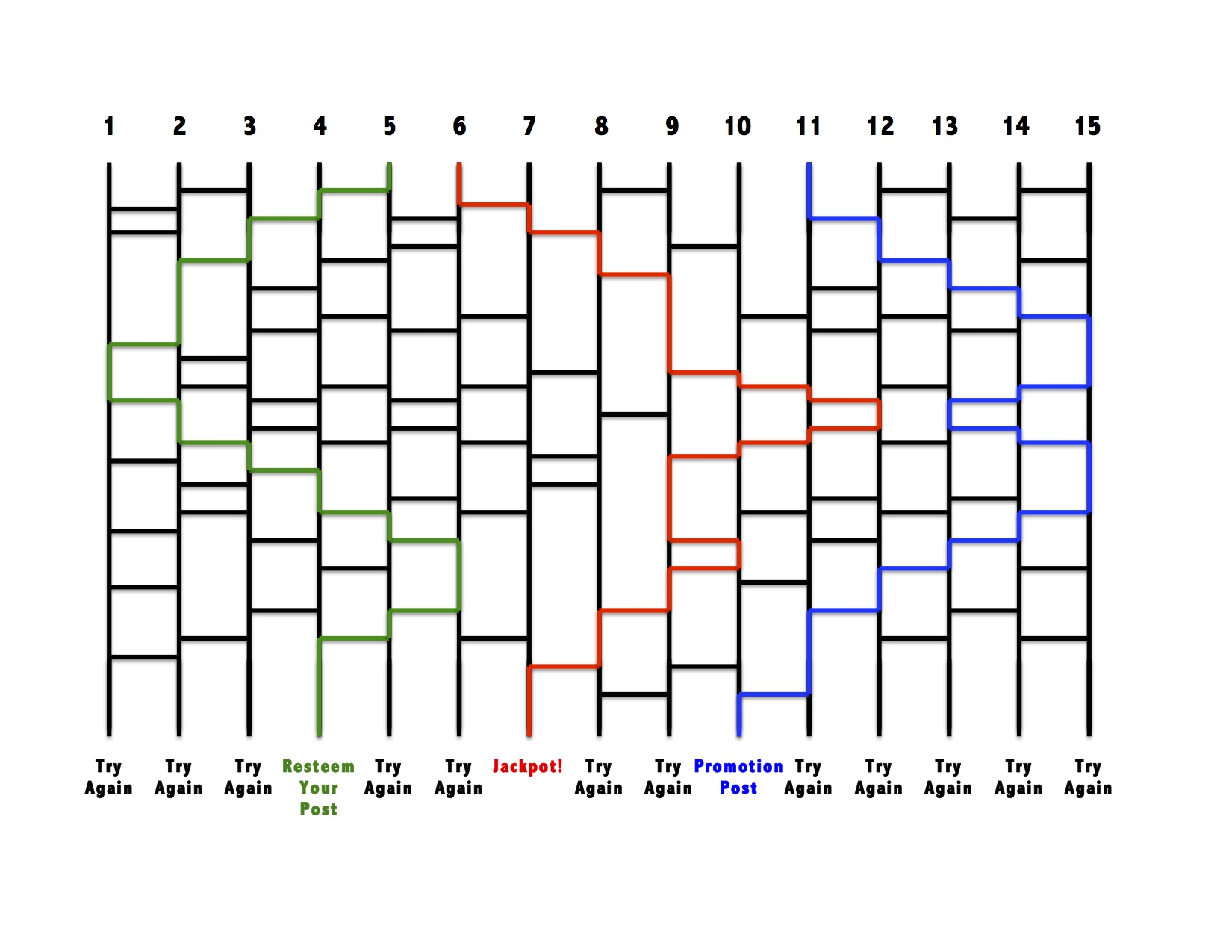 ---
I have to apologize for posting the results of this Amidakuji and for sending its rewards a day late.
With crypto prices soaring and SBD values ranging between $6.00 and $12.00, I understand if you have all been waiting and wondering when these results would be posted. Unfortunately, I got swamped by a number of other priorities and just couldn't get around to making this post or its payouts. With that said, let's jump right in and announce this week's winners.
すみません。今回の結果は一日遅くなりました。急に仕事が忙しくなってきて、色々がありました。申し訳ありません。
Jackpot Recipients: Congratulations @coquiunlimited, you are this week's sole Jackpot winner. I hope you will enjoy the full rewards of last week's Amidakuji, which paid out at 5.223 SBD and 3.059 Steem. Considering the latest prices of SBD, that's not a bad jackpot, and just in time for the holidays too.
今週のJackpotウイナーは一人しかいないです。@coquiunlimitedは5.223 SBD と 3.059 Steemをもらいました。最近SBDの価値を考えれば今回のJackpotは悪くないですよね。そして年末に間に合いました。おめでとうございます。
---

---
Promotion Post: Before I announce the winners of this week's Promotion Post award, I want to apologize to past winners for not writing these more quickly. I am doing my best with the time I have available to me. @darkerhorse, I am still trying to get in touch with you.
That said, to the winners this week, congratulations! @rockjon, @theb0red1, and @bluesapphire06, I will be contacting you all as soon as I can to collect information that will help me write a post about you and your work. If you have time, please don't hesitate to reach out to me first. Thanks in advance for your help!
今週のPromotion Postウイナーは3人です:@rockjon, @theb0red1, @bluesapphire06。今週この3人のブログについてご紹介記事を書きたいと思います。今までのプロモポストを書くのは思ったより時間かかっています。まだ完成してないポストがありますがもうそろそろ完成させたいと思います。こんなに時間かかって申し訳ありません。
---
Please tell me what the best way to contact you is, or feel free to contact me in the Amidakuji chat channel that is located on the SteemitBC Discord server.
---
Resteem: Lastly, I'm happy to announce that @chrismiss, who makes very nice stained glass ornaments, and @livinguktaiwan, who is a fantastic travel writer catering to English speaking audiences and the Chinese community as well, have won the Resteem Award. I have already upvoted and resteemed two of your posts. Here's to hoping that they get a few more views.
最後に@chrismissと@livinguktaiwanはResteemのウイナーです。この2人が書いた記事を二つずつUpvoteしていてResteemをしました。
If you aren't familiar with these two Steemians, please take a look at their blogs.
@chrismiss has just finished participating in @papapepper's selfie challenge for 57 days and has also recently shared a touching piece about how her father inspired her love for working with stained-glass. Both posts are very touching.
@livinguktaiwan is a very active travel writer and photographer who has contributed some great pieces to the #culturevulture challenge, among other things.
I have voted for and resteemed two posts for each of these Steemians. Please feel free to check them out here.
Selfie Challenge – what it meant to me
#gratefulvibes – My Dad
What does your Black n White photo mean to you?
Round the Isle UK trip #9 The Wall and dinner at The Hands and Flower
---
As always, to all of you big and small voters out there who are supporting this Amidakuji,, I can't thank you enough.
Many, Many, Thanks!
---
Don't forget to try your luck again next week!
また来週是非アミダクジをやってみてね!いつもありがちおうございます!