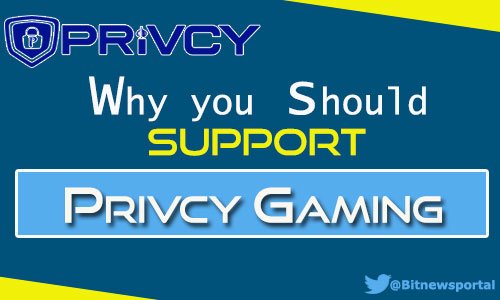 This article originally appeared on Bitnewsportal.com
http://bitnewsportal.com/why-you-should-support-privcy-gaming-network
Hello PRiVCY Community! Today we discuss about the reason why everyone should support the PRiVCY Gaming Network. PRiVCY Gaming is a branch of PRiVCY Coin Marketing that is focus on adoption inside the gaming community.
Many people are asking why the price of PRiVCY Coin plummets in the past weeks. When the development team are working round the clock to bring only the best possible features for the community. You can ask yourself why?
PRiVCY Gaming is focus on advertising PRiVCY Coin towards adoptions inside the gaming community. A simple baby steps that will increase awareness of PRiVCY Coin as a crypto currency inside the gaming community. PRiVCY Coin is not only focus on the gaming but they are also conquering all possible community for PR and Marketing. Testament partnership is one great example.
What can you do as a community members to help PRiVCY Coin reach more people in the gaming community? Support all the Games, Tournaments and support the official twitch.tv of PRiVCY Coin.
You cannot expect the price of PRiVCY Coin to moon if you cannot support the features being provided by the PRiVCY Team, There's no shortcut to make your PRiVCY Coin magically increase its price 10x overnight, This is a team effort and as a community we should support as much as possible. Since we all want the same thing a Mooning price for PRiVCY Coin we HODL.
I suggest start supporting your PRiVCY Gaming Network and Join its offering and participate in its discussion. Gamer or non-gamer can support PRiVCY Gaming by supporting its official twitch.tv channel. You don't need to spend your whole day playing and watching PRiVCY Gaming but i encourage everyone that instead of spending your time with youtube/facebook spend it wisely with PRiVCY Gaming.
Come and play with Us!
PRiVCY Gaming Official Twitch.tv

PRiVCY Gaming Ragnarok Online Private Server
http://gaming.privcy.io
Don't Forget to Re-Tweet, Like and share the article in different Social Media Channel a simple task but will have a great impact on PRiVCY Crypto Awareness Campaign.
FOLLOW ME ON TWITTER!
https://twitter.com/BitNewsPortal
Disclaimer
This News Entry is a personal opinion and not directly from $PRIV developer team this is a community initiative news entry, for official news and updates check out #announcement channel via $PRIV Discord.