FOO Jackpot Update + Dark Mode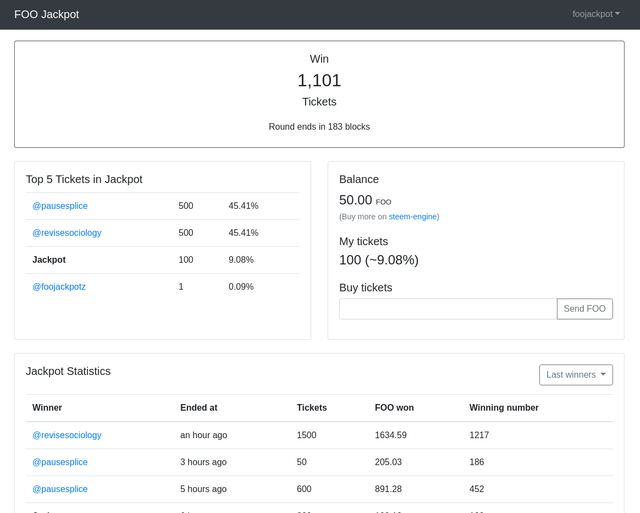 This is a short update on the status of FOO Jackpot and its development
First Airdrop
The rewards of the first airdrop were sent out. In total 5527 FOO were distributed.
Tell us what you think about FOO Jackpot and what new features and/or improvements you would like to see. Every comment will receive between 10 and 100 FOO depending on its quality.
News
Several new features were added to FOO Jackpot in the last days.
Layout and dark mode
Parts of the layout of FOO Jackpot were redesigned, including a new dark mode feature.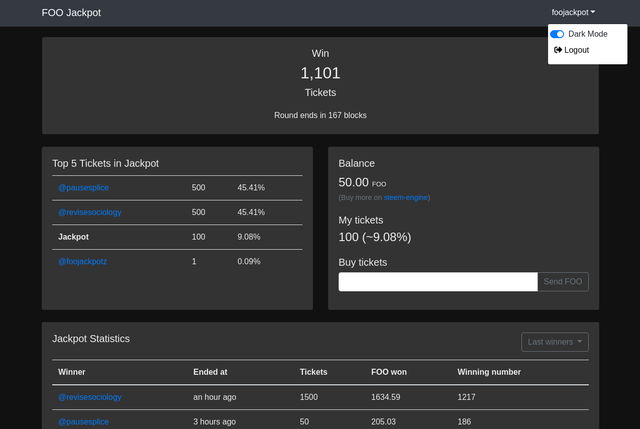 The dark mode can be enabled after logging in and clicking on your username on the top right.
Tickets in the Jackpot
A new card was added showing the "Top 5 Tickets in Jackpot". It shows the number of tickets and chance of winning of the top 5 players currently having tickets in the jackpot. This feature was added to make the game more competitive and to see who has how many tickets inside the jackpot at the moment.
Jackpot Statistics
The statistics of the last jackpots were extended with a "Largest Wins" and "Total FOO won" table.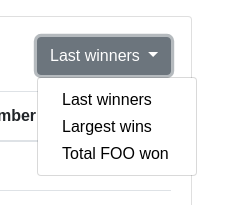 ---
That's all for now - have fun playing FOO Jackpot and stay tuned for other cool new features.