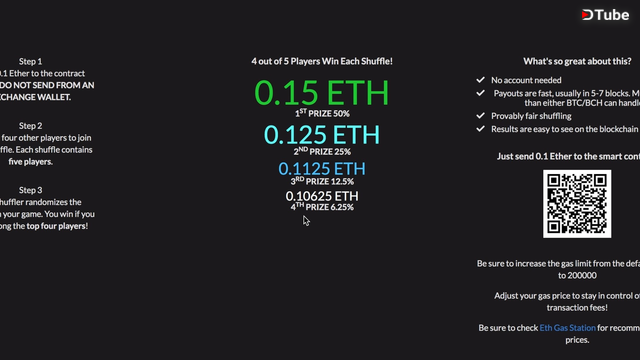 ---
I love blockchains, I really do. I have pretty idealistic visions for what they can do for me and for mankind in general.
If you're anything like me, you're pretty annoyed that there aren't real use cases beyond speculation. Well, here's one. EtherShuffle.
To me, EtherShuffle is a stepping stone, to learn what is practical on the blockchain, what works, what works well, and whhat doesn't. For you EtherShuffle could be a way to have fun and even increase the amount of ether in your wallet. It's simple and fast:
Send 0.1 Ether to the contract address. DO NOT SEND FROM AN EXCHANGE WALLET.
Wait for four other players to join your shuffle. Each shuffle contains five players.
The shuffler randomizes the players in your game. You win if you are among the top four players!
4 out of 5 Players Win Each Shuffle!
0.15 ETH 1ST PRIZE 50%
0.12 ETH 2ND PRIZE 20%
0.11 ETH 3RD PRIZE 10%
0.105 ETH 4TH PRIZE 5%
What's so great about this?
No account needed
Payouts are fast, usually in 5-7 blocks. Much faster than either BTC/BCH can handle.
Provably fair shuffling
Results are easy to see on the blockchain
Just send 0.1 Ether to the smart contract 0x6d69fcb28c9fcc9e9d39e3608190b24f4df295e7
Remember
Be sure to increase the gas limit from the default 21000 to 200000
Adjust your gas price to stay in control of your transaction fees!
Be sure to check Eth Gas Station for recommended gas prices.
---
▶️ DTube
▶️ IPFS