There is a clue in the title, but the answer is below. Could Steem see half a million transfers in a single day soon?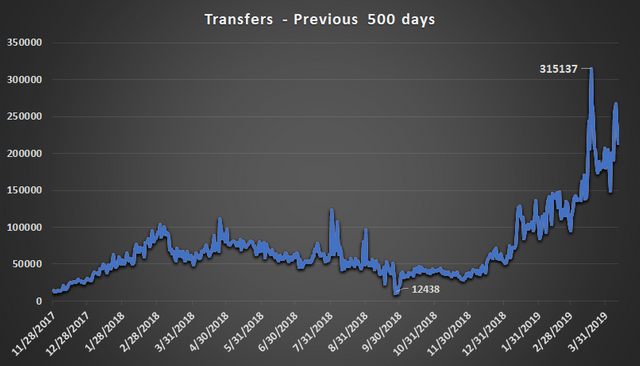 ---
The chart above covers Wallet transfers over the past 500 days and from around the end of November last year, the number of transfers has been on a sharp upward trajectory.
On the 18th of March 2019, just over 315,000 transfers were made - lets have a look who by, and who to...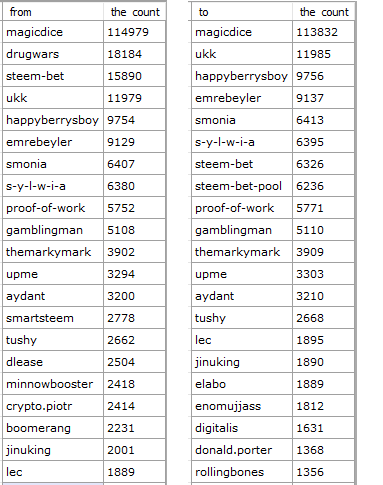 Yep, @magicdice was involved in 228,811 of the 315,137 transfers, a cool 73% and easily more than two-thirds!
---
I guess that it's good to see the network getting busier in this area, but the thing is, a lot of the transactions going to @magicdice are automated by accounts running gambling bots and pretty much all of the sends from @magicdice are automated.
@steem-bet are also on the list, and they arrived in February so could be likely to grow further in the coming months.
The @kryptogames and @kryptogamers accounts registered in January, but there are seemingly only recently starting to push advertising their website, and so they could contribute to these numbers soon also.
Then we have @moonsteem, and probably a bunch of others I don't know about, all of which are likely to be dominated by bots.
---
Steem, - the robotic gamblers gamers blockchain
---
I've been suffering all day with a migraine, struggled through the Minnow Power Up weekly post, listened to a bit of Pennsif's show, and this is all I have to offer today.
Goodnight :)
Asher