Around The World
An Extremely Healthy Snack
This snack has been specifically designed for Steemians.
Healthy to me means my brain and soul are going to feel better after eating something. A healthy snack leaves me feeling like I could boot a metal door down, or deadlift a sequoia tree straight out of the ground, or like I could flip an airplane off so hard they veer off course. This snack empowers me, and anyone who suggests moderation is spreading fighting words.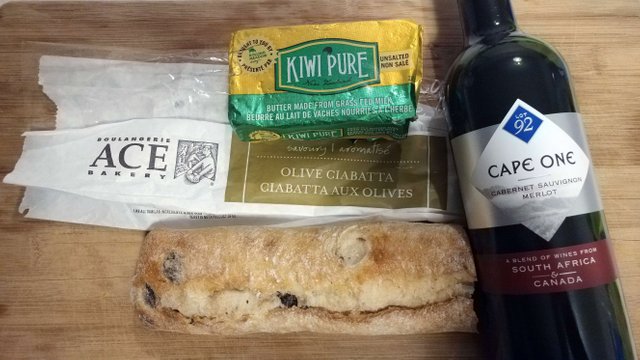 As you may know I'm Canadian, and because of that I have an extremely high tolerance to maple syrup. This is why when I want to get high I have to source my material from around the world. Now the bread itself is from Toronto, because fresh bread is key and Toronto is my neighbour. If I stop buying their bread, literally millions of people will lose their jobs.
This butter; okay let me tell you something about butter. Butter is a food, don't eat wank butter. This butter was extremely expensive, but if I'm going to sparingly eat dairy it is going to be the absolute best! According to the package info, this butter is made under the direct oversight of highly trained Kiwi birds. Thank you, New Zealand for your 'grass-fed butter' ( isn't that expression stupid as hell!)
South African Wine, this is a first for me. This wine burned my nose at first, like a wasabi mistake. It has a spicy fruity kick, and I really like it. Great job Africa! I know the bottle says South Africa, but I've never been one to take sides. I congratulate the entire continent of Africa on the achievement of this wine.
To the fuming mad Italian folk out there, obviously we need your olives and without you, this entire snack would be without character. I don't know how to say thank you in Italian, but I do think your country is hella bella.
Thanks for stopping by and admiring my choice of snack. I hope I have influenced you to snack harder next time; to seriously treat yourself properly with the power of food.
If you would like for me to continue to challenge your personal beliefs about snacks, follow @zastels