I'm very Disciplined, eating a little bit, ideal weight, now I will show You. Go, let's see how ideal is my weight. Ok, I go on the libra and....Uuh, this libra is surely broken as it shows wrong kilos. 10 More than what it should be...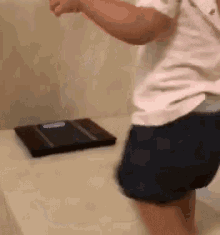 Gif source: Tenor
Conclusion: Even libras can be wrong sometimes.

Choose to change Your life, through the Steem Schools, Press and Start... See on our Discord Channel: https://discord.gg/EVbE8Bt.