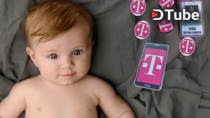 ---
Welcome to the world, little ones! In this big world you will now ideally be a loyal customer starting NOW!
You'll never be alone in terms of privacy, but as for actual emotional support...well that's really up in the air, it could go either way. We can't help you with that at all really ....But HEY! You wanna buy a phone or some shit?
And while we're here you kids! Change starts now alright?...uhh yep, now apparently. Are you with us?
Brilliant.
This is T-Mobile's "Little Ones: In Other Words" 2018 Superbowl Commercial (Winky Face).
Music: "All Apologies" (Kurt Cobain) as performed by NIRVANA
---
▶️ DTube
▶️ IPFS