Mighty Blueberry Show - Episode 2 (7 Questions)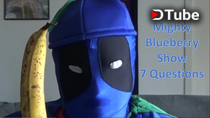 ---
Welcome to the Mighty Blueberry Show. In Episode 2 Mighty Blueberry takes on another 7 questions in his own blueberry way. Hope he gives you some crazy thrills.
Here are his 7 questions for this show:
Do you approve of gay marriage?
Is taxation theft?
I like to play board games, what is your favourite board game?
What do you like to eat?
Mighty Blueberry is a wrestling character in your WWE 2k18 game. Has Mighty Blueberry ever fought in a real wrestling match?
Do you like to play tennis?
Who is your favourite blogger on Steemit?
If you have any questions you would like to ask Mighty Blueberry scribble them down and then paste them into the comments section. He may include them in his show one day.
---
▶️ DTube
▶️ IPFS