Mighty Blueberry Show - Episode 1 (7 Questions)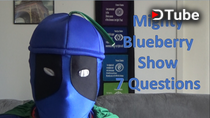 ---
Welcome to the Mighty Blueberry Show. In Episode 1 Mighty Blueberry answers 7 questions blueberry style. Hope you enjoy this nutter.
Here are his 7 questions for this show:
Are you a fan of the NFL?
What is your impression of the Steem platform so far?
Will you stop creating fake Facebook accounts? Leave me alone, I hate you dumb BEEEPPP.
If you could live in any country where would you live?
What is your favourite TV show?
What is the point of your show?
When was Mighty Blueberry born?
If you have any questions you would like to ask Mighty Blueberry just pop them in the comments section. He may incorporate them in his show.
---
▶️ DTube
▶️ IPFS