Mighty Blueberry Show - Episode 4 (7 Questions)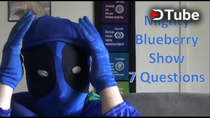 ---
Welcome to the Mighty Blueberry Show. In Episode 4, Mighty Blueberry will try to get his head around another 7 challenging questions. He will try and convince you that his nonsensical approach to anything can actually work.
Here are his 7 questions for this show:
What is your opinion of berniesanders and his crusade?
Are you a fan of MMA?
Do you prefer Xbox or PS?
Are you happy with the outcome of the Super Bowl?
What is your favourite animal and why?
Do you prefer chicken or burgers?
If the world was to end tomorrow, what would you do today?
If you have any questions you would like to ask Mighty Blueberry just write them in the comments section. They don't have to be good, just appealing to this fool.
---
▶️ DTube
▶️ IPFS