Dear manufacturer of Husband 2.0,
I wanted to first write and tell you that I have been quite satisfied with this make and model though the motivation behind the letter is to enquire about a few issues I'm beginning to notice.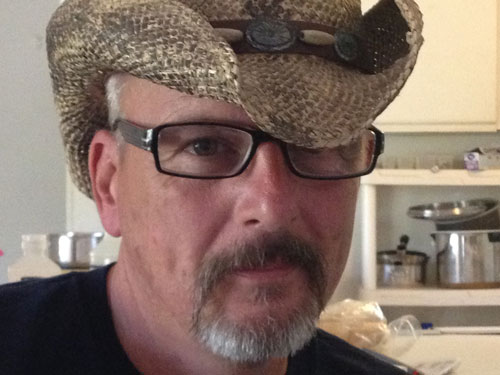 Lately he's been backfiring... A LOT.
Is this normal???
There are some days where he burps along with every step and other days when he backfires just from sitting idle. This doesn't seem to affect any other operating functions of Husband 2.0 unless, of course, he runs like the hounds of hell be nippin' at his heels with echoes of "that's not a fart!" in the air.
While this is may sound amusing, I assure you,
it can lead to a very serious situation.
Please remind me later - I may need a proper quote to replace the inner combustion system.
Honestly though, if you were a responsible manufacturer, you should have a warning to keep away from Husband 2.0's odiferous tail pipe as it may cause hallucinations, severe gagging, or quite possibly - death! I have obviously not died but there are days when I wish I would! This often happens when Husband 2.0 bends over or when I squeeze him with affection. Additionally, it scares my dog.
I'd also like to note that the joints are starting to creak and pop. Is this normal for a 1970 model year?
If you're taking notes, I'd also like to state that there is a major defect with Husband 2.0. Apparently the balls have dropped and I've read several reviews stating this is a common problem with Male editions over 40, including Husband 1.0, 2.0, and so on. With that much history and feedback you'd think you could come up with better packaging?
As I was saying
Husband 2.0 makes the strangest high-pitched noise when they're sat upon, which is often accompanied by whimpering and speaking in tongues. I had no idea this model had a foreign language option! And when Husband 2.0 isn't paying attention and sits on them with gusto, he could give a wailing banshee a run for the money. This too scares my dog.
Now, I've tried calling Genesis, who shall be thus called, MOM, and she was quite adamant about a DO NOT RETURN policy, though there is no indication of this in any of my paperwork.
In the interest of being transparent, I've had Husband 2.0 for about 13 years so he's been put to good use. I just want to make sure there aren't any recalls.
Lastly, I wish to acknowledge that the early edition of Husband 2.0 was quite amorous and easily rose to any occasion. This has since waned significantly but may be attributed to Wife 3.0 suffering with sagginboobitis and dontshayverlegznomore.
I'm afraid I didn't buy the extended warranty and I'd really hate to decommission Husband 2.0. He's been quite handy over the years, very loyal, and I've really grown to love him...even if he scares my dog.
---
Follow me on Twitter or
visit my website to connectAll images are mine.
The green guy on the right is courtesy of Pixabay CC0 public domain