Conversations with Dog-oh – Should I trade Litecoin for Steem?
I was sitting around thinking about things a bit too hard and wondering if I should trade more of my Litecoin for Steem – I glanced over at Dog-oh.
"What do you think Dog-oh, should I trade more Litecoin for Steem?" I asked.
Dog-oh kind of looked over causally at me staring a bit with his big brown eyes and his tongue slightly hanging out. "Ah ha, um hum," he said.
"No seriously Dog-oh both coins have kind of been in a slump recently but I think there maybe more upside potential in Steem. Litecoins founder dumped all his coins and left citing a 'conflict of interest' and I tried to download the blockchain the other day and got disgusted by the enormous size of it. Somewhere around 30 gigs or somethings like that," I said.
"What on earth are you trying to download the Litecoin blockchain for? Just get a wallet like Electrum-LTC or leave your coins up on the exchange," said Dog-oh.
"Maybe I wanted to dust off the old mining equipment and solo some LTC," I said.
"Silly human, people don't solo mine LTC with that old junk any more. That belongs in the dumpster," said Dog-oh.
"Man, your just spoiling my fun. Okay, the truth comes out, I was thinking about testing some decentralized trading," I said.
"Hmm maybe, but all those blockchains on your computer… I don't want a bunch of smoke to come out of your computer and ruin my day," said Dog-oh.
"Perhaps your right, I think Steem or Ethereum will work on the blockchain sharding issue and fix that. Those chains have got to be getting enormous. Especially with all the things, (like cat videos,) people are posting on Steemit. The first coin that solves that will probably spike in price," I said.
"What'd ya think Dog-oh? Should I trade more?" I asked.
By this time Dog-oh was somewhat disinterested in our conversation and staring off into space. Perhaps mentioning cat videos was a bad idea.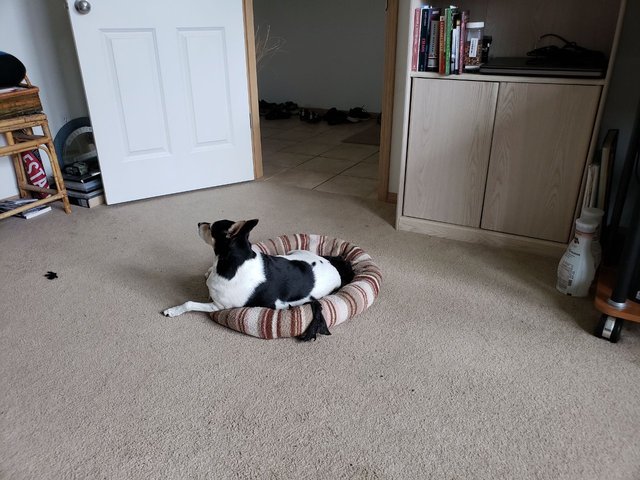 I can't solve all your problems human, your going to have to do your own due diligence – click for viewing full screen
---
Thanks for reading! I always value your support and comments. The pictures were taken by me with my Galaxy S9+. Just in case anyone is worried, this is supposed to be a funny post. :D