If you are like me and have been following the NBA for the past week, you might be thinking, "This league has lost its damn mind!"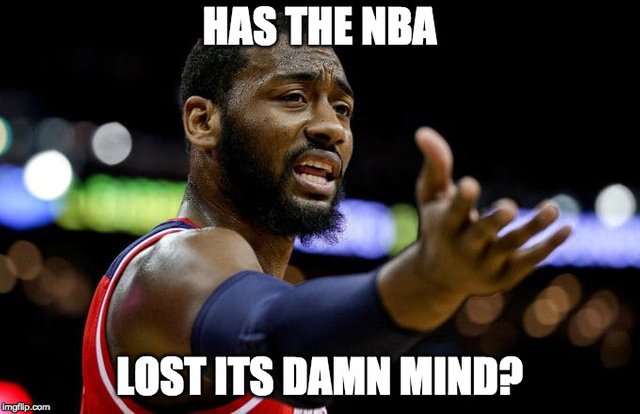 Here are some of the "interesting" moves, during that time:
It all started with The Clippers trading the coach's son (Austin Rivers) to The Wizards for a 7 foot tall gut with a mini-mohawk (Marcin Gortat).
And that is when the fun began.
A few days later, Paul George announced he was passing up on his childhood dream to play for The Lakers, left millions on the table, and decided to stay in Oklahoma City. This also lead to the Thunder breaking the record for highest luxury tax ever paid by a team ... by nearly $50 million! (They will pay over $140 million in luxury tax for the privilege of finishing no higher than 4th in their conference).
Then DeAndre decided to leave The Clippers (the team who " kidnapped" him and refused to leave until he agreed to resign with them back in 2015*) and join the team who he tried to join back in 2015, The Dallas Mavericks.
Next, LeBron decided to leave the incredibly easy path to the Finals he had created in the Eastern Conference and took his talents to LaLa land.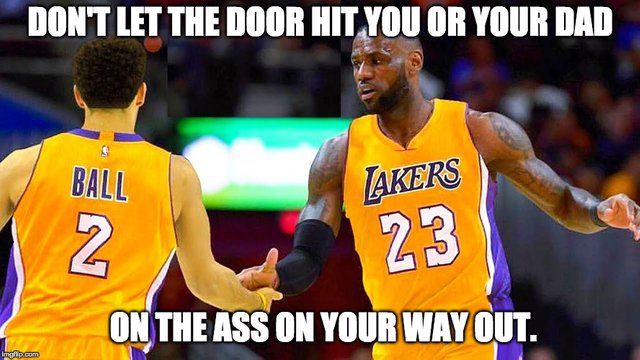 At this point, I figured LeBron would put on his GM hat and drive the franchise into the ground. It seemed that it was only a matter of time until LeBron would trade every young asset on the team for a superstar like Kawhi Leonard.
The Lakers made some additions alright. But none of them made me gasp. They all made me chuckle.
First JaVale McGee (star of Shaqtin a fool) decided to join the king. Although McGee had a great NBA Finals, he is still one of the biggest knuckleheads in the NBA. After leaving J.R. Smith in Cleveland, I would have thought LeBron would have wanted a break from knuckleheads. I guess not.
Then they added Lance freaking Stephenson. A guy who is more famous for blowing in LeBron's ear during a game than anything he has ever done on the court. It is clear that LeBron does not like playing against the very annoying Stephenson. I guess one way to assure that never happens is to put him on your team.
Just as I thought my head would fall off from shaking it so much in confusion/disbelief, the Lakers released a young up-and-coming star in Julius Randle (whom they had drafted #7 overall in 2014) in order to sign a 32 year old Rajon Rondo.
LeBron is most effective when he is able to penetrate and kick out to shooters. Do you know what none of those guys can do? SHOOT!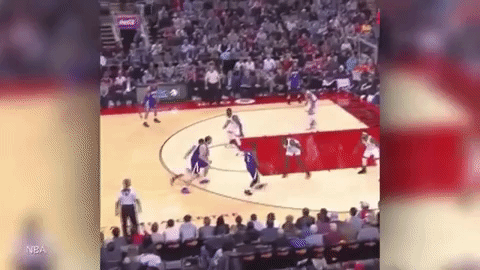 Giphy
There is still plenty of time for the Lakers to land a superstar (especially if they can package Luol Deng's contract with a young player or pick and get the Suns or Bulls to take it) but for now this is so much fun. And before you flame me in the comments, I realize that those are all one year deals and L.A. is keeping their powder dry for next offseason... but for now, it is delightfully silly!
Now here is the big one that lead to my epiphany. Arguably the most talented center in the NBA (who happens to also be the moodiest and the craziest) DeMarcus Cousins has agreed to join the World Champion Golden State Warriors!
What?!!!!!!
Here are his video-game-like stats from basketball-reference.com:

The fact that he is moody and crazy may be neutralized by a great coach, respected teammates, and the fact that there simply isn't enough oxygen to sustain the crazy of both Draymond Green and DeMarcus Cousins.
I wonder what the record is for most technical fouls by a team?
I'll guess it is every team Rasheed Wallace played for.
Ok. Those are the insane moves. But what about the explanation?
How did this all happen?
Did you ever see The Twilight Zone?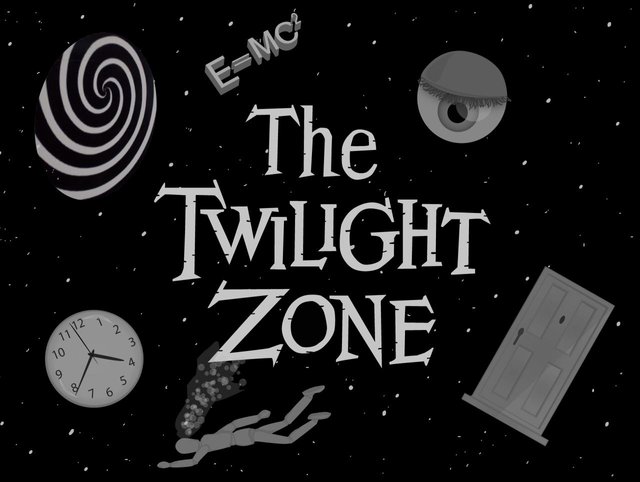 Do you know how amazing, supernatural things happen there all the time?
Well we are all in a Twilight Zone episode.
In this episode, a 15 year old kid has wandered into a very special store located in Oakland, California (think the shop in Gremlins). An ancient, and strange man sits behind a counter. The boy spots a video game sitting on a dusty shelf next to a monkey's paw. He asks, "How much for the game?"
The old shopkeeper replies, "There will be no charge now... but you will have to pay the consequences later."
The kid shrugs, "Free game. Cool."
He grabs the game, hurries home, puts it in his PlayStation 4 and sees...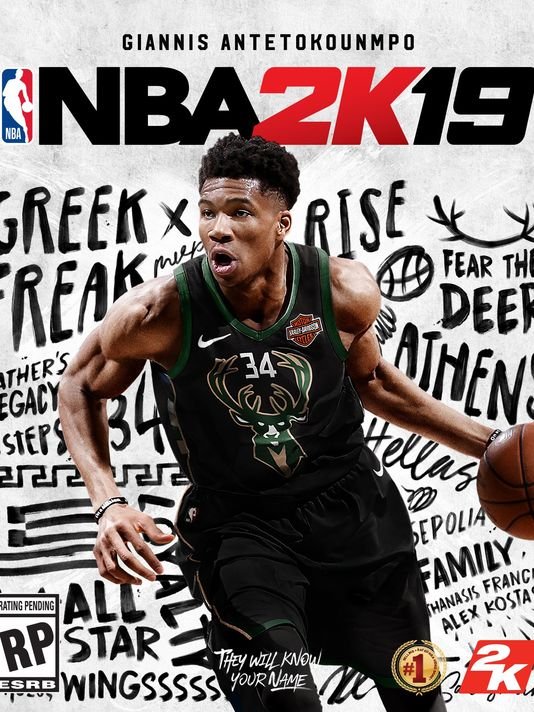 Wearing his favorite Golden State Warriors jersey, he enters "Franchise Mode". He makes sure the settings allow him to override trades and ignore the salary cap. Then he sets out to build his dream team. But wait. He already had that. (He is a Warriors fan after all). Not satisfied with beating LeBron only 6 times each year, the boy adds The King to the Lakers so he can have his Warriors pound him 8 times each season. Then he begins to add knuckleheads and non-shooters to the team. He also drops one of their best young players for nothing.
Then he sets out to build his perfect team. The only thing really missing is a center. So he adds an athletically gifted 6'11" beast who can score from the post, shoot, rebound and pass for the veteran minimum.
Before starting the season, he decides to grab a quick snack. On the way to the kitchen, he glances at the T.V. He sees that all of the silly moves he made in his game have all happened in real life!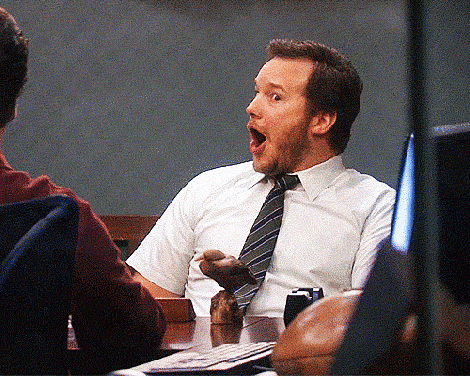 I'm not sure how the teenager grew this beard or where his jersey went
...but it is the Twilight Zone.
He runs back to his game and tries to figure out how he can add Ariana Grande to his... ummm "living room".
Cue Rod Serling to say his famous closing line and fade to black.
Oh wait.
I forgot the consequence that needs to be paid.
Fans of at least 28 NBA teams don't get to enjoy the season.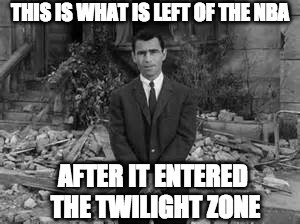 *https://losangeles.cbslocal.com/2015/09/26/what-really-happened-at-deandre-jordans-home-this-summer/
On a side note. This Twilight Zone theory may also explain why the commissioner of the league can not see himself in a mirror, be in direct sunlight, or eat garlic.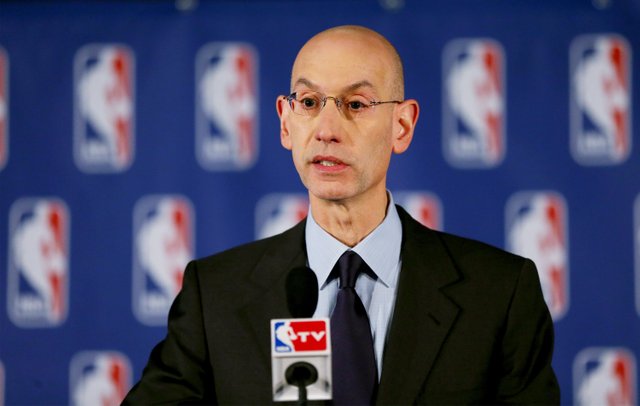 *
Nosferatu