Tom and jerry
Hello friend steemit, how are you today and that is all in good condition.
On this day I want to make a different post from the usual day, today I want to share about entertainment and hopefully funny and all entertained.
Maybe we just see in the film about the journey between cat and mouse and or better known as Tom and Jery, and we know that they both never get along and always Tom annoys Jery and otherwise Jery also annoys Tom and this is always happens so this movie is very funny and amused especially for children and adults.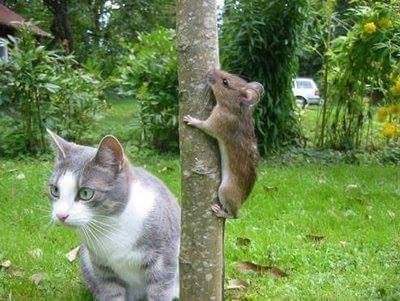 And it turns out that in the real world too, the cat is always aiming and always hunting mice, and in the real world this has little difference because if the cat gets a mouse then the rat's history is over, so rats must always be careful both while playing and foraging .
And if not careful with the cat then a big accident will be in the face of the rat, therefore this rat must be a little cunning and smart then if this is owned by the mouse then the mouse is easy to get food, and especially now in man's house today is very much that keeps the cat so if not good at undergoing it then death came to him.
Thank you for visiting this post and hopefully all can be entertained