TOM AND JERRY SUIDE AT THE END OF THE LAST EPISODE ...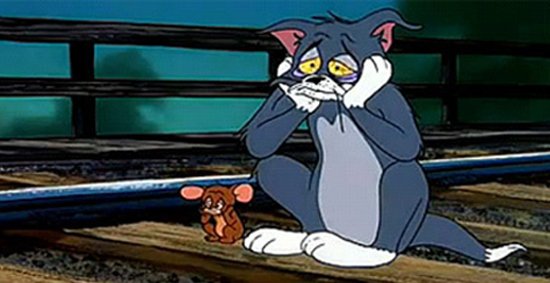 During the Blue Cat Blues episode, aired in 1956 for the first time, we witness the deaths of Tom and Jerry. More precisely, after amorous disappointments, the two characters will try to commit suicide. You can imagine that the reception of this episode was not very warm, so that it was diffused only very rarely.
Tom is totally depressed. He is sitting on the railway waiting patiently for a train to arrive. Looking at him from the top of a bridge just above the tracks, Jerry laments the sadness of his old "friend" ...
How did it happen?
Tom fell madly in love with a young lady. The latter will accept the advances of Tom, until it is courted by Butch, the rival of Tom. Butch, will even interrupt Tom's candlelit dinner and the beautiful to court her. She is going to be opportunistic and, attracted by Butch's wealth, lets Tom fall immediately.
Tom will do everything to win her back by offering her many gifts such as flowers, perfume, diamond rings, and a car, but she rejects all her efforts. He failed to get his attention because Butch's gifts are much bigger, more expensive, and outrageously more extravagant (including a tanker filled with perfume and a ring with a diamond so big and so bright that it can only be admired with goggles).
Tom is now broken, unhappy and broke. He decides to drown his sorrows in the drink and remains deaf to the pleas of Jerry who tries to stop him. Desperate, Tom is about to literally drop into a gutter but Jerry saves him at the last minute.
Jerry tries to help Tom as he can. He is delighted that, unlike Tom's ex-girlfriend, his girlfriend is faithful. That's when Jerry's idyllic world breaks up ... He sees his girlfriend Toots, in a cabriolet with another mouse and a "Just Married" sign. Jerry is now shot down and joins Tom on the tracks. They are waiting for a train approaching.
Well, although we do not see the train passing on them, the scene is rather explicit.