Fundition is described as the next-generation decentralized peer to peer crowdfunding and donation platform that brings project founders, backers and followers, together. Fundition is leveraging Blockchain Technology in gathering project founders and Funding investors without a middle man. All Fees are eliminated for the Founder, gives the backer more of a share of the project, and allows a peer-to-peer relationship between the founder and backer, without a middleman and this is attributed to its Decentralised approach. Fundition is currently ranking number 22 among all the finance dapps on the Stateofthedapps website


image source
How does Fundition Work?


image source
Millions of hearts are mined every day on the Steem Blockchain
These hearts are collected into a big heart pool
Backers, Collaborators, and Founders send part of their hearts from the heart pool to support founders and their projects
Collaborators and Founders receive their hearts
Backers who have given their hearts to founders are rewarded with heart power.
Fundition benefits to all it stake holders:
Founder BenefitS
Founders have a common desire to fund their projects and these projects can be music recordings, books, cutting edge technology, a fundraiser for a local sports team or Charity. All these projects are accepted on the Fundition platform. The following are the significances of Fundition platform to the Founders:

There is immediate access to a large number of users that is over 2 million on the platform due to the fact that Fundition is Built on the Steem and Tron Blockchains.

Donations are provided to the founder instantly within his Steem account with no complications or intermediary. Donations are therefore wired directly from the Backer or from the Steem Blockchain.

Fundition takes no profit from any of the transactions of the Founder due to its being a benefit-based corporation.

The Support given is complimentary for holders of a free Steem account.

A founder is provided with additional exposure and interest in his project when he gets featured on the Fundition account.

Continuous support on every piece of Content posted by the project due to the nature of Fundition donations which are gifts that keep on giving; even steem accountholders can opt to give a heart power donation hence providing additional micro-donations of steem to the project.

On the Steem Blockchain, the Fundition project posts can gain the attention of large account holders(whales or dolphins) enabling the founder to have more support for his project.

Participating on the Fundition platform assists project founders' projects in getting into the media which implies more visibility and a high potential of receiving more support.
As a Backer
Backers on the Fundition platform enjoy more benefits than those on the centralized crowdfunding platforms. These normally come into crowdfunding via their favorite inventor facilitating a more intimate connection with the founder. Peculiar with Fundition is that everything that a backer does, is rewarded in the form of SBD or Steem from the Blockchain heart pool in the way that is determined by the founder. The SBDs and Steem can be exchanged into other cryptocurrencies such as Bitcoin and also in the form of heart power, which is given to the backer's Steem account in the form of SP. More Significant benefits to the Bakers include;
Every contributor receives something regardless of the size of the donations or contributions given hence enabling the backer to gain some heart power, even at its very least.

All donations are sent directly and securely to the founder without the involvement of a middle man and these are verified directly from your bank account, Steem/ Tron account Wallet depending on the type of donation.

All your donations don't go to the stakeholders of Fundition or its corporation but to the project founders hence ensuring a sense of focus.

On Fundition platform, a backer has the opportunity to make either an anonymous or public donation and when you make a public one, you are availed the opportunity of interacting with the founder and other backers on the Steem platform hence building your like-minded community.

A backer can make a direct donation for hearts via credit card or cryptocurrency.

Can purchase and/or give free hearts with HeartPower.
As a Collaborator
As a Collaborator, you are rest assured of providing concrete support to a well-deserved founder hence making the concept of proof of Merit alive. You share your rewards with a project that you like and work with like-minded people.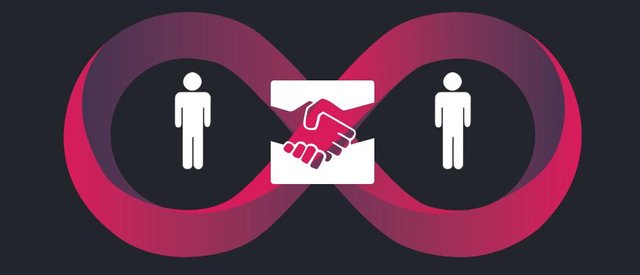 image source
Merits of Fundition as opposed to other Crowdfunding platforms
Fundition charges 0% fees on the donations of Backers with a complementary steem account/ Tron Wallet whereas other platforms charge a 5%-15% on the donations of Backers hence making Fundition the most ideal platform to be used by backers.

Fundition charges 0% fees on the support rendered to founders with a complementary steem /Tron account as opposed to the 3% fees charge on other platforms.

With Fundition, Backers can purchase HeartPower instantly, and use it to back multiple projects over a life span.
I give Fundition a 5/5 star rating as a finance dapp and recommend everyone to use it.
For more details, visit the following sites;
https://purplepaper.fundition.io/?utm_source=StateOfTheDApps
https://fundition.io/