🚚 STEEMtruck is back on track! 😎 [UPDATE, INFO & PLANS]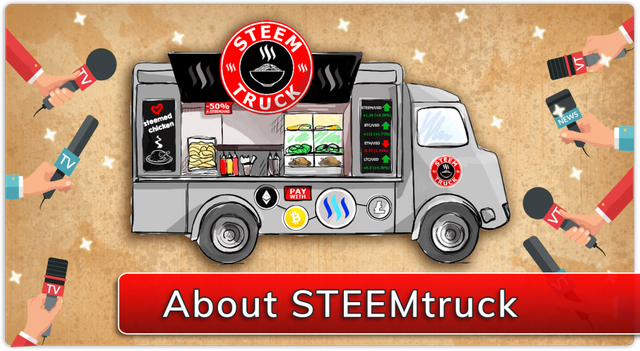 It's been a long time since the last update in the project, but finally, I can write more about the situation.
What happened?
As some of you know, for the past year, I've been traveling around Asia with my girlfriend. I've been collecting inspiration, building networks with other chefs and learning new recipes. Everything was going very well, but about 4 months ago my girlfriend started to have serious health problems, and it got so bad that we need to take care of this at first place.
As you can probably guess, visits to the hospitals and everyday stress are not helpful in planning something else, so STEEMtruck turned to a side street. There are important and more important things, I think I don't need to explain it.
But now the situation calmed down enough to start thinking about the project again.
What's next?
In the last 13 months, a lot of great things have happened with STEEMtruck and in the next posts, I will try to describe the whole situation. I have a few new options and offers and I have a lot to think about. I think you will be as surprised as I am about what's happened. 😉
In the next post, I will also present the current financial balance of the project. Conversion from STEEM to fiat and transfer to a separate bank account turned out to be a good move because I managed to keep the value of STEEM from a few months ago for a big part of the budget.
I have also been working on a project based on Steem Blockchain since last year and thanks to this I managed to collect an extra pool for the STEEMtruck project. Generally, the situation is good, and it will be even better! 😎
I also have a whole list of recipes in my pocket and I wonder how I can use them at the moment. I think I will just share some of them with you soon. 😉
In general, there is a lot to write about, so follow the profile because soon I will try to catch up the last few months.
I'm glad that the situation is better and finally I can return to Steem with peace of mind. I missed it very much.
All funds collected under this post will be transferred to STEEMtruck Project account.

Send a donation via Fundition.io to support the STEEMtruck Project ⤵