Two weeks ago, we gave you the first part of our educational series about the psychology of crowdfunding. Have you learned all you could from it? Today, we will continue on and cover two more concepts that will help you with your projects and make them attractive and interesting to your supporters and backers.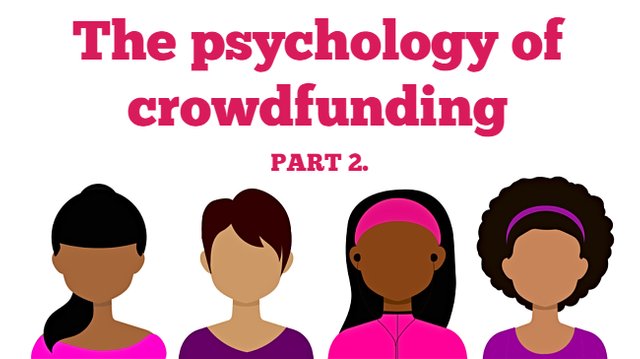 CCO image, Pixabay, author: coffeebeanworks, adapted
This time, we will focus more on you and teach you what you have to say about yourself and in what way. Knowing who you are and what you stand for is important for your investors. They need to feel safe about you and comfortable with giving you their hard earned money.


Have you ever tried googling yourself? You might give it a go to see what people will find if they do it too. Rest assured that you will be googled by many before they donate to your project. People will search to find anything they can about the founder of the project before they support that project so having something about yourself, with that something being positive, is important. You can not erase your past, we know, but try to have more positive things about yourself online than negative ones.
Social proof is important
The more proof there is that other people approve of you, the more they will approve of your project and support it. Sure, you need to tell us a little about yourself in the project but that is not enough. People want more. They want to know if you had any previous projects, what have you been working on, what kind of person you are and have you supported projects from other people. Check your online presence and make it shine. See if you have supported, shared, and promoted other projects before you start your own and figure out what kind of message people will get about you after they look you up.
Social media is almost everywhere now and if you have different names on different platforms that will make it harder on people to find you and gather information. You can make it easier by linking your profiles and telling people what to look for. This shows openness and honesty. Your potential backers will be able to discover more about you and know where to look for what interests them.


No one is perfect. That means you are not either and no one will ever expect you to be. People will get very suspicious if you try to suggest that and smell a fraud. Do not oversell your abilities. We want to know that you have what it takes but do not fake it. Be honest and do not be afraid to tell us about your shortcomings.
Backers appreciate honesty...
Telling us about potential problems you might run into will portray a realistic picture and show that you are serious with your research and preparation. You have obviously looked into everything and prepared yourself for the potential risks. Backers are people who are supporting people, and they like to see the human side of you. Do not be shy with your qualities and abilities, highlit them and make them pop out from your shortcomings but do not try to make something out of you that you are not. Crowdfunding is about business, not fairytales so realistic approach works best. To assure trust that you are able to finish your project, provide credibility. Tell us about your education, background, and abilities. Convince us that we can trust you.
Backers need to have a certain amount of faith in your ability to reach the goal. Most of the times, they are funding your idea or a plan, something that yet needs to come to life and they are giving you a lot of their credit with their every donation. They will appreciate you for your honesty and for being prepared, it will create trust and make them donate even more. If your supporter and backer feel like they can trust you, you have actually achieved the biggest thing there is in crowdfunding and you have nothing to be afraid of when it comes to the success of your project.

Start Building the Future Today with:

Join a community with heart based giving at its core