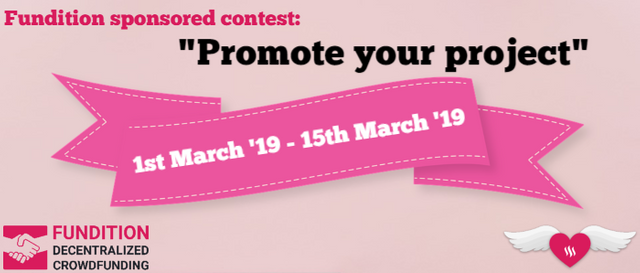 If you want to win some extra support from Fundition, this is the perfect contest for you. All that is needed is for you to promote your project outside steem to any social platform or blog, collect evidence and data about it and write a post explaining to us what you did, where, and how. Include screenshots, links, data on how many extra funds you made, how much retweets, shares, likes etc. We will take everything into consideration, both quantity and the quality. For extra points, take our quiz and show us how much you know about crowdfunding and Fundition.


Only entries that follow the rules will be accepted so be sure to read this post carefully. You will need to write a post and if you forget to put something in it, that will, unfortunately, be your problem. Do not expect from us to play detective, you will be judged ONLY on the activity you have listed in your post.
Entries are accepted until 16.03.2019. when the next round of the contest will begin. The results of this round will be published on 20.03.2019. By entering the contest you are agreeing that your info provided will be shown publicly in the results for others to see. Our transparency standards are high and all your entries will be categorized with scores made public.
LIST OF RULES:
Promote your project outside steem with shares, events, articles, posts, tweets etc. and collect evidence about it (links, screenshots...)
Gather data about likes, reshares, retweets, comments, and any other responses you get
Take our test about your crowdfunding knowledge here: Fundition test for extra points
Write a post entry for this contest that will include all your activity, evidence about it and your overall promotional activity in those two weeks. Tell us what you did, where, how, when, and how often.
Put your post entry in our discord channel called Contest entries
THE JUDGING PART:
we will take into consideration the frequency of your promotional activities, the quality (+images +videos), their impact, your score on the test and the quality of your post entry
activities without evidence of them will not be scored
only English post entries will be accepted but your promotional activity may be in other languages
only entries that are put in the Contest entries channel will be accepted
all entries will be given scores and listed in the post with results of the contest
scoring will be done by the Fundition Associates team
results will be published 5 days after the contest has ended


There will be 3 main prizes where 1st place will receive 100% upvote from Fundition, 2nd will receive 50% upvote, and 3rd will receive 25% upvote. The winners will need to comment on the post with the results, and those comments will be upvoted. There will also be 5 additional consolation rewards of 10% upvotes.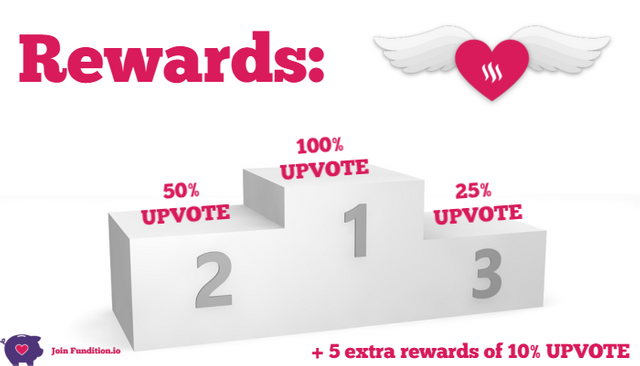 IMPORTANT DISCLAIMER:
We need to uphold the level of quality that we upvote. This means that if there are no quality additional entries for the consolation rewards, none will be given. Same goes for the main 3 rewards. Fundition reserves the right not to upvote entries that are not good enough, even if that means no upvotes and prizes at all.


Start Building the Future Today with:

Join a community with heart based giving at its core