Gaming.Fundition: the ultimate crowdfunding place for gamers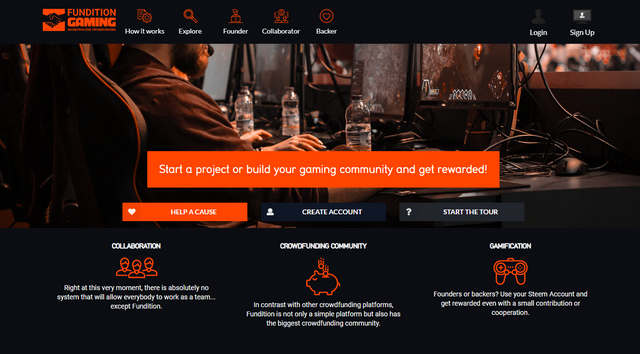 We've told you about gaming.fundition before and here it is. It's finally online and accessible to all the gaming world lovers in its beta version.
Basically Gaming.Fundition is the first decentralized free peer-to-peer crowdfunding platform focused on, well gaming.
Easy Level: Project Founders
Gaming.fundition is open to all the gaming related projects that need fund such as:
games development
game streamers
gaming platforms
gaming content producers
all about gaming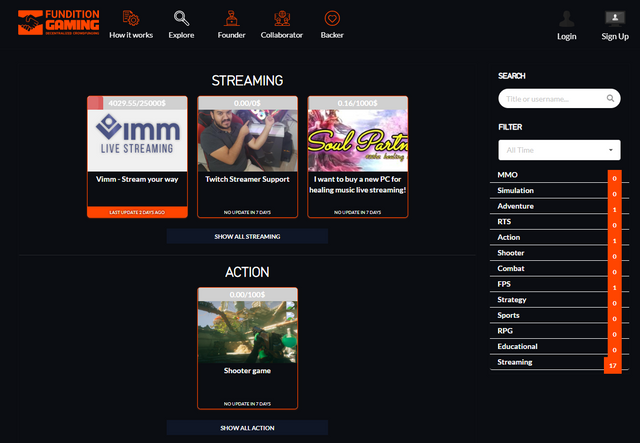 Gaming related project founders can simply launch a project proposal on gaming.fundition and then massively promote to attract backers that will donate to the project through different ways.
Direct donations: with cryptocurrencies such as BTC, ETH, STEEM etc
Direct donations: with fiat currencies through Paypal
Upvote thanks to the Steem Blockchain
Project founders can also offer rewards to attract Backers. Moreover, Gaming.Fundition's iconic feature allows project founders to open their project to Collaborators but we will talk about that in a minute.
Also, Gaming.Fundition is a keep-it-all crowdfunding platform which means that the project founder will keep all the fund even if he/she doesn't reach the goal.
Overall, Gaming.fundition is "the" crowdfunding platform for Game lovers and followers.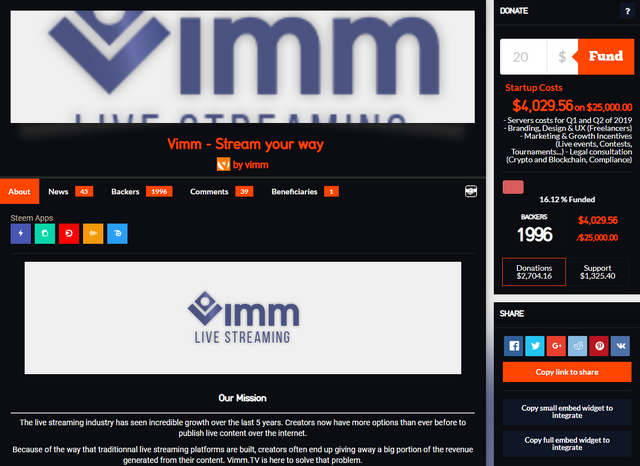 Normal Level: Backers & Fundition Community
Gaming.Fundition has already a great community that is eager to follow and support Gaming projects.
Now, it is still the project founders mission to promote their project massively to attract Backers and Supporters.
As we mentioned earlier, Backers have 3 different ways to donate for a project. Nonetheless, the Fundition Community can also promote the projects for the Founders and become ambassadors that will spread the project wide and far.
The Backers can also choose a reward (if there is) from the project founders.
Moreover, the Backers can join the Fundition Discord server to directly talk to the project founders and other Backers. It's also a place to discover new projects.
Also, Gaming.Fundition projects will also go through the Auditing process to benefit or not from the Fundition support aka upvotes.
Once a project is launched on Gaming.Fundition, it will automatically be eligible for Audit. Our Auditors will choose to either support or not the project. If a project is being rejected by the auditors, it doesn't mean that the project won't appear on the platform, it only means that it can't benefit from the Fundition support.
More informations on the Fund Program can be found in Gaming.fundition website.
Hard Level: Collaborators.
As mentioned earlier, Gaming.Fundition's iconic feature is the never-seen-before Collaborators one. It allows the project founders to open their projects to collaborators, which means anybody can collaborate and give an helping hand to the founders if he/she opens the project to collaborators.
For example:
I am a gaming streamer. I'm streaming my Fortnite session, and hopefully the Backers will reward me for that session. You, as a Fortnite players, you can add some informations about the game or a streaming session in which we would have played together by using the "This project accepts Collaborators" button under "News" section. You didn't actually donate fund for my project but you gave your time and others will see your updates under my project and potentially will upvote the update.
We can imagine thousands of Collaborating situations and ways to collaborate, it is up to the Founder imagination. We advise the project Founders to open the project to collaborators as it will allow to wider the promotion of the project and will allow the project founders to reach the target budget faster.
The End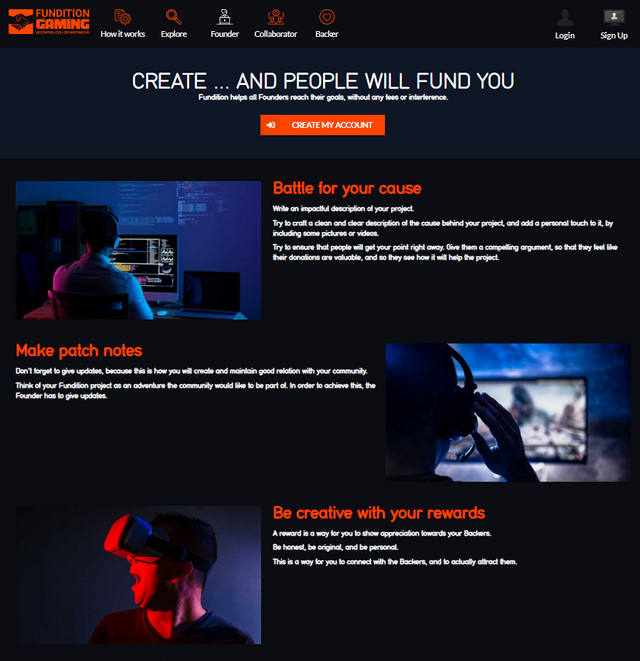 Gaming.fundition as a subdomain of Fundition.io is a crowdfunding place dedicated to gaming world lovers. As project founders under Fundition, the project founders under Gaming.Fundition will also benefit from its already alive ecosystem.