we got a style guide done for @steemcasting, logo ready, font ready, colours ready! :)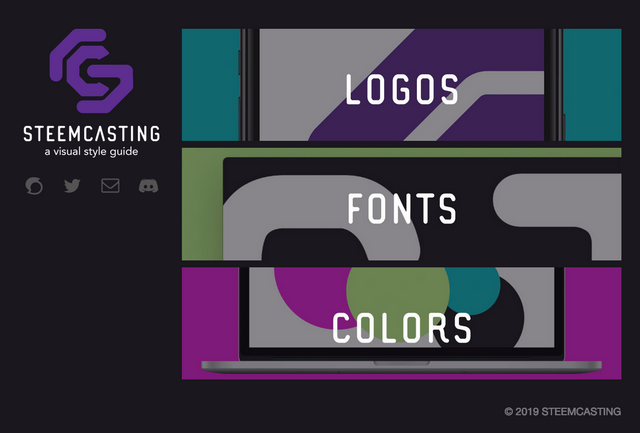 Big props to @dayleeo for her work on refining the content winners logo, we smoothed something bits out, rounded out some elements, made it a little softer and while it has a little bit of OCP robocop overtones, it's somewhere between the awesome SK logo from e-sports and a retro feeling of the 80's — digging it regardless! :) In the process of making the logo changes, picking a colour palette and a font @dayleeo also putting a brand new theme for ihaz.carrd.co in the process, the 'style guide' — it should be going up on the site at some point today, remember you can get these themes for $12 or buy the complete pack of landing page templates we have for a one off lifetime price of $99 for all the landing page designs we make.
check out the style guide over here — https://steemcastingsg.carrd.co and if you are interested in ready to go templates for landing page or MVP ideas feel free to ask any questions in the comments about ihaz.carrd.co — need a custom design? We do that too!
now that we have the logo and different colours we can start making social elements, wallpapers and overlays for all of the segment overlays and animations so expect that pack this week, we will be setting up a new frame.io project to connect the @vlogger account and the VLOG tokens for people willing to submit content to the project — I'm quite prepared however to make all the content for the streams if needed to get things going for the first three months.
I've already been looking at computing equipment for the streaming, editing and encoding side of things and improving the connectivity side so we have a better firewall and multiple failover connections to the web, we might end up going niche with a marine router with multiple sim support and obviously the aerial thing could be interesting too — what I learn on this now will be useful for mobile van life moving forward.
Great progress this weekend, new overlay pack in the next few days, don't forget you can support the project over on @fundition — https://fundition.io/#!/@steemcasting/xcl3g9o19













pinterest epic wins pinboard → brand advocate for nokia, 1000heads, verisign → won vloggie for node666 (san fran 2006) → television for time team history hunters 1999 → sold me.dm to evan williams in april 2011 → went to phil campbell, alabama to help raise money after tornado (was on sky news, bbc news)→ CNN for sxsw 2013 about austin sxsw → video chat with robert scoble → music video can you spot me?