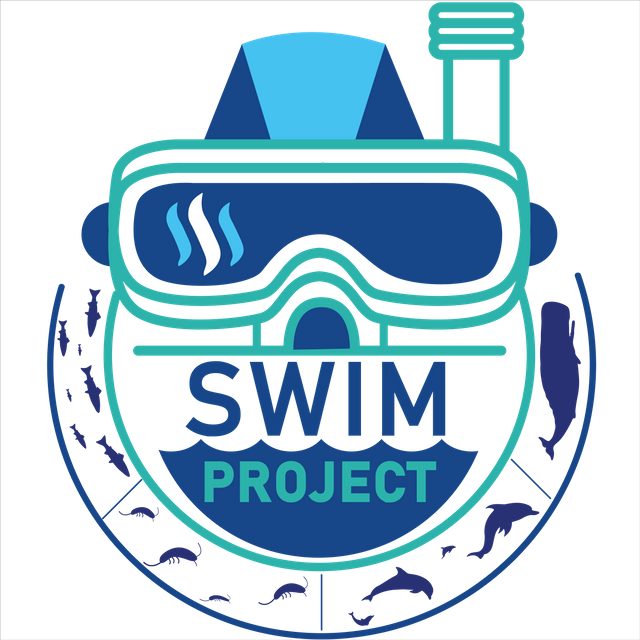 Greetings and blessings, dear readers! I'm very happy to announce that we closed the first week of work and the result was magnificently great. We are in the middle of the second week, we had some issues due to the Venezuela's situation regarding the light and the internet connection but we're still inspired and motivated to continue growing and bringing great things to the new creators.

First Mentoring Week
This first week of mentoring was EXCELLENT!, We had a good participation, and we were able to give the first 4 general mentoring of which we have posted 3 of them, these can be seen in the project's profile ----> @swimproject.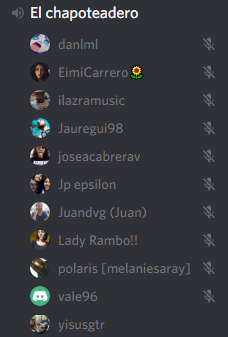 This screenshot is from Wednesday, October 10, the day we gave the first general mentoring in which we talked about the first concepts that all Steemians should know in order to make life in the most correct way on the platform, from concepts about cryptocurrencies (explained in the most basic way possible) to the first concepts about blogs, learn to use the keys of permission that are in the wallet, going on to explain what are the tags and so on.
For more information about this mentoring, click here ---> SWIM Project | How to swim in Steemit? | Lesson # 1 |
It has been the most assisted mentoring so far.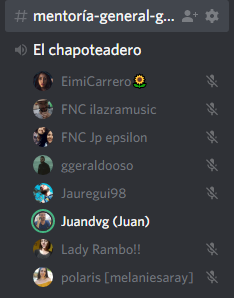 This screenshot is from the mentoring of Friday, October 12, that day we started with the mentoring of the Markdown topic to stylize the posts, we had moderate attendance since there are many students who had light or internet connection issues, but we continue doing the best job we can, all were quite pleased with the knowledge dictated in the mentoring, and in the case of not being able to attend , we are always making support publications so they can read what is dictated.
For more information about this mentoring, read here ---> SWIM Project | Markdown | Lesson # 1 |
Statistical summary: Around 7 people attend on average by mentoring.

Server Status

We currently have the trust of 38 people and we're still looking for more, each day inviting more and more new people (including people who aren't on the platform) to make life on our server which every week we are planning @melaniesaray, @juandvg and me how to innovate and make people feel comfortable with us.
Most of the members are Venezuelan but we have people from other countries such as Argentina and Ecuador, we keep growing.
If you want to join our Discord server because you support the project or want to see the mentoring you can do it through this link ---> https://discord.gg/PrKg6sK

Increase in the received support
As you know, every week we're looking for ways to expand and take the message of our project to other projects that already have some life within the platform. This week we have achieved an increase in the support received as we now have on our list of Exchange Houses a:

By having a majority of Venezuelans on the server, this house offers not only a change of SBD/STEEM in Bolívares Soberanos (official currency of Venezuela) but also offers a shipment of remittances, that means money from other countries for Venezuela and change it to Bs. S.
For more information about this exchange house you can read the following post ---> Red Venezuela Exchange; Your reliable exchange house.
And visit its official website through this link ---> Official Website of Red Vzla Exchange

We continue to work for our students! Any questions about the procedures or about the project can be written to me by discord through the user @ilazramusic#2853, always to order.
This is SWIM!

SPANISH VERSION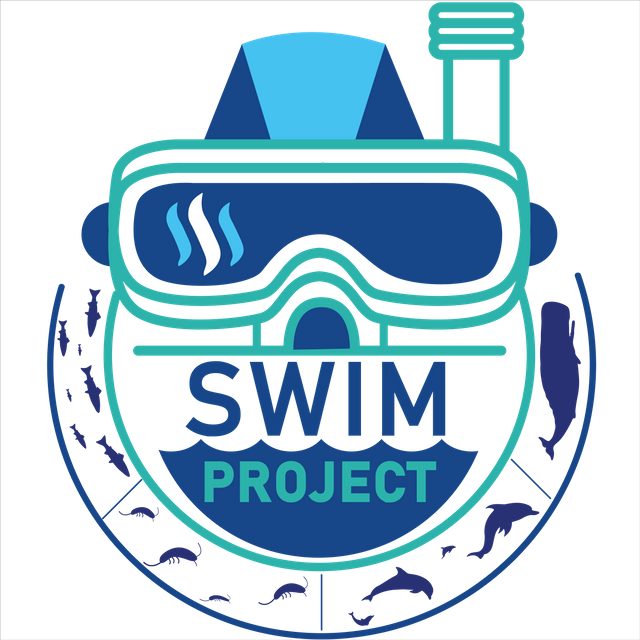 ¡Saludos y bendiciones queridos lectores! ¡Estoy muy feliz de anunciar que cerramos la primera semana de trabajo y el resultado fue magníficamente genial. Estamos en plena segunda semana, hemos tenido algunos percances por la situación de Venezuela con respecto a la luz y la conexión de internet pero aún seguimos inspirados y motivados en seguir creciendo y aportándole cosas geniales a los nuevos creadores.

Primera Semana de mentoría
Esta primera semana de mentoría estuvo ¡EXCELENTE!, tuvimos buenas participaciones en nuestras mentorías, y pudimos dar las primeras 4 mentorías generales de las cuales tenemos post de 3 de ellas los cuales pueden ver en el perfil del proyecto ----> @swimproject.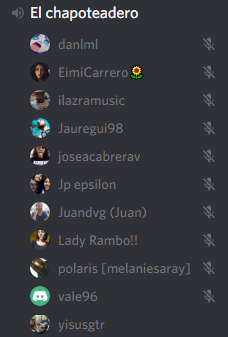 Este screenshot es del día Miércoles 10 de Octubre, el día que dimos la primera mentoría general en la que hablamos sobre los primeros conceptos que deberían conocer todos los Steemians para poder hacer vida de la manera más correcta en la plataforma, desde conceptos sobre criptomonedas (explicados de la manera más básica posible) hasta los primeros conceptos sobre los blogs, aprender a usar las claves de permisología que están en la cartera (Wallet), pasando por explicar qué son los tags y demás.
Para más información sobre esta mentoria pueden hacer click acá ---> Proyecto SWIM | ¿Cómo nadar en Steemit? | Lección #1 |
Ha sido la mentoría con más asistencia hasta los momentos.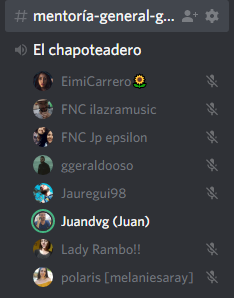 Este screenshot es de la mentoría del día Viernes 12 de Octubre, ese día comenzamos con la mentoría del tópico de Markdown para estilizar las publicaciones, tuvimos una asistencia moderada ya que hay muchos estudiantes que han tenido problemas de luz o conexión de internet, pero seguimos haciendo el trabajo lo mejor que podemos, todos se fueron bastante complacidos con el conocimiento dictado en las mentorías, y en el caso de no poder asistir, siempre estamos haciendo publicaciones de respaldo y apoyo para que puedan leer lo dictado.
Para más información sobre esta mentoría pueden leer acá ---> Proyecto SWIM | Markdown | Lección #1 |
Resumen estadístico: Alrededor de 7 personas en promedio por mentoría.

Estado del Servidor

Actualmente contamos con la confianza de 38 personas y seguimos en auge, cada día invitando más y más personas nuevas (incluyendo personas que no están en la plataforma) a hacer vida en nuestro servidor el cual cada semana estamos planeando @melaniesaray, @juandvg y yo cómo innovar y hacer que las personas se sientas súper a gusto con nosotros.
La mayoría de los integrantes son venezolanos pero tenemos personas de otros países como Argentina y Ecuador, seguimos creciendo.
Si quieres unirte a nuestro servidor de Discord porque apoyas el proyecto o quieres ver las mentorías puedes hacerlo a través de este link ---> https://discord.gg/PrKg6sK

Aumento en el apoyo recibido
Como sabrán, cada semana estamos buscando maneras de expandirnos y llevar el mensaje de nuestro proyecto a otros proyectos que ya tengan algo de vida dentro de la plataforma. Esta semana hemos logrado un aumento en el apoyo recibido pues ahora tenemos en nuestra lista de Casas de Cambio a:

Al tener una mayoría de venezolanos en el servidor, esta casa ofrece no solo cambio de SBD/STEEM en Bolívares Soberanos (moneda oficial de Venezuela) sino también ofrece un envío de remesas, es decir, dinero de otros países para venezuela y cambiado a Bs. S.
Para mayor información sobre esta casa de cambio pueden leer el siguiente post ---> Red Venezuela Exchange; Tú casa de cambio confiable.
Y visitar su sitio web oficial por medio de este link ---> Sitio Web Oficial de Red Vzla Exchange

¡Seguimos trabajando por y para nuestros estudiantes! Cualquier duda sobre los procedimientos o sobre el proyecto pueden escribirme por discord a través del usuario @ilazramusic#2853, siempre a la orden.
¡Esto es SWIM!