Solidarity with the poor is not merely an act of charity but a mechanism for promoting wealth for all peoples.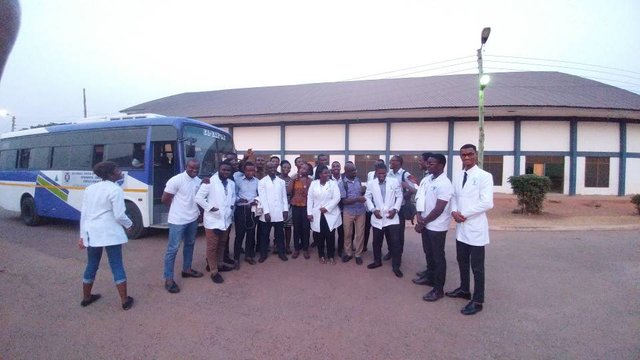 Good day steemians, it is a great news to know that the steem hard fork that suddenly brought activities on the blockchain has finally been completed its incorporation and that things are back to normal now. In the meantime while things were halted on the blockchain @bettervision was out there performing its charitable deed as always and this time round we had an interesting and a successful two day outreach to a Senior High School in Kumasi, Kumasi Girls Senior High School where both teachers and students had the equity opportunity of enjoying free eye care courtesy of @bettervision.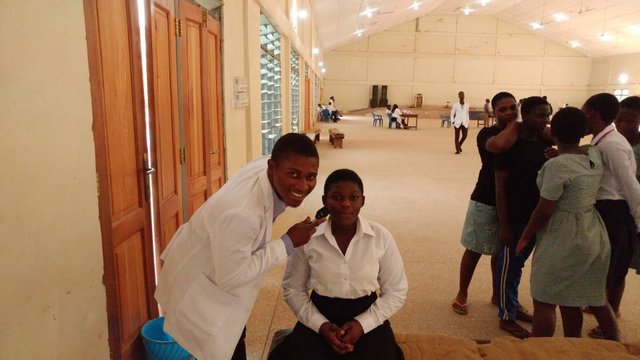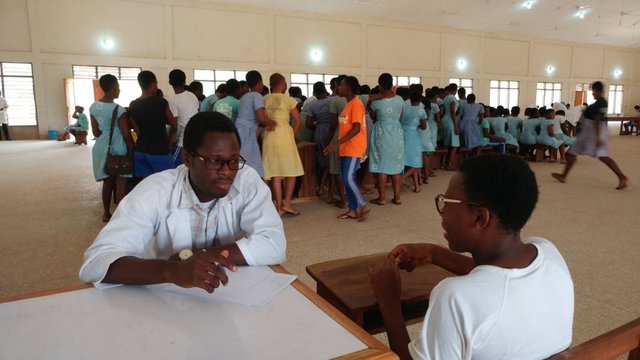 The school is located near a town called Abrepo in Kumasi, Ashanti Region of Ghana, West Africa and it is a single sex school of only females as the name suggests. The first day's activities was mainly centered on screening the only the students especially the first year students who had just joined the academic train as a form of welcome and encouragement to boost their morale for them to have a good start. Nonetheless the other years were not left nor were they treated any less. Nothing out of the ordinary was seen in the diagnostic process, most of them were ametropic, with a larger of myopes than hyperopes.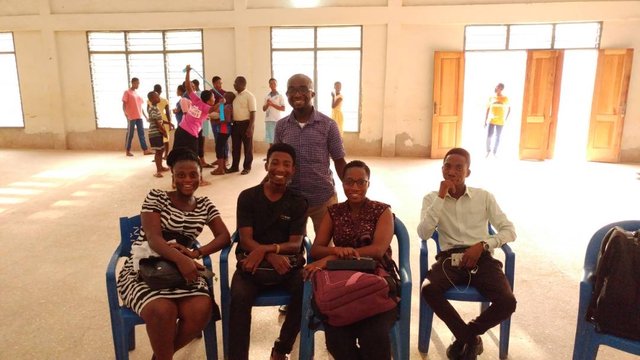 Improving vision among students would not only go a long way to help improve the studies of such students however it would also make the work of the teachers easier and in the long run we will end up with bright minds for the future generation. Let's continue to do more and impact lives within our societies through the blockchain.

What is @bettervision about?
@bettervision is is a project initiated by @nattybongo and friends to give back to the society the knowledge and skill acquired through the Optometric Studies in Kwame Nkrumah University of Science and Technology, Ghana.It is an outreach system where we visit the less privileged communities to offer free eye screening services and education to the people within the community
AIMS AND OBJECTIVES
To reduce or prevent vision loss through diseases such as glaucoma, cataract and refractive errors.
To enlighten the majority of the Ghanaian population about the importance of proper visual care.
To conscientize people on the need for regular eye checks
To get more people to have their wards screened within the Critical periods of a Child's Vision Development; thus from ages 3 to till about 10 years.
To help the blind and people with low vision live a better life within the society through education of the general public to stop stigmatization.
Our greatest gratitude goes to @fundition @surfyogi @girlsfoundation @bleepcoin @ackza and @wafrica for helping to make the aims and objectives of @bettervision a reality.
This is me @nattybongo reporting for @bettervision. Thanks for your time