Welcome to the 9th update of Oracle-D Campaign powered by Fundition - A Decentralized Crowdfunding Platform on STEEM Blockchain. This blog will give you an overview of the Itinerary of our Trip to Jakarta, Indonesia. We have a huge agenda of this trip and we will mention it in brief for everyone to understand and look forward to. Ultimately we are there to attend the Southeast Asia Blockchain Summit which has been postponed to 2nd and 3rd of November.
We would like to thank @mariska.lubis for reaching out and helping us to oraganise this trip! Awesome Steemian! What an amazing opportunity for exposure of the Steem Blockchain and Oracle-D This will be. Read on to find out more!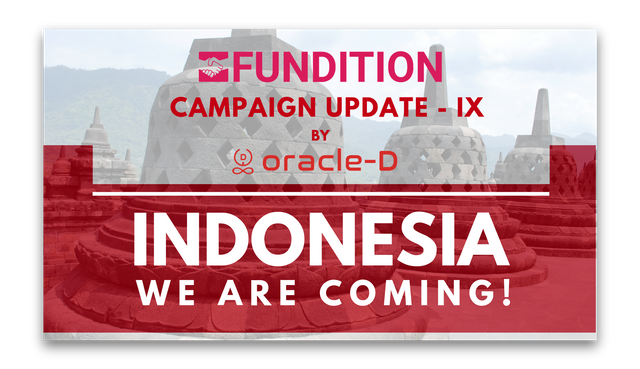 Itinerary to Jakarta, Indonesia
18 Oct: Arrive at Banda Aceh, Indonesia
Stay at Lamphuuk Resort
Go to Lhokseumawe.
20 Oct: Open Class at FEB Malikulsalleh University.
Meet Up with Steemian Lhokseumawe.
21 Oct: Go back to Banda Aceh,
Meet up with Steemian Banda Aceh.
Open class (Unsyiah/UIN)
23 Oct: Depart to Padang, West Sumatra
Stay : Hotel Daima
24 Oct: Open class University Andalas
Meet up with Entrepreneurs and Legislative.
25 Oct: Depart to Jakarta
Dinner with Indonesian Lawyers
26 Oct: Presidential candidates meet up

27 Oct: Young Entrepreneur Association
NU online (presentation and press conference)
28 Oct: Bloomberg TV & Depart to Bandung
Meet up with Panas Dalam and Steemian From Bandung
29 Oct: Open Class (ITB/Unpad)
Meeting with Heads of Government's Cooperation.
Open Class (UI/UPH)
31 Oct: Women Entrepreneur Association
Press Conference
1 Nov: BREAK

2-3 Nov: Blockchain Summit

4 Nov: Depart to Singapore(edited)
Note: We will have some private meetings with potential clients in Jakarta.
This whole trip will help us reach so many people in Indonesia as it can become a future Blockchain Tech Hub with some more knowledge sharing and educational campaigns. We will be working closely with some of the Indonesian government officials, lawyers, intellectuals and various entrepreneurs to impart our knowledge on Blockchain Technology and how Steem can help execute some of their projects. We are looking forward to your support and help us in our mission.

Campaign Update
If you are here for the first time, kindly support our campaign by contributing through this link:

You can have a look at the progress made so far: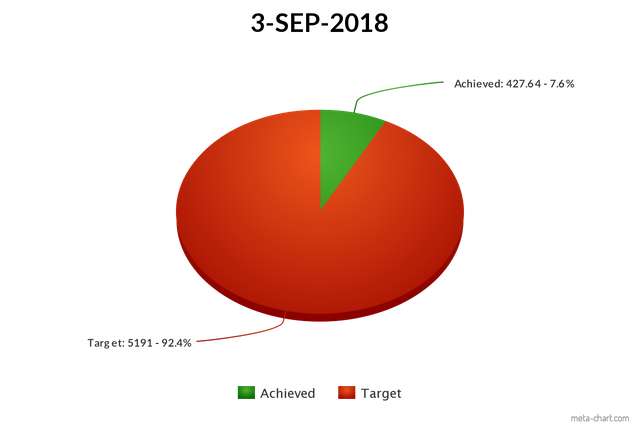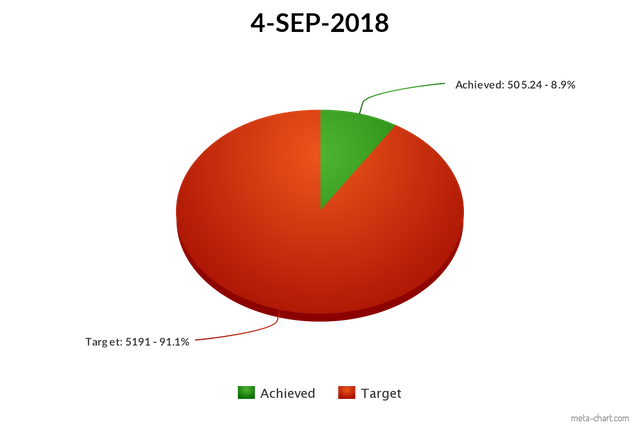 Oracle-D
is a new STEEM blockchain business venture bringing new investment into the ecosystem. Founded by @starkerz and @anarcotech, we previously were co-founders of the promo-steem and steem-ambassador projects, and we developed the CAMPUS curation system, which is a fully decentralised system for distributing rewards.
Core Mission
We remain apolitical, and our number one goal is to raise the price and utility of the STEEM blockchain, improve culture and education about the blockchain, and create opportunities which support exceptional quality content creators through collaboration with external investors. In other words, to add as much value to the blockchain every day as we can.
How You Can Support Us
You can support us in the following ways:
Go to our campaign's link given above and donate to us. The funding we get will be used only to cover the expenses of the events we will attend to attract more investors.
Upvote & Resteem this blog and spread the word about Oracle-D and our campaign.
Support our writers and their content which will ultimately empower quality on the STEEM Blockchain.
Upvote @Oracle-D witness by going to https://steemit.com/~witnesses or by using SteemConnect
Join our curation trail in SteemAuto to maximize your curation rewards.
Any kind of contribution is much appreciated and thank you for being a part of this Journey! Also, please do not hesitate to connect with us for any kind of collaborations that can help the STEEM Community grow.
Find Us At