Every person may have an idea of how crowdfunding is done. Some do use more modernized ones but also others use the traditional ones. These implies using internet and technological tools involving collection and transfer and real cash hand to hand collection of funds from individuals. Well, despite all being funds collection platforms, there is a need to differentiate and explore the most proficient one for the community.
How do we consider crowdfunding
Crowdfunding methods have always been issues of discussion among the people. Some do favor them, others dislike them. While doing research of the various crowdfunding platforms available, I got to realize that there was always a trending question: How sure are we that funds will be given back or how much of the totality will be given to the founder? Looking at most centralized crowdfunding platforms, only 70% to 80% of funds are given back, excluding charges and taxes during transfers.
Which could be the most effective way?
This question has also been trending and everyone has his/her own perspective, depending on his own experience. However, my response will simply be reviewing the way centralized crowdfunding platform look like and explore new technological ideas. Centralized platforms do have higher charges, intermediaries interventions, regional limitation and enormous funds regulations.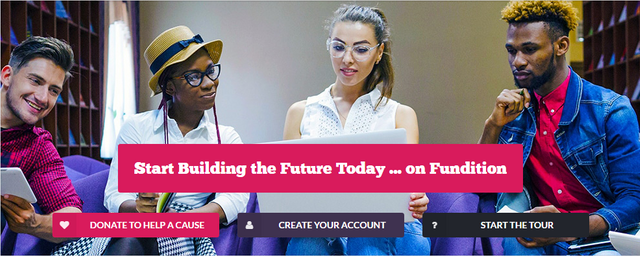 My next point will be turned to a decentralized crowdfunding platform. This will obvious be fundition.io. The idea behind fundition.io is from the disagreements explained above. In real life scenario, no one can ever wish to be cheated, even not with a single dollar. Meaning, there is an optimal need to gain all that is collected and minimizing costs but also widening the crowdfunding system by breaking all barriers related to that.
Fundition.io gives an opportunity for people to explore the world, discover preliminaries needs and provides support to the community. It does not long to gain from the desperate but building a system where both sides, founders and contributors, will be able to meet and have optimal solution.
Their original concept is based on justice and optimality. If contributors can contribute towards a project with good heart, then they must receive the most possible outcome. Moreover, both parties get rewarded from their participation and also a contributor may dispose his/her heart power to contribute to a certain project.
Furthermore, fundition.io forms a platform based not only on generosity projects but also other activities as innovation, travel, gaming, app development among others. Would you wish to bring forth your ideas? I hope so. It is possible to feature all your needs on fundition but also providing contribution which also gives some benefits to the contributor.
Have you joined fundition.io? If no, then this is an opportunity to do so. Let your activities be known and also participate in various crowdfunding projects
Kindly follow these links to know more about fundition.io
@jona12