Senior Fun in The Villages, FL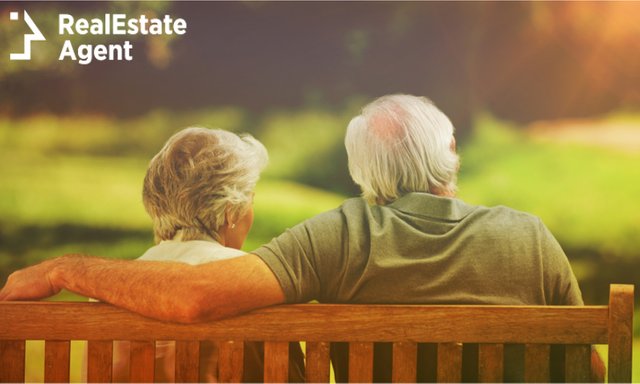 This perfect master-planned community is a dream come true for seniors who want to live in an active retirement community made just for their needs. Located in the perfect spot, in the heart of Florida, gushing in that Florida sun and happy lifestyle, The Villages Florida is what every retiree hopes to experience in their golden years.
There is no shortage of activities available here and anyone can get involved in any kind of club, group or band, you just have to browse around and take your pick, or picks. It's really all up to you, but you might wind up forgetting about your afternoon nap if you don't make it a priority.
The Villages makes sure that there are year round activities that you can sign up for such as sculpting classes, golf courses, of course, and so much more. If there's an instrument you always wanted to start playing, but never got the chance to or if you always wanted to improve your bowling strike, here's your chance. Did you have a dream to be on stage and perform or be a part of a dancing group? You can even do that. In all honesty, the sky's the only limit you'll run into here and realtors in The Villages FL are ready to get you all settled down for your dream planned retirement.
Entertainment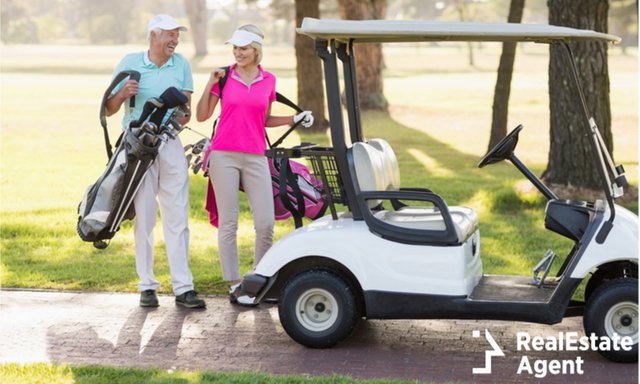 The numerous activities you can get involved in include several theaters where you can be a part of the theater performance as well as enjoy the scheduled entertainment.
Theatre
Brainstorm, a top rated movie theater, shows amazing ageless movies with great stadium seating that provide for ample legroom and an amazing sound system. The popcorn is always fresh however if you want to opt for a healthier option then go for the cashew servings they offer. They offer a wide selection of drinks on their menu to satisfy anyone's liking. Relaxation is free of charge and there's plenty to go around as the staff takes care of anything you could possibly want.
Bowling lanes
You can choose either Fiesta Bowling Lanes for a great game where you could bring your family when visiting or, why not, a date. They have more than 30 lanes where you have the comfort of air conditioning. At Fiesta Bowling they offer team leagues if you have ever wanted to be on a bowling team or you can work on strengthening your wrist by receiving a bowling lane for yourself.
Golf courses
The community provides some amazing golf courses where you can both learn how to golf with an instructor or friends as well as have fun in the meantime. You won't get a bad rep if you have never golfed before as this is the perfect place to start. Socializing is part of the experience and your golf cart will come in handy here.
Beautiful sights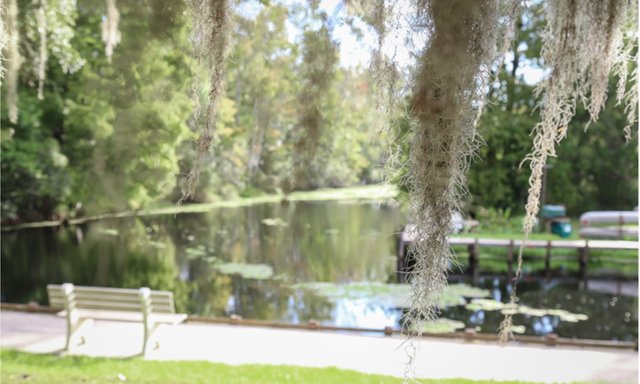 Aside from the perfectly trimmed bushes and freshly mowed lawns, The Villages has some amazing views all over the community. This could be the location where you are buying a home for your retirement so they made sure the sights are amazing as well. Make sure you enjoy them to the fullest when you go there by taking your golf cart for a ride.
Lake Griffin State Park
With over 620 acres of nature and wildlife, Lake Griffin State Park is an amazing way to spend your days out in the open air, hiding from the Florida sun beneath some trees as the sound of the water hums in your ears. Here you can go hiking or fishing if you like to be more active, but there's also a playground for kids and picnic areas. You can also find the perfect spot to be on the lookout for some wildlife. Canoes and kayaks can be rented for a calm paddle around the lake and an amphitheater for various events and activities.
Sharon Rose Wiechens Preserve
While Sharon Rose Wiechens Preserve is only one of the eleven preserves available in The Villages, it is the largest with 624 acres of flora and fauna. The one element that draws the most attention is the Gopher Tortoise Preserve. This can be the Ying to the nighttime entertainment's Yang in The Villages.
Town Squares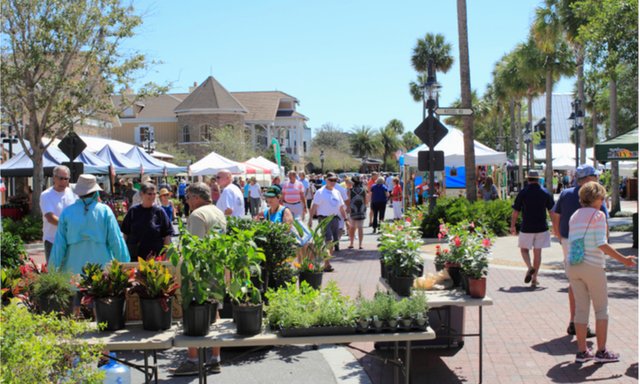 If you want something more inland than the Lake Sumter Landing Market Square, there are great options in the proverbially called Downtown area. A short golf cart away from your district, neighborhood or home you find plenty of options for entertainment and also a reason why the cost of living might be affecting your monthly budget. With so many restaurants and activities available, you might wind up spending more than what you assumed initially. So do keep an eye on your spending as you can square hop in order to catch your preferred entertainment.
Spanish Springs Town Square
One of the best places for some amazing shopping and a casual stroll. With a Southwestern style it might feel nothing like Florida but that's part of the allure of the place. The shops and stores that cover any necessities and particular types of lifestyles are emblematic to Florida, however. In the Spanish Springs Town Square you'll also find a performing arts center and theater that offer entertainment for the whole family. Another great thing about this Town Square is that it hosts some form of entertainment in the outdoors so that the residents can enjoy even more of that amazing Florida weather, every day of the week.
Lake Sumter Landing Market Square
Great for a quick shopping spree and dining out, the Lake Sumter Landing Market Square comes with a calming atmosphere and unique style. Walking on the deck you will feel like you're in a small seaside village and besides the restaurants and shops that can be found here, there's also nightly entertainment year-round. Thank that to Florida's weather.
Brownwood Paddock Square
Relax and unwind in the 19th-century Florida cattle town themed Brownwood Paddock Square. This esthetic choice might very well be true to the history of The Villages as, back in the day, it very well could have been a cattle settlement. With the stage that looks like a log cabin situated in the middle of the square, restaurants, theatres and shops do well to offer even more entertainment every evening.
Conclusion
Don't forget to keep a golf cart close by as The Villages offer more entertainment than one person can find the time for. This is the perfect place for relaxation and a fun location for active seniors. With very few drawbacks you might just think you're on vacation when you go there and you won't be too far off. Boredom is off the market and the only way in which you can find it is if you lock yourself in your home for the duration of your stay. One has to be very stubborn in order to get bored here as the community has something to offer for everyone, no matter your background, talents or hobbies.
Let us know in the comments below if you have any particular wishes for your retirement that The Villages doesn't seem to cover or if there's any other place you think might compete with this. Like & Share with friends and family if you want to get some second opinions before you make a decision.