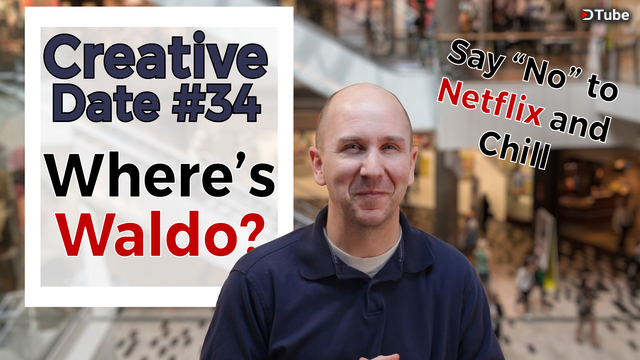 ---
Hello DTube and Steemians!
It's Friday, that means date night! Next up is Creative Date #34 Where's Waldo, from my book entitled 101 Creative Dates: ideas, tips, and personal experiences from the life of a hopeless romantic. I love creative dates. It is fun to come up with a new idea or put a twist on a classic idea and take a girl out and have fun. I had all kinds of ideas and personal experiences with dating, so I made a book about it and recently published in on Amazon. I decided to post each chapter of my book for free here on Steemit, but if you would like to buy the book you can find the link at the bottom. Don't let "Netflix and Chill" be the default for your dates! Married, dating someone, single, there is something for everyone!
Where's Waldo?
Another fun free group date activity is playing Where's Waldo in the mall. What you do is have one of the couples dress up without you knowing what they'll be, then go to the mall and walk around, shop, etc. They'll try their hardest to blend in and hide in plain sight. Then, all the other couples in the group have to search the mall and find them. This type of thing can be as fun as you make it, and works really well for people who like to dress up and play different characters. When you're done, you can all gather at the food court and grab a treat or something else to eat.
What you need for this date:
You need costumes for the couple that will be disguised. Preferably you just tell them in advance to dress up and go to the agreed upon location, then get straight to finding them.
My commentary on this date:
When I was a teenager I first played this game as a big group, and we had tons of fun. Once again there was a girl there that I liked, and she happened to be someone that I had had a crush on for probably four years, but nothing ever came of it. Fast forward to a handful of years ago when I suggested this date to a group. We played, we laughed, we all had the best time.
You can find date ideas 1 through 34 here on my Steemit blog. :)
You can find the book here: https://amzn.to/2HEtSQw
The video and book are my original work and owned by me. :)
Video was filmed with a Canon 70D, with a Canon 50mm 1.4 lens, and a Rode VideoPro Mic.
---
▶️ DTube
▶️ IPFS