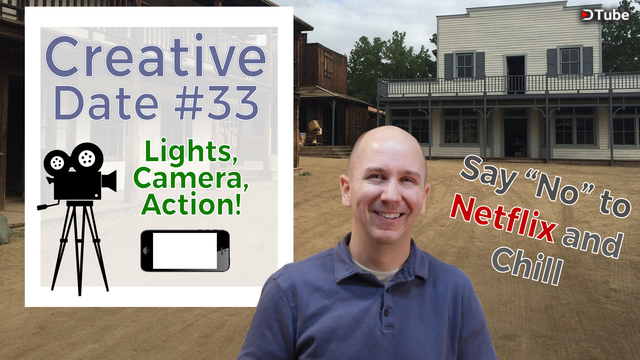 ---
Hello DTube and Steemians!
It's Friday, that means date night! Next up is Creative Date #33 Lights, Camera, Action, from my book entitled 101 Creative Dates: ideas, tips, and personal experiences from the life of a hopeless romantic. I love creative dates. It is fun to come up with a new idea or put a twist on a classic idea and take a girl out and have fun. I had all kinds of ideas and personal experiences with dating, so I made a book about it and recently published in on Amazon. I decided to post each chapter of my book for free here on Steemit, but if you would like to buy the book you can find the link at the bottom. Don't let "Netflix and Chill" be the default for your dates! Married, dating someone, single, there is something for everyone!
Lights, Camera, Action!
A really entertaining group date idea is to get together and make a movie. You can have one person write the script or all participate in writing it, then film it with a video camera or your smart phone. These home movies usually turn out really funny and are something you can keep and share with your family.
If you have a digital video camera you can edit the movie on your computer, then burn it onto a DVD/Blu-Ray or just upload the file to YouTube. These days, the camera on your phone will work well if you don't have access to a video camera. This can be a totally free date, assuming you have the equipment, not to mention something really fun to do!
What you need for this date:
To make this date happen you need people to both be in the movie and work the camera, and you'll need a story to tell, usually in the form of a script. The script doesn't have to be fancy; it could be just scribbled on a piece of paper, really. No elaborate Hollywood formats needed. For recording, you'll want either a digital video camera or a good smart phone, and then a computer program to edit with like iMovie.
My commentary on this date:
I have always made movies since I was younger; in fact, video production has been my career for the past several years. In college, my roommates and I wanted to make a movie, and since video production was my major, I took it upon myself to write the short script. We invited some girls over to make the movie with us, and got started. It was a quite amusing, hilarious even, although I might have gotten upset a few times when my good friend kept looking right into the camera, which is a big no-no in the movie making world.
The home video was basically a cheesy "Slasher" film about a guy in a Marvin the Martian mask going around killing college students. It took us about four hours that evening to film the short eight-page script. The next week I was able to edit it on the computer, and then we had a party while we watched it. Now several years later, every time I see it, the fond memories of that evening come pouring in.
One of the girls in the movie actually married one of my best friends, who was my roommate at the time, too. I seemed to do that a lot—taking girls out that my friends or acquaintances ended up marrying. Some guys even started the slogan that if "A guy wants a girl, just have Matt take her out first." Still not totally sure what it means, but it's pretty funny.
You can find date ideas 1 through 33 here on my Steemit blog. :)
You can find the book here: https://amzn.to/2HEtSQw
The video and book are my original work and owned by me. :) The thumbnail background image, movie camera, and cell phone icon came from Pixabay.
Video was filmed with a Canon 70D, with a Canon 50mm 1.4 lens, and a Rode VideoPro Mic.
---
▶️ DTube
▶️ IPFS