This is of course if you don't use leading zeroes in the dates you write...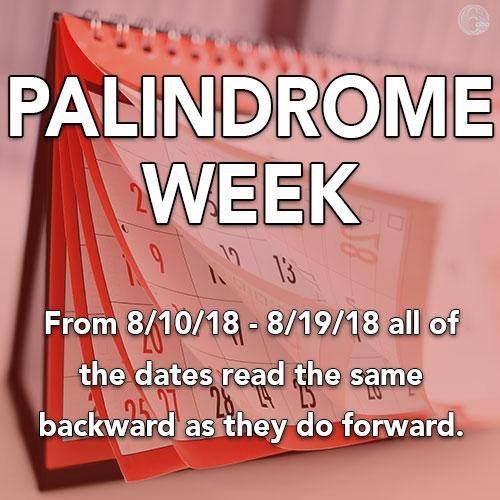 I took a quick look to see if this meme was posted already and it wasn't that I could see here yet. I found in my Facebook feed from someone else. I have no idea who actually made it.
For those that don't know what a palindrome is, it is usually a word or set of symbols or a number set that is can be interpreted the same way forward or backward. The typed or written backwards ones are easier to understand. There are other nonsense sentences that work (or phrases), such as:
TEN ANIMALS SLAM IN A NET
There are the easy names like Bob, Dad, Mom...
Or just incredible stupid ones that are entire sentences, like this one: Lisa Bonet ate no basil. (Denise Huxtable on the Cosby Show from the eighties)
If you think of others, feel free to reply with them in this palindrome calendar week. :)
Some easy examples are RACECAR, RADAR, DEFIED - there are tons more than you may realize.