ADSactly Fun - Sandwich Games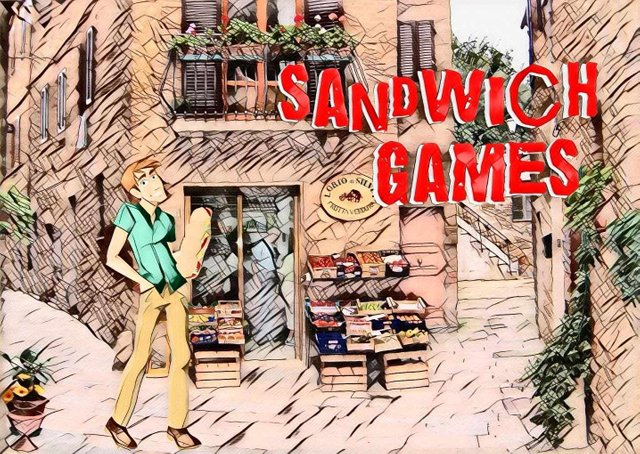 I stood in the cafe waiting for my order. It always takes a little longer than normal because I ask them to add fresh chillies in it. This causes a panic in the place because, as much as they claim that all their food is made fresh there and then. It's actually made much earlier in the day and they just hope that no-one asks for anything slightly different from the menu.
In fact, if you ask them to make your sandwich fresh they will claim that it is. But it isn't really. At least, not unless you ask for something extra.

So my pleasant lunchtime scenario goes a little like this...
You have fresh chillies yes? Can I have fresh chillies on my firecracker chicken sandwich, please?
Um, it's already spicy?
To which I always answer,
Oh I know, I just love fresh chillies!! More chillies on it please!
The server recoils in horror. To their credit, their smile remains frozen in place as they back off, all the while maintaining that ever important, customer friendly eye contact. They nudge a supervisor and relay the news, eyes wide with terror.
The supervisor comes over. Wow, his smile is even brighter and bigger than the server who took my order.
Howdy sir, just checking in with ya? You know our firecracker chicken is already damn hot and spicy? That's the firecracker for ya!

I do know that but as I said to the other guy, I just love me some fresh chillies! You can make food fresh to order can't you?
A trickle of sweat running down from the supervisors hairline is the only thing that betrays his anxiety.
Well now, of course we can! Let me just buzz the kitchen for ya!
He moves away with a frozen smile picking up a phone then muttering frantically in it. The odd accusing glance is thrown my way. Then the supervisor returns to me and with a reassuring, yet slightly manic smile informs me it will be five minutes or so.
I can imagine the person in the kitchen at the other end of the phone taking the news and turning to the rest of the kitchen staff.
Oh crap people. It's a code red. We got a non-conformist. I repeat, a non-conformist wanting fresh chillis in his sandwich!

Panic ensues. A chef waving a knife shouts at the phone man.
Sir, do you want me to go up there and take him out?
Just find some damn fresh chillies and make a fresh sandwich. Make it snappy!
Make it fresh, sir? We gone and made up all the food this mornin!
The phone man gritting his teeth at this.
It's a kitchen dammit, there has to be fresh stuff somewhere!?!
----------------
Meanwhile, up top, I stand there waiting. I smile at the supervisor. I can see his hands twitching with fear. He is probably thinking that this time they won't be able to rustle up a fresh sandwich and the resultant disaster might make national TV.
I wonder how far they will go to save their reputation? Will they attempt to eliminate me so that I can't talk?

The second hand on the big clock behind the counter marches onward. Almost five minutes. The supervisor touches his ear and winces as if in pain, He glances at me then touches his ear again. An earpiece? Is this it, are they even now being told that no, there were no fresh ingredients and that to save the company's reputation they will have to clip me, quickly and quietly?
Then a smile breaks out like the sun after a storm. Someone appears to his right and hands him a paper-wrapped sandwich. He stands straight and puffs out his chest with pride. This, this, is what he was born for. He proffers the sandwich forth, like an ancient scroll of hidden wisdoms.
There you are sir. One Freshly Made Firecracker Chicken Sandwich with fresh chillies.
At the edge of hearing one could almost hear a chorus of trumpets.

Cheers mate!
I step outside. Leaning against a wall is one of the chefs smoking a cigarette. I open up the sandwich and gently, ever so gently scrape the fresh chillies off with a finger onto the ground.
The chef looks on aghast.
It's spicy enough as it is without fresh chillies eh!
I remark jauntily to the chef and head off whistling a jaunty tune. I do love a freshly prepared sandwich!
----------------
What lengths will you go to to make sure that your food is fresh? Do you have any tricks up your sleeve to get better service from three places?
Let us know in the comments!
All pictures sourced from pixabay and in most cases subjected to various manipulations. Apart from my amazing hand-made gif, that's all mine!
Authored by: @meesterboom