Hello this is my entry to the week number 33 of #fruitsandveggiesmonday, created by the beloved @lenasveganliving.
In my work, with the current tendency to consume natural juices that serve and help the body of athletes or simply people who want to ingest some extra vitamins and energy, I have been experimenting with so-called D-Tox juices. Today I want to share with you this D-tox that I find very healthy and also delicious, it is a mixture of passion fruit, cucumber and celery.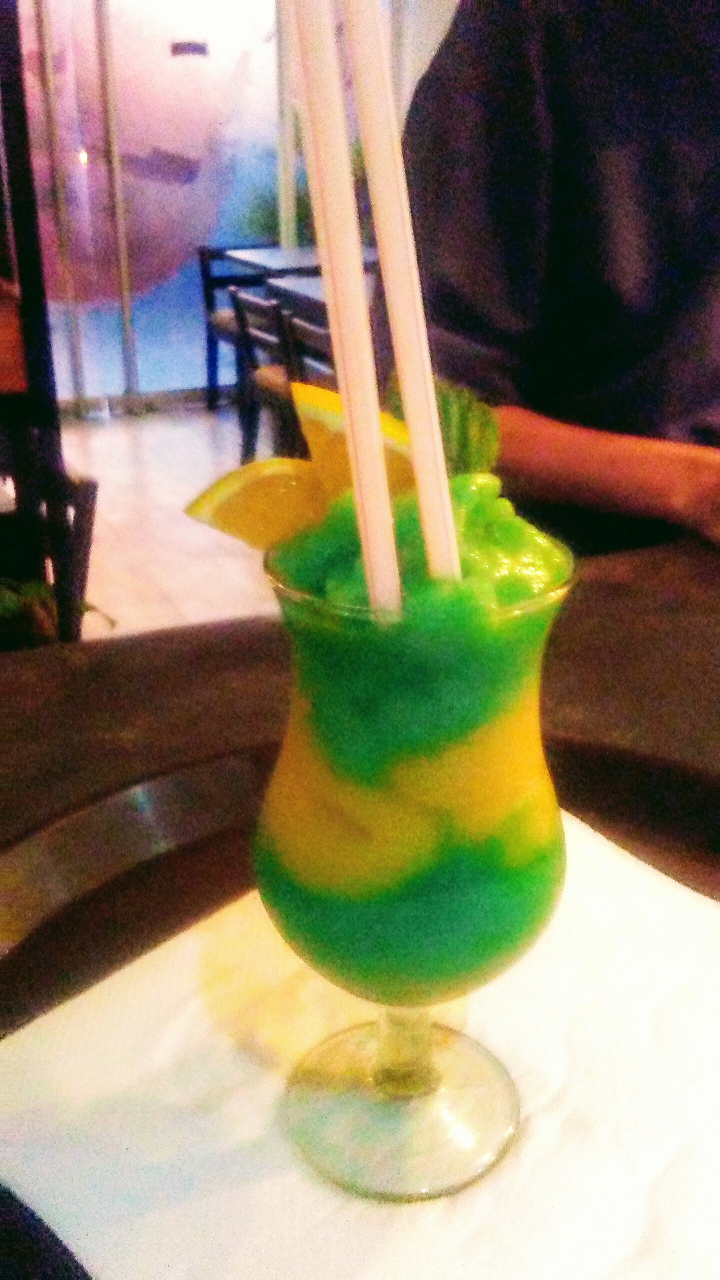 Now I show how to prepare it.
In a blender mix the passion fruit pulp (previously processed), half peeled cucumber without seeds and a branch of celery; Add ice and a little sugar to taste. it will take a greenish color but to give it more color you can add a little passion fruit juice in the middle of the glass, also this time I decorated with cut oranges and mint leaves that aromatize the D-tox juice even more.
Now let's see the properties that this delicious juice gives us:
Passion fruit:
Passion fruit is a fruit rich in vitamin C, powerful antioxidant agent that prevents the appearance of free radicals in the body. Strengthens the immune system and prevents premature aging. The fresher it is, the more effective its effects will be.
Its ingestion considerably reduces blood pressure.
It is an excellent food for people who are making diets to lose weight.
It helps reduce cholesterol levels in the body.
It has anti-inflammatory and analgesic properties, which is why people with rheumatoid arthritis should include it in their diets.
It is a diuretic that helps eliminate toxic substances from the body, as well as favors the urinary system.
It helps to treat depression and some altered states of the nervous system.
Passion fruit juice combats the growth of malignant cells in the body.
Cucumber:
It is a food with low caloric intake and few carbohydrates. It provides a good dose of fiber, as well as vitamins A, B, C and E.
It is a water source par excellence and a unit of 100 grams only has 13 calories, 97% is liquid. When it comes to minerals, cucumber is a vegetable rich in potassium, iron, calcium, phosphorus and magnesium.
Celery:
Celery reduces cholesterol levels, eating two stems a day can go down to 7 points. It also increases the secretion of bile acids, helping to remove cholesterol from the body.
It contains a large number of compounds that help prevent the metastasis of cancer cells, because it contains compounds called acetylenics that stop the growth of tumors.
It eliminates toxins from the body, which helps to break and eliminate urinary stones and those of the gallbladder. The juice helps those who have suffered from stones to never suffer again.
This was all for this week, thank you very much for watching my post, I am a Venezuelan bartender and I also like to eat and drink healthily so I am happy to share good recipes that help our body. Until next time!!