THE STEEMIT FRIEND TRAIN HAS BEEN UPDATED 21/6/2017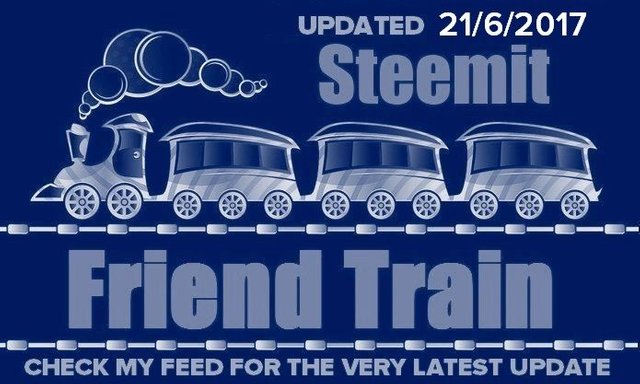 We have updated the Friend Train. If you think we have missed you off the list then leave me a comment below. Also if you would like to ride the train and gain lot's more followers then follow the steps below to get added.
The idea of the Friend Train is really just to boost followers and engagement here on Steemit.
So here is what you need to do to get involved.
So the current rules are that to be added to the train you have to
1/ Follow me as the Original Poster and every passenger on the train.
2/ Comment in the comments section that you would like to be added to the train and you will be listed below
3/ Re-steem the post to bring a wider audience in (More People To Follow You)
4/ UpVote the post - The more Steem Power we generate the more we can boost you
But there will now be on going qualifications designed to cut away the dead wood so once you have been added to the train we then need you to show us that you want to continue to ride so you must qualify to continue to ride the train.
So
5/ Existing passenger must Follow all NEW passengers that ride the train
6/ You must Comment and UPVOTE the update posts as they are published.
7/ You must Re-Steem the updated Friend Train post
Failure to do so will result in the guard removing you from the train. All tickets will be checked.
Like I said these changes are being made so that the list can be maintained at a sensible level, it's a way to cut the dead wood. You don't get on the train and continue to ride without renewing your ticket (steps 5-6-7)
Let me know you have seen these changes and understand in the comments below
The Friend Train
@infobunny
@uwelang
@detlev
@dutchess
@leongkhan
@oleg326756
@getonthetrain
@elderfinancial
@stephen-somers
@mk40
@tecav
@cryptoanarchy
@barbara-orenya
@sergej.stein
@live2love
@mardah.resonance
@charles1
@dewallenband
@sissyspage
@scaredycatguide
@bitrocker2020
@marcowal
@nowherehomestead
@jan-mccomas
@ivand83
@jeanpi1908
@faurman
@isacoin
@thickman34
@davrath
@stacking9mm
@live2love
@cryptonewb
@eurekaj
@marieta88
@bdmomuae
@hiimamazing
@the23chronicles
@belleontherocks
@stefan.steynberg
@xtrodinarypilot
@jumowa
@soonidrift
@judym
@marieta88
@arnel
@senor
@jipsu
@raybrockman
@sumsum
@cryptodan
@interceptor
@bmoney974
@frankydoodle
@bitrocker2020
@viralsteem
@stacking9mm
@osac
@goofyu
@ma1neevent
@jeanpi1908
@the-ego-is-you
@dickturpin
@codypanama
@musicolo
@hiimamazing
@beesteem
@mtgmisfit
@zacharius
@sircork
@dorman
@deism12
@eagleye
@silver-saver
@quaintrelle
@ghostgtr
@globaldoodlegems
@pinkpanther
@Anouk.Nox
@antidorsessions
@tvulgaris
@greensitez
@johojo
@jacobtothe
@sarkhomestead
@madein-hisimage
@eco-alex
@dee-jay
@gardengirlcanada
@kaeptnkook
@jordanmccraw
@rkrijgsman
@kreativ
@stresskiller
@Xervantes