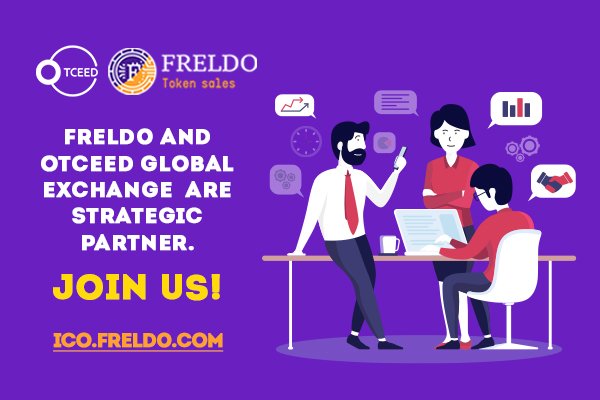 We are happy to officially announce a strategic partnership with company OTCEED Global Exchange(https://otceed.com). OTCEED is an institutional trading firm based in Oslo, Norway and focused on providing two-way OTC transaction settlement for both private and institutional clients.
FRELDO and OTCEED Global Exchange partnership will be useful and mutually beneficial, allow constant platform and product improvements.
Partnership with OTCEED Global Exchange brings to Freldo ICO investments on 6 000 000 USD.
It is the significant event for both of the companies as they both will benefit from this mutual trade. It strengthens both of the parties with a volume sale of their tokens and assures them of their further operations.
About OTCEED Global Exchange:
OTCEED Global Exchange offers all kinds of cryptocurrencies and fiat trading, exchange, settlement and swaps to cover all your needs in one place. OTCEED Global Exchange is covering most of the popular fiat and cryptocurrencies such as USD, EUR as well as BTC, ETH and all ERC20 tokens.
P.S. Freldo token sale is live now! We welcome everyone to check our partner's ICO:
Twitter https://twitter.com/Freldo_official
Facebook https://www.facebook.com/FreldoGroup
Telegram https://t.me/FreldoChat