Day 663: 5 minute Freewrite Challenge initiated by @mariannewest. Wednesday-Prompt: rat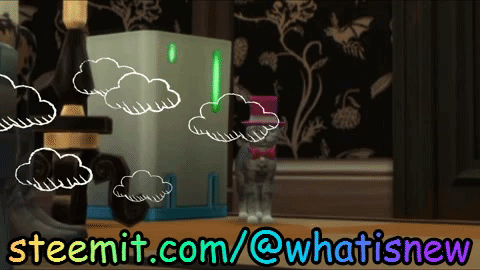 This cute gif is brought to you by @snook
I Smell a Rat
I was pretty perturbed as I walked to the alley because I was sent to get rid of rats and that is definitely not in my job description. Yes, I am a cat but I am a domestic cat with a home. Rats are monstrous and the alley cats won't even go near them.
It was a full moon (man, why did it have to be a full moon?) and as I slowly walked down the dark, trash filled alley, slinking with my belly to the ground, I got a good look at one rat. Where there is one, there will be more. I thought to myself, "Self? I wonder how many more rats are lurking here?" which made me a scaredy cat. What a dreadful sight. That gross, vile, disease carrying rodent was better left alone. No way was I going to try to chase that rat away. In fact, the rat chased me away.
What about a dead cat bounce? Not for me; I might not make it back. And I am not curious. You know what they say about curiosity killing a cat. Now that I think about it, I smell a rat and not the one I was supposed to be chasing away. Is it me they want to get rid of?
Are you looking for a caring community where your creativity and imagination can run wild? A place where you have the opportunity to win prizes for your participation? Are you looking for support or for a place that you would like to support? Then head on over to the Freewrite House and have some fun.