Day 672: 5 Minute Freewrite: Friday - Prompt: raking leaves: - A Lawn Chair Story Freewrite - Leave
Leave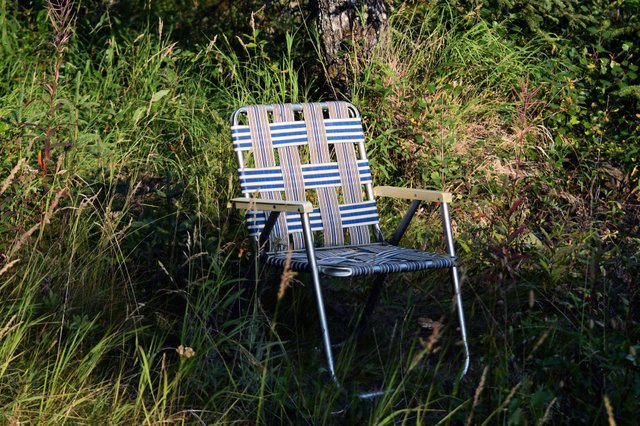 Source @bashadow
He sat in his chair watching his neighbor with rake in one hand and scratching his head with the other. His neighbor seemed to be somewhat in shock, so I yelled over to him. "What's the matter Bob? Trying to remember how to handle a rake"?
I knew what was bothering him, it was how did he get so many leaves in his yard when he knows he raked yesterday. "Well you see it's like this Henry, I raked yesterday, just like most people did, yourself included. Now I got a bunch of leaves again and well no one else does. So it has me confused as to what happened"?
"Damn-it how many times do we need to call the police about that loud radio before they do anything"! Bob said, as our other neighbor's kid started up his radio at full blast. He learned that from his father he was no better, thought the world revolved around him.
"Well I'll tell ya why you got so many leaves Bob, do you see anyone with leaf bags out on the curb for pick-up other than Mr. Noisy's home"? Bob looked at me then down the street, and then at the neighbors then at the leaves, then he lost it.
He flew like a leaf in a tornado over to Mr. Noisy's house, he first kicked the boom box clear out the door, almost made a clean shot into the back window of his own truck but the radio fell a foot shy and landed in the pick-up's bed. next thing I see is Mr Noisy backing out of the house shaking like a scared rabbit...then the handle of the rake cracked down on his head breaking off, and Mr Noisy falling to the ground.
Bob picked up his rake parts and walked calmly back to his home. I watched Mr Noisy's wife slap her kid hard across the face and told him to get out and not come back, and to drag that useless father of yours with you. With that she turned and went inside.
Prompt from: Day 672: 5 Minute Freewrite: Friday - Prompt: raking leaves