People make generalization when someone makes a statement in social media or in other platforms when a person makes a statement from his personal opinion. It affects everyone in his peers, thus the backlash will be thrown to the entire community he is in.
At times, generalization is not appropriate when others in a community share differing sentiments.
Just for an example, a team manager in NBA expressed his support for Hong Kong in the current protests against China in social media. The entire NBA was affected on what he has done, though he doesn't represent the entire NBA, and his team. However, other players do not share in his opinions. But NBA and his team was affected, and banned in China.
Looking at the other side of the argument, there is also responsibility on what you posts. You should also think first whatever you will post in social media or other platforms. It is funny that we are all bound to differing opinions, but at times, losing respect at other's opinions.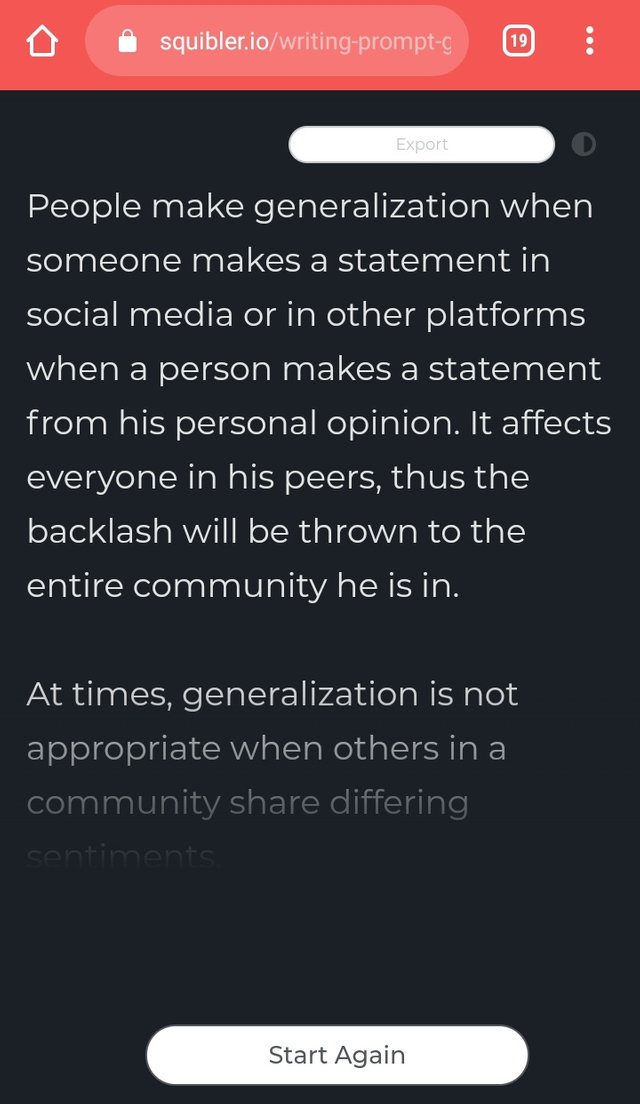 Written using squibler.io.


Please support @surpassinggoogle as a witness by voting him at https://steemit.com/~witnesses and type in "steemgigs" at the first search box.

You can also give him witness voting decisions on your behalf, visit https://steemit.com/~witnesses again and type in "surpassinggoogle" in the second box as a proxy.

Please support his project as well, which is @teardrops Smart Media Token.
---
Huge thanks to sir @bobbylee.

Do you use eSteem?
eSteem is a Mobile📱& PC💻 app. for Steem with great features. Also, you get Incentives posting through eSteem apps.
eSteem Spotlight; eSteem provides rewards for it top users in Leader Board with most Posts, Comments and Highest Earners.
---

Please vote
for @good-karma as a witness.